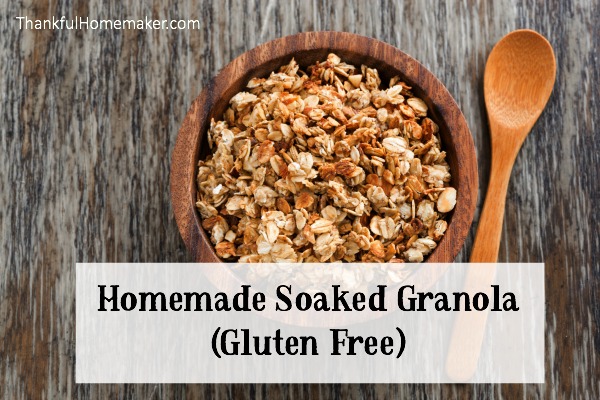 We enjoy having granola and yogurt on occasion and trying to find good tasting granola that is sprouted and easy on your digestive system (neutralizing phytic acid) is not easy and pretty pricey at the store.  This has been a favorite recipe that I would make unsprouted in the years before being introduced to Weston A. Price Foundation and Nourishing Traditions. 
Before starting the recipe you need to prepare your oatmeal and nuts.  This takes some planning ahead of time especially depending on the size of your dehydrator.   Why to soak grains?
-Soak 4 cups of oats in 4-6 cups of water with 2-3 Tablespoons of yogurt, whey or apple cider vinegar for 12-24 hours.  After ample soaking time, drain the oats in a colander and spread in a thin layer on your dehydrator sheets and dry at 135 degrees for about 12 hours.  I really determine this one by the feel of the oats and sometimes I need a little longer than 12 hours – you just want to make sure they are thoroughly dry.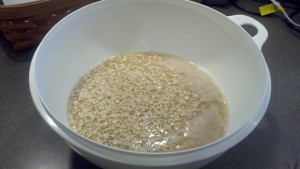 –Soak nuts – 4 cups of each (we use a mixture of almond, pecans, walnuts and sunflower seeds*) overnight in a bowl with water covering the nuts and a  tablespoon of sea salt.  I don't mix my nuts together but place them in separate bowls and refrigerate the extra nuts in an airtight container for future granola making or healthy snacking.  In the morning drain the water (don't rinse) and lay the nuts out on a dehydrator sheet and dehydrate at 150 degrees to dry for 12-24 hours or until they are thoroughly dry and crisp.  Most of our ovens today only go down to 170 degrees which will kill the enzymes anyway so it needs to be 150 degrees or lower.  (*Sunflower seeds take a shorter amount of time to dehydrate than the larger nuts so check them at the lower time.)  A dehydrator can be a big investment but I do believe you will get a quick return on it.  We love it for nuts, oats, beef jerky, fruit leather, drying fruit and making yogurt.
Now that you have your oats and nuts soaked and dehyrated you are ready to just mix your ingredients together, bake it and have fresh, healthy granola ready to go on those mornings when you need a quick breakfast.
Maple Granola (recipe adapted from the Ski House Cookbook)
3 1/2 cups Soaked Oats (use gluten free oats)
1/4 cup chopped walnuts
1/4 cup chopped pecans
1/4 cup chopped almonds
1/2 cup unsweetened shredded coconut
1/3 cup sunflower seeds
1/2 teaspoon cinnamon
1/4 teaspoon salt
3 tablespoons butter
1/2 cup maple syrup
1 tablespoon rapadura or brown sugar
– you can add in at the end raisins if you would like – we like to leave them out and mix them in if we want them later.
Preheat oven to 325 degrees.
Mix together the oats, nuts, coconut, sunflower seeds, cinnamon and salt.  In a small pan melt butter with rapadura and maple syrup until the rapadura is dissolved.  Pour the syrup mixture over the oat mixture and stir until thoroughly combined.
Spread the mixture evenly on a rimmed baking sheet and bake until golden brown – about 20 minutes.  I check and stir every 5 minutes to make sure the edges don't get too brown.  Take it out after 20 minutes and it will harden as it cools.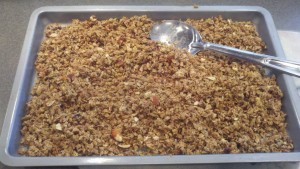 After granola has cooled, place it in an airtight container.  I like to double the recipe and always have soaked and sprouted oats and crispy nuts on hand to throw a batch together quickly.
Enjoy!
Alternate Recipe:
You can also soak the oats for 12-24 hours, drain them and add the rest of the ingredients minus the nuts and the coconut. Spread the mixture on parchment lined rimmed cookie sheets and slow roast at 200 degrees for several hours or until dry and crispy. Afterwards you can add your chopped crispy nuts and coconut.
The following recipe for Coconut Sprinkles would be very tasty too: 2 cups unsweetened coconut and 1/2 cup maple syrup. Mix together, spread on baking pan and bake at 200 degrees until the coconut is dried out. Sprinkl over your finished granola. Break it up with your hands and store in an airtight container. (recipe for Coconut Sprinkles from: Eat Fat, Lose Fat by Mary Enig and Sally Fallon)