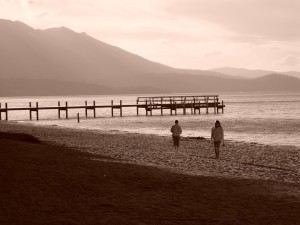 This is a photo that is framed in our guest room and one that I love to reflect on as I spend time in the room cleaning or tidying.  It is taken at Lake Tahoe many years ago.  My children in the photo are grown, and my husband and I are finding ourselves in the next season of our lives.  My husband pointed out how in the photo the children are walking in two different directions and how this photo has "haunted" him.  Now I can barely look at the photo without tears welling up (I am crying while typing this).
Josh is home with us working and finishing college. Amber is married and living in Norway.  The distance has been a challenge and I have found myself in utter dependence on the Lord to get through the days of missing her.  At the time this photo was taken I never imagined living so far away from her.  My dreams were of living nearby, having dinners together, cooking together, watching my grandchildren grown up, attending church together and just enjoying the time we had with her and her husband.  I envisioned Josh as that wonderful brother getting to spend time with them and seeing the joy on his face everytime one of their little ones called "Uncle Josh".
Josh and Amber have a special relationship, because it was just the two of them they have grown up being best friends, so the distance has been a hard one on both of them.   Now we definitely do get time with them through trips to Norway and them visiting America. Skype is set up on the kitchen counter computer like a phone in our home.   But the distance makes it a  little harder to just pop over and give a hug, to just see them and be with them.
Not the life I envisioned – but it's not about me.
As I am writing and crying I am also giving thanks to the Lord for His hand in this.  God is in control – always!  God foreordained before the beginning of time that there would be this sweet young man who loved Him in Norway preparing himself to marry a beautiful young woman who loved the Lord from America and that together they would raise up a generation of children who will be taught about the goodness of the Lord and to glorify Him in all that they do.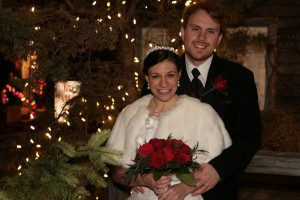 So, how does a mom who loves her children and realizes what a gift they are from the Lord learn to deal with the distance?  I don't learn to deal with it – in my own strength it is impossible.  The only way I can get through each day is knowing that I serve a Sovereign God who has numbered the hairs on their heads and loves them more than I do.  I know the love I have for them and I cannot even fathom the love God has for them.
Are not five sparrows sold for two pennies? Yet not one of them is forgotten by God. Indeed, the very hairs of your head are all numbered. Don't be afraid; you are worth more than many sparrows.
"I tell you, whoever publicly acknowledges me before others, the Son of Man will also acknowledge before the angels of God.     ~Luke 12:6-8
Menumbuhkan rambut secara alami
Where can I buy Artlantis Studio 6, Cheapest CorelCAD 2014 64 bit
My strength is found in God and in Him alone.  I know not every mom is at a season when they can have a true quiet time in the morning with the Lord but I am right now and am truly loving every moment I get with Him.  I so look forward to waking and meeting with him in my favorite chair as I open His Word and He speaks to me.  He knows my hurts, weaknesses and difficulties.  He sees all my faults and yet His love for me doesn't change.  As I spend time in His Word He shows me areas where I need change but He doesn't leave me alone – He walks right alongside molding and shaping me more and more into the likeness of His Son Jesus Christ.  The Lord continues to show me that the distance from our daughter has been a difficulty he has used in my life to draw me into a deeper relationship with Him.  It has been a reminder to me that my children are a gift from Him and He may need to take them from me to serve His purposes and to further His kingdom.  Our purpose on this earth is to glorify Him in all that we do.
Question 1: What is the chief and highest end of man?
Answer: Man's chief and highest end is to glorify God, and fully to
enjoy him forever.
So whether you eat or drink or whatever you do, do it all for the glory of God.
1 Corinthians 10:31
Obat penyubur rambut di apotik
Cheapest Autodesk Building Design Suite Premium 2017 64 bit, How to buy iSkysoft iTube Studio 5
These Quiet Moments are where I draw my strength.
Where my thoughts come in line with His truths.
Where I can find comfort and true peace in and through any situation.
I serve a living God that is completely in control of all situations and will work all things out for good, to those who love Him.
And we know that all things work together for good to those who love God, to those who are the called according to His purpose.
Romans 8:28
My prayer is that I always continue to grow in a deeper dependence on Him.
  That my circumstances would not determine my attitude and actions.
     That I would cultivate a heart of thankfulness.
        To find biblical joy that satisifies deeply and that others can draw from.
          That He would continue to draw me closer to Him and deeper in love with Him.
Thank you Lord for your great love, for your loving kindness and tender mercies but most of all for the gift of your Son Jesus Christ so that those who come to know Him can have everlasting life. 
           "God is God. Because He is God, He is worthy of my trust and obedience. I will find rest nowhere but in His holy will that is unspeakably beyond my largest notions of what he is up to."
~Elisabeth Elliot~