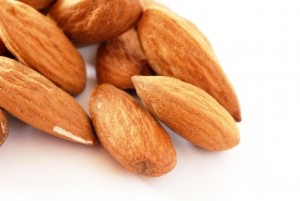 I have been enjoying Stephanie Tourles book:  Raw Energy: 124 Raw Food Recipes for Energy Bars, Smoothies, and Other Snacks to Supercharge Your Body.  This is an area we have been working – trying to get more raw food into our diet.  Especially with snacks.  I love cookies and so does my family but we have been working on ways to get some healthy snacking going. We are going to snack, so I am trying to have more nutritious options on hand.  Dried fruits, nuts, cheese, cut up veggies are great options but sometimes you just want a cookie 🙂  Stephanie's book is packed with some great recipes and below is one we just tried out this weekend and has been enjoyed by our family.  They are not difficult but you may find you don't have all the ingredients on hand and some of them may be new to you.  Some of the recipes take some prep time and will need the use of a dehydrator.  The pictures in the book are beautiful and she gives a step by step easy guide for each recipe.

 She has some fun combinations for trail mix.  Her Tropical Delight sounds tasty and in the description it says, "move over Skittles and Starburst".  This mix has equal amounts of dried papaya, dried pineapple, dried mango and raw almonds. 

One easy snack option she gave is to take a Medjool Date cut it in half lengthwise, remove the pit and place a pecan (or your favorite kind of nut) inside and close it back up.  Simple, easy and packed with energy! 

Try the recipe below when you have the time.  I did not have raw almond butter on hand but regular roasted and I did not use raw honey.  It is still a healthier option, but we did not get all the good enzymes we would have if all raw ingredients were used.  I am looking forward to stocking my pantry with both and trying them again. 

Almond Coconut Cookies
2 cups raw almonds
1 cup raw almond butter
3 T unsweetened shredded coconut
3 T raw honey
¼ t sea salt
¼ t almond extract
5 or 6 Medjool dates, pitted

1. Blend almonds in food processor until coarsely chopped (15 seconds)
2. Transfer the chopped almonds to a large bowl and blend in the almond butter, coconut, honey, salt, and almond extract. Stir until a stiff, very chunky dough forms. Use your hands to thoroughly blend the ingredients; they will be more effective than a spoon.
3. Pinch off a piece of the dough about the size of a small walnut and roll between your palms to form a ball that is about 1 ½ inches in diameter. Gently press the ball between your palms to form a ½ inch thick cookie. Rinse and dry hands periodically if they become too sticky to roll the balls.
4. Slice the dates lengthwise and cut the halves into slivers about 1/3 inch wide by 1 inch long. Lightly press a sliver into the center of each cookie for decoration.
5. Store the cookies in a tightly sealed container in the refrigerator for 2 to 3 weeks.

Yield about 32 cookies

A good source of vitamins B, E, potassium, calcium, magnesium, phosphorus, manganese, zinc, iron, copper, natural sugars, protein, healthful fat and fiber.

Enjoy!!