For God so loved the world that He gave His one and only Son, that whoever believes i Him shall not perish but have eternal life ~ John 3:16
"Here's a side to the Christmas story that isn't often told: those soft little hands, fashioned by the Holy Spirit in Mary's womb, were made so that nails might be driven through them. Those baby feet, pink and unable to walk, would one day walk up a dusty hill to be nailed to a cross. That sweet infant's head with sparkling eyes and eager mouth was formed so that someday men might force a crown of thorns onto it. That tender body, warm and soft, wrapped in swaddling clothes, would one day be ripped open by a spear.
Jesus was born to die"
~John MacArthur~
Jesus Christ, our Creator, though totally sinless, suffered the penalty for mankind's rebellion and sin, which is death and separation from God (Romans 6:23). He did this to satisfy the righteous demands of God's holiness and justice and to demonstrate His love. Jesus died on a cross, but on the third day He rose again, conquering death, so that all who repent of their sin and trust in Him are able to come back to God and live for eternity with their Creator.
Repent (turn from) your sin today and trust in Jesus alone, and God will grant you the gift of everlasting life.
This Christmas season may you know Jesus the perfect Lamb of God sacrificed for us that we may be filled with Christ's true peace and joy.
Doug, Marci & Josh
Jesus Answered. "I am the way the truth and the life. No one comes to the Father except through me. ~John 14:6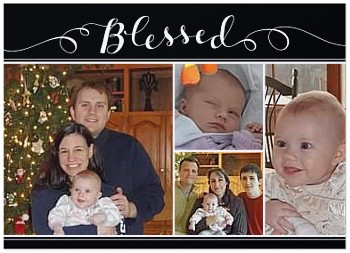 Blessed Family Religious Christmas Card