Christmas – a time to celebrate the birth of Christ. A special time to share the gift of Jesus with church family Sunday morning. A time to cherish with my family and give thanks in the trials and changes that we have at home.
Last week my heart was not so thankful and I was in a difficult place – not desiring to seek the Lord. My heart was hurting and self-focused on me. My daughter Amber and her family were not able to be with us this year – it was our first Christmas without her. Our dining room turned into a hospital room, holds my mother-in-law who is unresponsive and home with us through hospice. My father-in-law finds himself in a difficult season of life – missing his bride – the love of his life as she lays there unable to communicate with anyone due to several strokes she has suffered. He has left the familiarity of his home and comforts he is familiar with to move in with us. Our son, Josh, having to work on Christmas Eve – a time we would celebrate together – all of us – Amber & family, Josh, Grandma & Grandpa and Doug and I – this year finds us seemingly in different directions.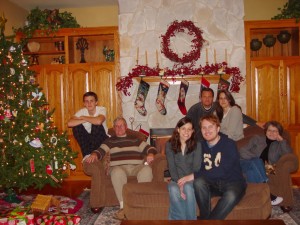 So I sulk and cry and have a pity party that truly doesn't help because it doesn't change the situation.
I have lost focus and can only see what my negative heart is focused on.
The heart is deceitful above all things, and desperately sick; who can understand it? ~Jeremiah 17:9~
It is frightening to see how easy it can be to hide and portray to the world that everything is okay – the day to day tasks continue on but the sin inside that I am harboring is eating away at me.
"For the LORD sees not as man sees: man looks on the outward appearance, but the LORD looks on the heart." ~ 1 Samuel 16:7b~
God sees my heart – He knows my every thought – what is more amazing to me that as His child (
John 1:12
) He loves me in spite of the ugliness of my sin. I don't like myself very much right now – I know the ugliness too and realize I am avoiding fellowship with the One that I need it from the most. Not responding to the One that can take away my hurt and bitterness and selfishness.
Enter my dear husband – the one the Lord has sent so "that he might sanctify her, having cleansed her by the washing of water with the word," (
Eph 5:26
). He is tender in his response to me,
Reminded that Jesus is enough
The sacrifices of God are a broken spirit; a broken and contrite heart, O God, you will not despise.
Let me learn by paradox
that the way down is the way up,
that to be low is to be high,
that the broken heart is the healed heart,
that the contrite spirit is the rejoicing spirit,
that the repenting soul is the victorious soul,
that to have nothingis to possess all,
that to bear the cross is to wear the crown,
that to give is to receive, that the valley is the place of vision
~excerpt – The Valley of Vision, page xv
My focus moves from the temporal to the eternal and I can see and I can again give thanks in and through all circumstances knowing that they are truly preparing me to spend eternity with Him. This is not my final resting place – the trials here give me a longing for the true home.
He will wipe away every tear from their eyes, and death shall be no more, neither shall there be mourning, nor crying, nor pain anymore, for the former things have passed away."
To be in His presence – Forever
Beloved, we are God's children now, and what we will be has not yet appeared; but we know that when he appears we shall be like him, because we shall see him as he is.
"I will never leave you or forsake you"
Sanctification is a process – the process of becoming more like Christ, of growing in holiness. This process begins the instant you are converted and will not end until you meet Jesus face-to-face. Sanctification is about our own choices and behavior. It involves work. Empowered by God's Spirit, we strive. We fight sin. We study Scripture and pray, even when we don't feel like it. We flee temptation. We press on; we run hard in the pursuit of holiness. And as we become more and more sanctified, the power of the gospel

conforms

us more and more closely, with ever-increasing clarity, to the image of Jesus Christ.
C.J. Mahaney