I have a tiny little book that I like to pick up from time to time that is full of short suggestions on time with the Lord, loving my husband and children, beautifying home ideas and enjoying family and friends. Emilie Barnes author of 365 Things Every Woman Should Know gives quick tips to creating a lovely home where the love of Christ is evident.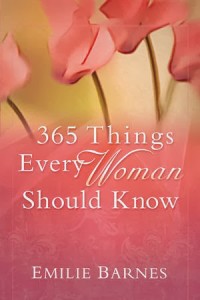 "Knowing we're created by God is such amazing knowledge, isn't it? And the gift of our femininity is something we can give to ourselves and everyone around us. The woman's touch in a flower, a candle, a little caring gift can say so much to someone. Celebrate the unique things about your friend. Finding something personal is fun ad makes gift-giving more special."
"Don't waste time arguing. A smart woman loves the man she married, and she lets him know it often. And who's the winner? Both of you!
________
One of the best compliments you can give a friend is to say, "You're such a kind person!" And what exactly is a kind person?
Kindness is an attitude of the heart.
A kind person goes out of her way to be nice to someone else.
All through Scripture we're shown God's character, and it's one of kindness. So why not lighten someone's load today and bring him or her joy?
Offer to help lighten someone's load.
Open the door for someone.
Even a bright smile conveys kindness.
The Bible says, "Be kind and compassionate to one another" (Ephesians 4:32). So be a blessing in someone's life today.
________
Have you noticed? It doesn't matter what you have, someone else always has something bigger or better. And what about those decorating magazines? Where do all those people find the time to decorate every nook and cranny of their homes! Maybe it's time to take a little break. Instead of focusing on "home beautiful", concentrate on what makes your home warm and caring. What makes it a place where you and your family can express your God-given talents? No matter how little or how much you have, you can experience the results of a godly home. Make it a sanctuary, a place of security, trust, and comfort. That atmosphere can be set by you. There's no decorating scheme in the world that can replace the role you play in your home.
________
In the 50's women believed in home, children and prayer. In the 60's it was "do your own thing." The 70's were all about "being liberated". In the 80's it was becoming "superwoman". In the 90's we were tapping at the "glass ceiling". In the first decade of the 2000's, we went "green" and became environmentalists. What's next? We're exhausted!
Proverbs 19:8 says, "He who gets wisdom loves his own soul; he who cherishes understanding prospers." So do yourself a favor and learn all you can. I want to be a woman who holds my home and family together like mortar. Don't you? As women, let's change our values from straw and sticks to gold an silver by building a strong foundation of faith in God's Word.
________
She opens her mouth with wisdom,
and the teaching of kindness is on her tongue.
She looks well to the ways of her household
and does not eat the bread of idleness.