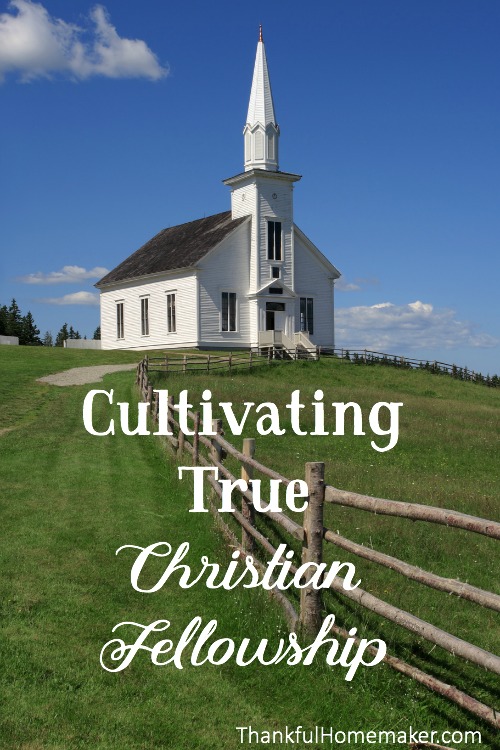 How many times at church do you find yourself discussing non-spiritual things.  I love to talk about the Lord with others but it doesn't always come as naturally as I think it should in a conversation.  As believers, our relationships with others in the body of Christ are unlike anything non-believers will ever experience.  It is such a joy when you come across another Christian that you haven't met before and because of the common bond of Christ, it is if you have known them forever.
"that which we have seen and heard we proclaim also to you, so that you too may have fellowship with us; and indeed our fellowship is with the Father and with his Son Jesus Christ."
1 John 1:3
There is a favorite book of mine that gets used quite often by Donald S. Whitney called Simplify Your Spiritual Life.  In the section, Simplifying our Spiritual Life with Others he guides us in being intentional on driving the conversations into the spiritual.  Wouldn't we all as believers like our conversations to be directed towards things related to and knowing God, Bible reading and application, theology, evangelism and prayer to just name a few.
Sometimes I find myself hesitant to direct the conversation to the spiritual by injecting my thoughts into their minds so I talk myself out of asking questions or redirecting the conversation to the spiritual. Questions like, Will they think I'm just trying to be spiritual? Do they really care that I evangelized to my neighbor? They don't want to talk about God right now? The reality is that they are hoping to talk about things of the Lord, and would  be delighted themselves to share what He has been doing in their lives.
Mr. Whitney shares some questions that are a natural help in directing you conversations with your brothers and sisters in the faith to the spiritual.  This is a handy list to keep in your Bible, planner or purse.
How is your (teaching, hospitality, outreach, or whatever) ministry going?  What do you enjoy most about it?
Where have you seen the Lord at work lately?
What's the Lord been teaching you recently?
Have you had any evangelistic opportunities lately?
Have you had any obvious answers to prayer recently?
What have you been reading?  How has it impressed you?
Where in the Bible have you been reading lately?  What impact has it had on you?
How can I pray for you?
What's the growth point in your life right now?
What are you passionate about right now?
What are some questions you can add to the list?  May you experience the blessings of true Christian fellowship because of the work Jesus Christ did for us on the Cross.
Related Links:
Preparing Our Families for Sunday Morning Worship
Simplify Your Spiritual Life by Donald S. Whitney