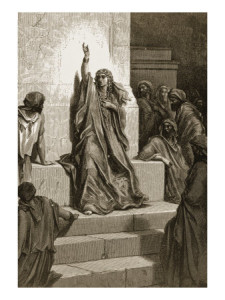 DEBORAH'S SONG BY GUSTAVE DORÉ
Deborah, the Prophetess from the book of Judges
Now Deborah, a prophetess, the wife of Lappidoth, was judging Israel at that time.
Judges 4:4
Deborah was a woman called by the Lord to judge Israel in a time of religious apostasy. She was a unique instrument of God who was used to give a direct revelation to Barak that Israel would defeat the mighty Caanites even though all odds were against them.
God sent a message to Barak, through Deborah, very clearly laying out that God would give Israel victory over the Canaanites. Barak was hesitant and insisted Deborah go with Him as God's spokesperson for the Lord (
Judges 4:8
). Deborah did and predicted that the glory of the the battle would not go to Barak, but to a woman, due to his lack of trust in God (
Judges 4:9
,
5:24-27
).
In some Christian circles Deborah is looked to as a model for women taking positions of spiritual leadership. We must remember that our theology cannot come from one story in the Bible, but we have to look at the whole of scripture.
Deborah's story comes to us from the book of Judges at a time in Israel when there was no king and "everyone did what was right in their own eyes" (
Judges 17:6
). The fact that Deborah had a position of leadership and spiritual influence in the nation of Israel was a sign that the nation was deteriorating spiritually.
All throughout Scripture we see God's distinct plan for men to be the leaders for God's people. The heads of tribes were men, all the other judges were men, the inspired writers of scripture, kings, priests, the apostles were all men, and through these examples we learn much about God's design for the role of men and women.
Women have a very important place in the work of the kingdom, and we are equal with men in terms of spiritual life, but not in terms of our roles and responsibilities.
Deborah is an example to us of how to promote male leadership and still keep herself in her subordinate role.
She was clear that Barak was the designated leader and God had called and commanded him to lead Israel into battle – she did not seek a leadership role. (
Judges 4:6-7
,
14-16
).
Encouraging Male Leadership by Deborah's Example
Deborah played a role in helping Barak become the leader he was called to be. His faith was lacking, but Deborah's faith was strong, and she encouraged him in his role. I would hope to be an encouragement to the men God has place in my life in their role as leaders. I need to be aware of when I can be nurturing and affirming leadership to the men in my life.
Am I praying for the men in my life? Do I give my husband the opportunity to take the lead by letting him make decisions and trust in them when he does? When he seeks my opinion do I share it and trust the final decision to be his and never to give an "I told you so" no matter what the outcome?
Deborah never tells Barak what to do; she simply communicates a message from the Lord (Judges 4:6).
How can I learn to influence the men in my life without telling them what to do?
Deborah just speaks what God has put on her heart and does not give direct commands. How can I invite my husband to lead so that I can be the responder?
I want to draw out the best from my husband because as he continues to mature in his role it further enhances my role as a woman and when we are living out the roles God has called us to God gets the glory.
When Barak asked Deborah to go with him into the battle, she replied with "yes" – it was not her idea but his – Deborah was the responder in this situation.
God used Deborah who was submissive to His call on her life to bring men into leadership and help them to fulfill the role God had called them to (Judges 5:2).
The battle was won, and in Deborah and Barak's victory song, all praise for the visctory was given to the Lord (
Judges 5:10-11
).
A Mother's Heart
"In the days of Shamgar, son of Anath,
in the days of Jael, the highways were abandoned,
and travelers kept to the byways.
The villagers ceased in Israel;
they ceased to be until I arose;
I, Deborah, arose as a mother in Israel.
(Judges 5:6-7 ESV)
Deborah's motivation was not in seeing herself as a judge or a prophet, but in this passage she refers to herself as a mother. The Bible doesn't tell us if she had physical children, but God has given all women a mother's heart to nurture, protect and show compassion to those around us.
May we learn from Deborah how to have a shepherding mother's heart, that we would delight in being women and have hearts that are submissive to the authority God has put over us. May we be women who strengthen and encourage the men in our culture today to be leaders and to take a stand for truth.
May we be women of prayer and instead of taking control, assert our influence by the power of prayer in seeking to ask God for help and guidance when battles arise in our lives.

If you would like to have Thankful Homemaker delivered to your inbox, simply click here: Subscribe to Thankful Homemaker