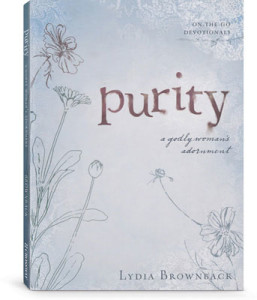 I'm sharing an excerpt today from a small devotional book that I keep handy by my bedside for a quick but deep reminder of God's provision and promises to me. Purity: A Godly Woman's Adornment reminds us that purity is more than just about sexual purity or moral purity but is a matter of the heart. Each devotional in this truth packed little on-the-go devotional draws us to true biblical purity.
"At its core, purity is having a heart for the Lord that isn't watered down or polluted by lesser things."
"A Pure Woman Reflects God's Image

Charm is deceitful, and beauty is vain, but a woman who fears the Lord is to be praised. Proverbs 31:30

The world tells women that happiness and success is in big breasts and white teeth, in muscle tone and trendy clothes, and today the women who have these physical assets are held out as role models for women and girls. We find a very different sort of role model in Proverbs 31. The woman we find there is the sort of woman that a wise man seeks for a wife. From her example we discover another arena for purity–reflecting how we, uniquely as women, have been made in God's image. In other words, another way to be pure is to live so that others around us see the goodness of God thorough our femininity. How does this biblical role model in Proverbs demonstrate this?

If you read through verses 10 to 31, one of the first things you'll discover is her priorities. She was focused on caring for her family, honoring her husband, helping the needy, and exercising her God-given talents. What we don't find is a preoccupation with personal comfort, fleshly pleasures, and outward appearance. We also see her strength. She was strong in mind, body, and character. She took initiative to get things done but not in a spirit of self-serving independence. The most important thing we discover is that she feared the Lord, which we are meant to understand as the undergirding of every other good quality she possessed.

A woman like this is a beautiful picture of biblical femininity, and it glorifies God. Are we seeking to be like her, the best sort of woman we can be? The answer depends on those we choose as role models. For a woman who desires to show that femininity glorifies God, she can find no better role model than the woman her in Proverbs, yet so many of us dislike her. She just seems so intimidating. What we need to realize is that God isn't calling us to be her. We can't because she isn't real. She is the main character in the acrostic poem that makes up Proverbs 31:10-31. She is a portrait of an ideal woman with the reality of sin left out. No more will we look exactly like her than we will the air-brushed celebrities we see on magazine covers today.

We can, however, become our own unique version of her–a woman who exults in being feminine to the glory of God–in our personal set of circumstances and in our calling. Radiating biblical femininity in all we do and think and say radiates purity."

~Excerpt taken from – Purity: A Godly Woman's Adornment by Lydia Brownback – pages 53-54. Other titles in this beautiful devotional series are Contentment, Trust and Joy.

Get updates that are not posted on the blog by visiting Thankful Homemaker's
Facebook
and
Twitter
pages
.