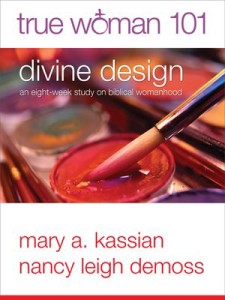 Here is a little more information on the book:
Join Bible teachers Mary A. Kassian and Nancy Leigh DeMoss and share with the women you serve the key fundamentals of biblical womanhood in this eight week study. Each week includes five individual lessons leading to a group time of sharing and digging deeper into God's Word.
If you're tired of the world's cheap imitations and knock-offs—or if you're tired of clichéd advice, shallow caricatures—then this foundational teaching and insight from God's Word is for you!
Thousands are tossing the world's brand of womanhood and joining a quiet counter-Revolution.
What you will need to do:
1. Buy the True Woman 101: Divine Design book. You can buy it on
Amazon
or at the
True Woman
website. It is also available on
Kindle
.
2. Read week one – Gender Matters – True Woman 101: Divine Design and answer the questions.
3. Watch the Video for week one
here
.
4. Link up on September 12th with your blog post about what you gleaned from Chapter 1.
We encourage you to take advantage of the additional free resources provided at the end of every post as your schedule allows during the week.
Additional Resources:
-Watch – The Ultimate Meaning of True Womanood by John Piper below and download your free listeners guide
here
.
True Woman 101 is a discipleship resource that combines biblical principles of womanhood with practical applications. The daily readings make you feel as if you are sitting at your kitchen table having coffee with Mary and Nancy. These Titus 2 women take us to the grace of the gospel. They show us Jesus, the One who transforms us into true women."
~Susan Hunt
Hope you will join us as we celebrate and embrace who God created us to be.
May we be women "who desire to reflect the beauty and gospel of Christ to our world, through the expression of our true biblical design".
*italicized excerpt taken from the True Woman Leaders Guide