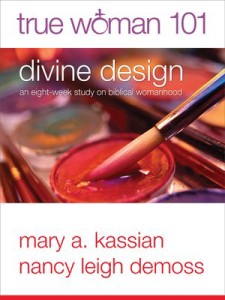 "So God created man in his own image, in the image of God he created him; male and female he created them."
Genesis 1:27
My Thoughts:
Can you say ladies that you love being a woman? That you are content in who God designed you to be? The more we understand God's purpose in creating us male and female the better we will be able to show to the lost world the freedom and fulfillment found in the Gospel of Jesus Christ. We are a representative of God and can glorify Him in a way that men cannot.
In week one Mary and Nancy review the value of why God did this – creating them male and female. What was His intent?
The main point of the week was best said by Mary Kassian in the video below, "The Bible teaches that manhood and womanhood exist to glorify God and to put the Gospel of Jesus Christ on display."
Gender Really Does Matter!
"History opened with the creation of male and female and a marriage because history is going to close and come to an end with a wedding." ~Mary Kassian (Ephesians 5:25-33, Revelation 19:7-10)
Our gender is to point to the relationship of Christ and the church. As believers and women our gender is to reflect to the world what God is like. This is a counter cultural idea in our society and sadly in many churches today. Our womanhood has eternal significance and God was intentional when he made you and me a woman.
God's ways are good, He is faithful and worthy of our trust. Can you say "Yes, Lord" and rest in His design for you as a woman being reminded that only through knowing Jesus Christ as Savior and Lord will we ever find true freedom and fulfillment. May we be reminded that it isn't about us but it is about glorifying God and putting Him on display. God's ways work and they are beautiful.
Highlights from the Reading:
"Scripture teaches that womanhood isn't about prettying ourselves up and putting ourselves on display. Our purpose in life is to put God on display–to reflect His glory in ways we as women were uniquely created to do." ~
True Woman 101
– Day 1 – page 23
"Men were created to reflect the strength, love, and self-sacrifice of Christ. Women were created to reflect the responsiveness, grace, and beauty of the bride He redeemed. And marriage was created to reflect the covenant union of Christ and His bride." ~
True Woman 101
– Day 2 – page 27
"When God called male and female "man", He actually underlined the profound unity and equality that exist between us. This common name shows that woman comes from man and is not independent of him. It shows that both sexes exist to tell the story of God, and that this story is told together–with male and female as parts of a unified whole. The common name "man" demonstrates that in the end, the story line of gender isn't about male or female–it's not about us at all–it's about
the
Man, Jesus Christ, whose redemptive work applies to both sexes equally." ~
True Woman 101
– Day 3 – page 30
"So many women struggle with their sense of worth. The world tries to convince us that we need to enhance our sense of self-worth. It encourages women to draw their worth from looks, education, careers, possessions, relationships and their individual personalities and abilities. The Bible's view on worth is much different than that of popular culture. It teaches that we don't need a greater sense of
"self-worth"
….what we desperately need is a greater sense of
"His-worth"
." ~
True Woman 101
– Day 4 – page 34
The Video:
If you have not taken the time to watch the video for week one please take 20 minutes this week to do so. You will be encourage listening to this panel of women remind you about the truths in God's Word that tell you how important your womanhood really is!!
(If you are viewing this in your email you will need to click through to the blog here to view the video.)
We want to hear from you and what the Lord is teaching you through this study. Have you embraced God's design for you as a woman? How has this weeks study impacted you? Please share your thoughts with us!!
If you are a blogger would you consider joining us in the conversation and spreading the word to more women about God's design for True Womanhood. Link up with us in the blog hop and we can learn together in community from one another what the Lord is teaching us through His Word.
Next Week:
Here is our assignment for next week and we will meet again at
Thankful Homemaker
or
Homemaker by Choice
on September 19th. My daughter
Amber
and I (
Marci
) will be alternating weeks with the study so she will have week two. We will put the post up on both blogs so you will not miss anything if you are a follower of one of our blogs and not the other.
Read Week Two in True Woman 101: Divine Design and answer the questions in the study.
Watch the Video teaching for Week Two here.
Blog with us and join the blog hop so we can share what we are learning together.
If you have extra time visit some of the related resources below.
Related Resources:

Get updates that are not posted on the blog by visiting Thankful Homemaker's
Facebook
and
Twitter
pages.