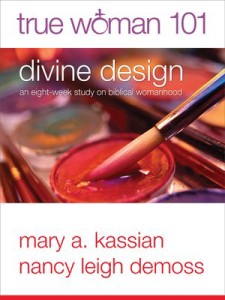 Then the LORD God said, "It is not good that the man should be alone; I will make him a helper fit for him."
Genesis 2:18
My Thoughts:
This week was such a good reminder to me in my response to to my husband and other men. Before I go any further I want to remind us all as Mary did in this weeks reading that He is God and we are not. His ways are right and good and if we want to be true women we need to think biblically.
As the ladies in the panel shared it just prompted me to share lessons the Lord has taught me in my marriage of 26 years and only 12 of those have been as a believer. Even as a believer I still maintained control in so many areas of our marriage. It resonated to me when the ladies shared they would say they were submissive and they were in the big things but not in the little things. We are talking little things like, where to park, which directions to follow, where to go out to dinner, or a decision that needs to be made.
After spending time in God's Word and learning from ministries like Revive Our Hearts about my role as a woman did things start to turn around in my marriage. We all want our husband to take the lead in our homes but do we ever take a step back to let him. As soon as I learned to be still and have a gentle and quiet spirit when decisions needed to be made instead of speaking up and being the one to make them – it caused my husband to step up to the role God called him to as the spiritual leader in our home.
Your husband cannot lead if you are the one in control. Learn to lean on his strength and be soft and receptive towards him. Look to him for protection and leadership because he desires to take on that role if you will let him. God can transform your heart and life if you will let Him.
One last area to share about is our hearts towards home. I loved Nancy's illustration of Christ with outstretched arms on the cross inviting us to come to Him and that He has prepared a place for us. Our marriages and our homes are to be a living example of the gospel. Our lives should reflect the welcoming heart of God to a lost world. Our homes should be a place where hearts are nurtured and fed the Word of God and God's love is reflected in everything we do.
May we be women who desire to live out God's will for our lives and say yes to the goodness of His design.
Highlights from the Reading:
"Some people claim that sex ought to be of no consequence to a person's identity or role. But author Elisabeth Elliot disagrees. She published a compilation of notes to her daughter on the meaning of womanhood, in a book called Let Me Be a Woman. In reflecting on the meaning of femaleness, Elisabeth wrote to her daughter: Yours is the body of a woman. What does it signify? Is there invisible meaning in its visible signs–the softness, the smoothness, the lighter bone and muscle structure, the breasts, the womb? Are they utterly unrelated to what you yourself are? Isn't your identity intimately bound up with these material forms?" ~ True Woman 101 – Week Three – Day One – page 68
"Our negative reaction to having been created "for" the man serves to highlight how far we've fallen from the original created order. When the first bride was presented to her husband, her heart was undoubtedly bursting with joy to have been created for him. She could not have felt more satisfied, for she was fulfilling the purpose for which she had been designed. She was made "from" the man, made "for" the man, and given as a gift "to"the man." ~ True Woman 101 – Week Four – Day Two – page 73
"A woman is a relator. A woman is a responder. Having a receptive, responsive spirit is at the core of what it means to be a woman. A godly woman is an "amenable" woman–an agreeable woman. She says yes (amen!). She has a disposition that responds positively to others, and particularly to the initiative of godly men. She is "soft" and not obstinate about receiving direction. She is "leadable"." ~ True Woman 101 – Week Three – Day Three – page 78
"The Bible teaches that God created woman with a distinctively feminie "bent" for the home. "Working at home" is on its Top Ten list of important things that older women need to teach the younger ones (Titus 2:4-5). Scripture encourages young women to "manage their households" (1 Timothy 5:14). It praises the woman who "looks wll to the way [affairs} of her household" (Proverbs 31:27). And it casts in a negative light women whose hearts are inclined away from the home–those whose "feet" are not centered there (Proverbs 7:11)." ~ True Woman 101 – Week Three – Day Four – page 81
"The purpose of woman helping man isn't about exalting the man. It's really not about him (or her) at all. Her help contributes to both of them achieving a greater, nobler eternal purpose that is far bigger and more significant than their own existence. She labors and serves alongside him for the same purpose for which he labors and serves. And what is that? The glory of God. Woman helps man achieve the purpose of exalting and displaying the jaw-dropping magnificence of the gospel of Jesus Christ." ~ True Woman 101 – Week Three – Day Five – page 86
The Video:
If you have not taken the time to watch the video for week three please take 20 minutes this week to do so. You will be encouraged listening to this panel of women remind you about the truths in God's Word that tell you how important your womanhood really is!! (If you are viewing this in your email you will need to click through to the blog here to view the video.)
Your Turn:
We want to hear from you and what the Lord is teaching you through this study. Please share your thoughts with us!!

From the following elements that were discussed this week that are at the heart of what it means to be a woman (softness, forming deep relational bonds, having a welcoming responsive spirit, creating a place to beget and nurture life and being helper) which of these areas do you find the most challenging or difficult?
If you are a blogger would you consider joining us in the conversation and spreading the word to more women about God's design for True Womanhood. Link up with us in the blog hop and we can learn together in community from one another what the Lord is teaching us through His Word.
If you are not a blogger share your comments either in the comment section at Thankful Homemaker or Homemaker by Choice.
Start the conversation on Facebook on the link for this post. Visit Thankful Homemaker and Homemaker by Choice on Facebook.
Next Week:
Here is our assignment for next week and we will meet again at Thankful Homemaker or Homemaker by Choice on October 3rd. My daughter Amber and I (Marci) will be alternating weeks with the study so she will have week two. We will put the post up on both blogs so you will not miss anything if you are a follower of one of our blogs and not the other.
Read Week Four in True Woman 101: Divine Design and answer the questions in the study.
Watch the Video teaching for Week Four here.
Blog with us and join the blog hop so we can share what we are learning together.
If you have extra time visit and watch some of the related resources below.
Related Resources:
A Vision of Biblical Womanhood – Revive Our Hearts Radio
Plastic Womanhood – True Woman Blog
Whatever the Cost – Article from Revive Our Hearts
Additional video clips below on how Sugar and Spice affects our view of womanhood
((If you are viewing this in your email you will need to click through to the blog here to view the video.)
Related Posts in the Series:
True Woman 101: Divine Design Study Series

Get updates that are not posted on the blog by visiting Thankful Homemaker's
Facebook
and
Twitter
pages.