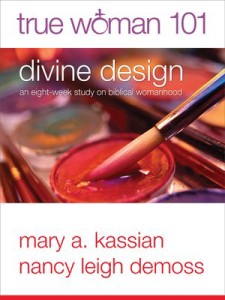 I praise you, for I am fearfully and wonderfully made. Wonderful are your works; my soul knows it very well.
I enjoyed the introduction to this chapter entitled "Total Makeover" because it took us through the reality TV shows where everything is made over – rooms, homes, yards and people. We all love to see the transformation the experts bring in these various areas. The one major problem is when they are making over people, they are only dealing with the outside. God and His Word have a makeover that starts from the inside out and that is where true transformation takes place.
Charm is deceitful, and beauty is vain, but a woman who fears the LORD is to be praised.
~Proverbs 31:30
As women we tend to place our value on our appearance. Real beauty, as stated in the above verse, starts with a fear of the Lord. What is fear of the Lord?
"It is that affectionate reverence, by which the child of God bends himself humbly and carefully to his Father's law." ~Charles Bridges
As believers we all desire true inner beauty. We all want a makeover in our thoughts and attitudes. As Christian women we do not enjoy reacting and responding sinfully to those around us. If we want to see true beauty – we need to seek the ultimate expert in makeovers – God. He is the only one who can transform our lives into true beauty that lasts. We need to be bendable and moldable to God's ways.
The only way we can cultivate the inner beauty that Christ desires and adores in us is to let God make us over. It is only by the work of the Spirit in our hearts. Spend time meditating on His Word and letting Him renew your mind. Ask Him to change your attitude so you are able to trust Him in all things and say, "Yes Lord."
"True Womanhood–the womanhood commended in God's Word–is spectacularly beautiful; more beautiful than any perfectly proportioned air-brushed model in any fashion magazine. How can that be? Because True Women represent the bride of Christ and reflect the glory of God and the gospel of Jesus Christ–and there's nothing more beautiful than that." ~True Woman 101
Highlights from the Reading:

"All of creation (including male and female) was designed to showcase God's eternal power and divine nature (Romans 1:19-20). Sadly, His beautiful design for male and female (along with everything else in this world) was damaged by sin. But it became God's masterpiece when He re-created it through Jesus Christ (Eph. 2:10). Through the cross, Christ defeated the power of Satan and sin, so manhood and womanhood can once again display the magnificent beauty of His created design." ~ True Woman 101, page 166
"Just as an engaged woman eagerly, lovingly prepares for her wedding, desirous to be her most beautiful for her groom, so the thought of being eternally wedded to our holy Groom should motivate us to spend our lives here on earth wholly devoted to Him." ~True Woman 101, page 170
The nineteenth-century German philosopher Heinrich Heine said: "Show me your redeemed life and I might be inclined to believe in your Redeemer". That's precisely Paul's point in Titus 2 and in the broader context of the entire epistle. Women (and men) whose character and behavior are in accordance with biblical teaching ("sound doctrine") point people to Christ and make the gospel visible and credible to believers and unbelievers alike." ~True Woman 101, page 175
"Our culture would have us believe that soft womanly disposition is wimpy and repugnant -that we lose our personalities and personal identities and become weak cowering doormats by embracing it. But a closer examination of the meaning of gentleness quietness and amenability demonstrated that this isn't the case at all. And as we begin to understand and live it out, the power and beauty of this womanly disposition becomes increasingly clear." ~True Woman 101, page 177
"A godly woman has been gripped with a more awesome vision of beauty than a woman who does not know God. The gospel has revolutionized her understanding of what true beauty is. She's caught a glimpse of Christ, and it's taken her breath away. Displaying that beauty has become more important and desirable to her than pursuing the fleeting beauty of the world. And even her desire for external beauty is rooted in a heart to display His beauty." ~True Woman 101, page 181
The Video:
If you have not taken the time to watch the video for week three please take 20 minutes this week to do so. You will be encouraged listening to this panel of women remind you about the truths in God's Word that tell you how important your womanhood really is!! (If you are viewing this in your email you will need to click through to the blog here to view the video.)
Your Turn:
We want to hear from you and what the Lord is teaching you through this study. Please share your thoughts with us!!

How can we cultivate true womanly beauty?
If you are a blogger would you consider joining us in the conversation and spreading the word to more women about God's design for True Womanhood. Link up with us in the blog hop and we can learn together in community from one another what the Lord is teaching us through His Word.
If you are not a blogger share your comments either in the comment section at Thankful Homemaker or Homemaker by Choice.
Start the conversation on Facebook on the link for this post. Visit Thankful Homemaker and Homemaker by Choice on Facebook.
Next Week:
Here is our assignment for next week and we will meet again at Thankful Homemaker or Homemaker by Choice on October 24th. My daughter Amber and I (Marci) will be alternating weeks with the study so she will have week six. We will put the post up on both blogs so you will not miss anything if you are a follower of one of our blogs and not the other
Read Week Eight in True Woman 101: Divine Design and answer the questions in the study.
Watch the Video teaching for Week Eight here.
Blog with us and join the blog hop so we can share what we are learning together.
If you have extra time visit and watch some of the related resources below.
Related Resources:

The Beauty of a Modest Heart – Revive Our Hearts
Blood, Sweat and Tears – True Woman Blog
The Beauty of Meekness – Revive Our Hearts
Is Meek for the Weak? – True Woman Blog
Today's Woman – Revive Our Hearts Article
The True Woman Makeover – 30 Day Challenge
Additional video clips below on how we can have a total makeover:
((If you are viewing this in your email you will need to click through to the blog here to view the video.)


Related Posts in the Series:

True Woman 101: Divine Design Study Series