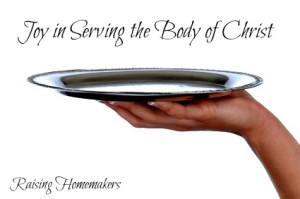 "Greet Mary, who has worked hard for you."Romans 16:6
Moms we work hard. The days are long and many times we
aren't
even given an acknowledgment like this dear saint was by the apostle Paul. In the King James Version the word for worked is
bestowed
and would be defined as presenting a gift.
As we go about our work in our home to those in our families and to those we serve in the body of Christ, would we define our work as a gift? A present? Do we delight in caring for the needs of others?
One of the areas as women that takes a lot of effort is hospitality. Serving others takes time, effort, planning, organizing, shopping and cleaning. Hospitality requires much time and energy on our part and may not always be convenient.

In the above passage Mary worked hard and we know that when we take the time to serve others it can be hard
work.