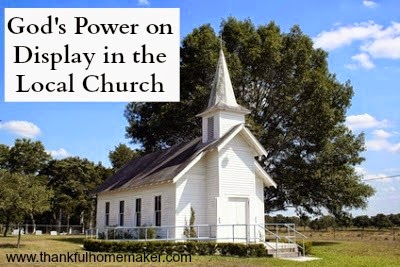 We live in such a world that is so focused on independence. One of the beautiful parts of being redeemed is we are now placed in a family that will last through all eternity. We are no longer independent but dependent upon the Lord and on one another.
Do you realize the importance of the local body of believers the Lord has place you in?
Have you committed to serving and loving a local body of believers?
One of the aspects I hear so often is people can't find a church. Well, if you're looking for a church to meet all your need and desires – you won't find a one. Our Christian walk is one of self-sacrifice and putting the needs of others above ourselves. The church isn't there to fix your family and to meet all your needs and desires.
When we ponder the New Testament and the beginning of the Christian church the first verse that comes to mind as a model of what the church is to look like is Acts 2:42:
And they devoted themselves to the apostles' teaching and the fellowship, to the breaking of bread and the prayers.

Let me start with the basics – the church is built up of believers – those who have repented and put their faith in Jesus Christ and Him alone for salvation. There will always be unbelievers among our midst but the hope is they will come to a saving knowledge of the Lord. Church is for believers not for unbelievers.
"A church is a gathering of those who have been called by God to salvation, to redemption, to adoption, to conversion, to justification and ultimately to glorification." ~ John MacArthur
What should you look for in a church? Is it all about fellowship? Finding people you like to be with? Having activities that work for your family? Childcare? Hmmmm- you could find those things at your local YMCA or Homeschool Co-op.
What we should be looking for in a church is how that church handles the Word of God. Are they faithful to the truth of God's Word? Is the
Gospel of Jesus Christ
proclaimed? How does the Bible impact their lives on a daily basis?
And he gave the apostles, the prophets, the evangelists, the shepherds and teachers, to equip the saints for the work of ministry, for building up the body of Christ, until we all attain to the unity of the faith and of the knowledge of the Son of God, to mature manhood,to the measure of the stature of the fullness of Christ, so that we may no longer be children, tossed to and fro by the waves and carried about by every wind of doctrine, by human cunning, by craftiness in deceitful schemes. ~Ephesians 4:11-14

So I exhort the elders among you, as a fellow elder and a witness of the sufferings of Christ, as well as a partaker in the glory that is going to be revealed: shepherd the flock of God that is among you, exercising oversight, not under compulsion, but willingly, as God would have you;not for shameful gain, but eagerly; not domineering over those in your charge, but being examples to the flock. ~ ` Peter 5:1-3


Fellowship is important but it is more than just talking about the weather. We need to be intentional in building each other up in the faith. Spurring one another on. Holding each other accountable to truth and being open and honest with areas that we are struggling with. In a post called,
Cultivating True Christian Fellowship
there is a great list of questions to keep handy for discussion among believers.
We need each other and this has to happen within a local body of believers who are coming together and meeting regularly. You must take the time to get involved with the members of your church. Our lives are not meant to be lived in isolation or just in various other activities that may take place throughout the week that aren't part of the local body.
Next to the Lord, and your relationship with your immediate family – the needs of your church family should be next. Even above those needs of unbelievers around you. If you are so busy helping everyone else in your community and neighborhood at the neglect of the needs that you could be meeting in your local church, you need to take a look at your priorities. We are together to meet the needs of one another. To love one another and to grow in the grace and knowledge of our Lord Jesus Christ together.
So then, as we have opportunity, let us do good to everyone, and especially to those who are of the household of faith. ~ Galatians 6:10

And let us consider how to stir up one another to love and good works, not neglecting to meet together, as is the habit of some, but encouraging one another, and all the more as you see the Day drawing near. ~ Hebrews 10:24-25
Rather, speaking the truth in love, we are to grow up in every way into him who is the head, into Christ, from whom the whole body, joined and held together by every joint with which it is equipped, when each part is working properly, makes the body grow so that it builds itself up in love.We come together to remember Christ's sacrifice for us as we take communion together. Communion is such a beautiful reminder to celebrate the unity and fellowship we have together in Christ. ~ Ephesians 4:15-16
Those Christians in the early church devoted themselves to prayer (Acts 2:42). They knew the importance of John 14:14. We see so many people flock to Christian concerts and conferences but how many people show up at your church's prayer meeting?
This is a spiritual discipline that is overlooked in our private lives and in our corporate times together as a church body. One of the sweetest times in our Sunday morning service is when we take the time to lift up the requests of one another in our local body. We are encouraged, taught, and as one of elders reminded us this Sunday, brought closer to one another as we share in the needs of each other.
When the local prayer requests are lifted up in your church take the time to pray over them throughout your week alone and as a family. Does someone need something you could help them with? A meal? A note? A phone call? As we take the time to prayer for the local needs of the body we are drawn closer to them through our common bond of Christ and we desire to serve them just as Christ has served us.
This is the time we acknowledge that our total dependence is on God.
As we find ourselves
committed
to a local body
through
the teaching of the Word, true fellowship among each other and prayer we will see God's power on display. We will grow in our love for one another (more on this in a future post). Our churches will be strengthened and there will be unity among believers. Most
importantly
, God
will
be glorified.
How can you today start to be a more faithful

member

of your

church?
How can you encourage your leadership and the members you fellowship alongside week after week?
Related Resources: