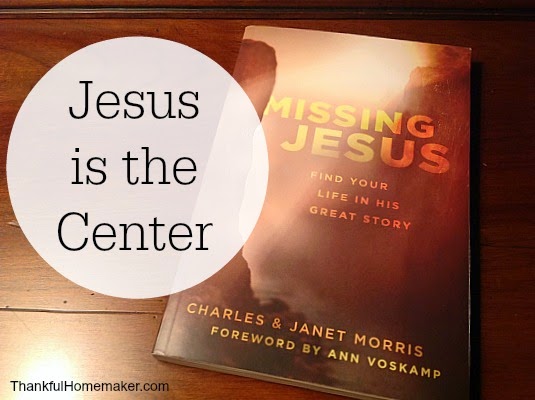 A simple title – Jesus is the Center – and a basic theological point we all know as Christians but the question I'm asking myself today, and I hope you will ask yourself too is, "do we really live our lives with Jesus at the center?"
How many times throughout the day do things like my selfishness, pride, self-centeredness, busyness and a myriad of other obstacles and sins get the focus of my heart and mind off of Christ and onto myself?
I have lived a good majority of my life missing Jesus as a non-believer and sadly even being a Christian for many years, I still miss Him and don't live life in the fullness and joy and love of my beautiful Savior.
"Sometimes we miss Jesus because we miss the completeness of what we have in Him."
~ Janet Morris – Missing Jesus
Please come and visit me at Haven Today where I had the joy and honor of sharing with Charles & Janet Morris my testimony on what the Lord has done and continues to do in my life. Their radio program is truly a haven of rest for the weary traveler and their focus is to point us to Christ – It's not all about us.
Sweet friends, please come grab your cup of coffee (or tea) and sit and listen as I share the work of the Lord in my life and I pray it will encourage you to not miss Him but to keep your eyes on Him – He is the only one worthy of all our praise. May we be reminded that we have full rest if we are in Christ – "It is finished".

"We're like the solar system without the sun. The sun is so massive it can hold all the planets in their orbits, but we're not the sun. We simply don't have the gravity to hold our lives together even when we expend a lot of effort trying. What we need is the good news of Jesus Christ, the good news that we can look outside ourselves at last because God has provided everything we need in Jesus. God has sent his glorious Son into the world to be everything for us, to be the center of our lives, to draw us into fellowship with the living God. And it's all by grace." ~ Charles & Janet Morris – Missing Jesus
If you're visiting Thankful Homemaker for the first time I would like welcome you and I am so thankful you are here. If you have a few moments please visit my Start Here page. It gives a good overview of the topics covered here on the blog.



Related Resources:
Haven Today
Missing Jesus – (This week only if you order the book from Haven Today you get a free study guide with your purchase.)
My Abortion Story and an additional sound clip at Haven Today's blog – All About Jesus
My Abortion Story and Why I Sidewalk Counsel at Abortuaries
Pro-Life Resources
The Importance of the Gospel in the Life of a Believer

Get updates that are not posted on the blog by visiting Thankful Homemaker's

*There may be affiliate links in this post – please see my full disclosure policy here.