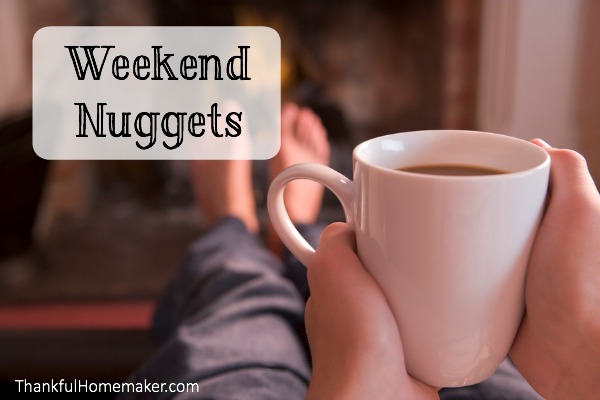 Blog Posts I Loved This Week:
A Trustworthy Wife @The Christward Collective
Ask Me Anything (Jesus Calling, Family Integrated Church, Family Devotions and More @Challies
An End-of-Year Marriage Check-Up @The Gospel Coalition
The Challenge in Praying with Your Spouse @Your Mom Has a Blog
Resolved: To Read the Bible @Desiring God
Don't Trade Away God's Help Today @Desiring God
What's On My Nightstand:
Resolving Everyday Conflict by Ken Sande (It's a great read and a shortened version of The Peacemaker)
The Blessing of Humility by Jerry Bridges
What' I've Been Listening To:
Nancy Talks Practical @Revive Our Hearts
Psalm 51 Sermon Series @Grace Community Church
Top Viewed Posts from the Blog this Week:
Choosing a Mary Heart in a Martha Season
10 Lessons from the Life of Mary
What I'm Loving This Week:
My FitBit Charge 2.
Getting back on track with my eating with the Lose It App.
Watching Untethered-Reaching the Millennial Generation from Wretched Radio.
What are some of your favorite reads from this past week?
"Do not believe everything you think. You cannot be trusted to tell yourself the truth. Stay in the Word."
~Jerry Bridges