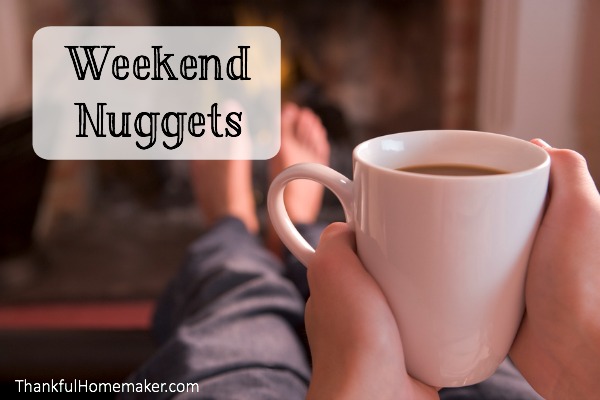 Blog Posts I Loved This Week:
Marriage is Hard because Sin is Easy @She Disciples
How to Become Your Spouse's Best Friend @Michael Hyatt
Mothers in the Church @Ligonier
A Mother's Repentance @The Rabbit Room
Homemaking in Light of Eternity @Tim Challies
What's On My Nightstand:
Prayer Pathway: Journeying in a Life of Prayer by Kathi Westlund
Christmas Playlist by Alistair Begg
What I'm Listening To:
Simple Christmas Traditions @She Disciples (my first podcast and it was a bit out of my comfort zone but I'd love you to take a listen)
Signposts: A Conversation with Rosaria Butterfield @Russell Moore
Top Viewed Posts from the Blog this Week:
10 Lessons from the Life of Mary
14 Simple Outreach Ideas with an Eternal Focus
What I'm Loving This Week:
Mr friend Denise gave me such a great idea for reaching out to others with the Gospel this Christmas season. Her family picks a favorite small book each year that has the gospel clearly presented, buys them in bulk and wraps them. She keeps them on hand in her purse and car and hands them out to waiters, store clerks, mailman, UPS, really anyone who you come in contact with. She simply states they love to read and share favorite books with others and this one shares the true meaning of Christmas. This year she gave out Alistair Begg's book called Christmas Playlist. It's a quick, powerful read with the gospel clearly presented beautifully.
(Another great resource she shared to find giveaway books with the gospel clearly presented is The Good Book Company.)
Note: I bought books and wrapped them and put some in my car, purse and by my front door for visitors and I gave my first one out today to a waitress we had for a dinner out.  She was delighted and so thankful for the gift.  
What are some of your favorite reads from this past week?
"Prayer is an acknowledgment that our need of God's help is not partial but total."
Alistair Begg