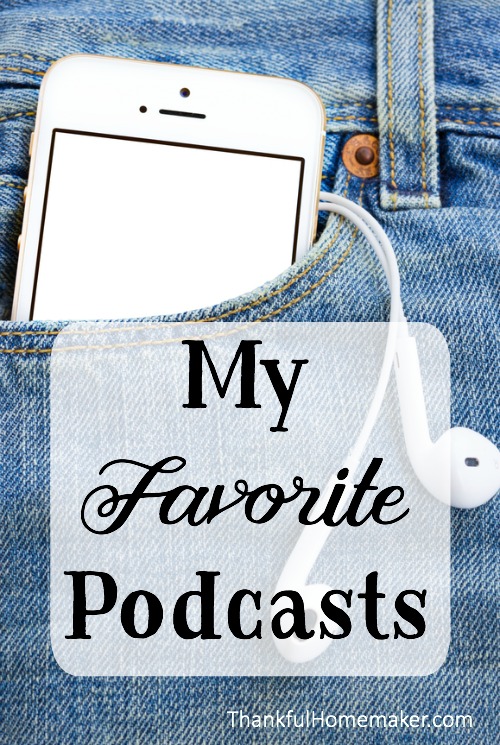 Ever since the creation of the iPod I have enjoyed listening to podcasts while cleaning or running errands or while just sitting and sipping coffee.
Podcasts are such a great simple and convenient way to get some great teaching and encouragement that fits into your schedule.  You can customize your listening to your interests and needs.  It is a great way to be in control of the media you take in whether at home or in your car.  
I don't have any fancy gadgets but simply use my phone.  I do have an iPhone and find myself using the podcast app or I do utilize the apps from various ministries to listen to sermons too (Grace to You and Truth for Life are on my frequently listened to list).  I have simple headphones to use when I'm moving around but most times you'll find me connecting my phone to a bluetooth speaker and just moving it around the house to whatever room I'm working in.  In the car I can connect to my bluetooth to have the audio go through my speakers but because of my low technyness 😉 – I usually just turn the volume up on my phone and set it in my cupholder (great amplification!). Sometimes you can connect to your cars stereo system with a simple audio cable too.
I do make sure to plan ahead when traveling and especially if I'm not going to have wi-fi to download episodes or sermons I want to listen to on my phone while connected to wi-fi.
I do not listen in every day to each one of those below and many of them are only updated weekly so it makes it a bit easier to keep up.
Wife, Mother, Homemaking Focused Apps:
A top favorite is Women's Hope Podcast.  Hosts Kim & Kimberly make it feel like I'm sitting and having coffee with friends discussing God's Word together. You can catch my episode #41 with them here.
Jami at Young Wife's Guide has a helpful and practical podcast called The Homemaking Foundations Podcast that I think women of all ages would enjoy and be encouraged by.
Revive Our Hearts with Nancy DeMoss Wolgemuth has been a favorite for years and the podcast format makes it easy for me not to miss an episode in a series.
Heidi St. John at The Busy Mom has a great podcast for Mama's.
Sermons and Teaching:
I usually listen to Grace to You through the app but I do have it on my podcast app along with Truth for Life.
I've been taking online discipleship training with Rick Thomas so his two podcasts are on the top of my list to listen to and I know you will learn and grow much from both of them.  Your Daily Drive and Life Over Coffee with Rick.  
Truth in Love from the Association of Certified Biblical Counselors has helped in dealing with practical problems that we deal with in this fallen world.
Jen Wilkin has many of her Bible studies online for free to listen to the sessions and download the notes for free too.  I highly recommend her study on James.  These are great to do alone or with a small group too.
Worldview:
Wretched Radio is top on my list to try to get to daily when I can.  It is a one hour jam packed podcast and there is a free link in the top right hand side of the website to listen to it continually from the day's podcast but I it is a ministry I love supporting so I do pay to receive the daily podcast and all the other benefits that you can find more about here.  
My other daily worldview podcast is The Briefing by Albert Mohler.  This is great for adults but also so good for your teens to listen to.  I try to catch this one every day.
Quick Summary:
Here they are in list form:
*-my top recommendations
Quick note – catch my testimony from my abortion story on Haven Today here.  
What are some of your favorite podcasts?