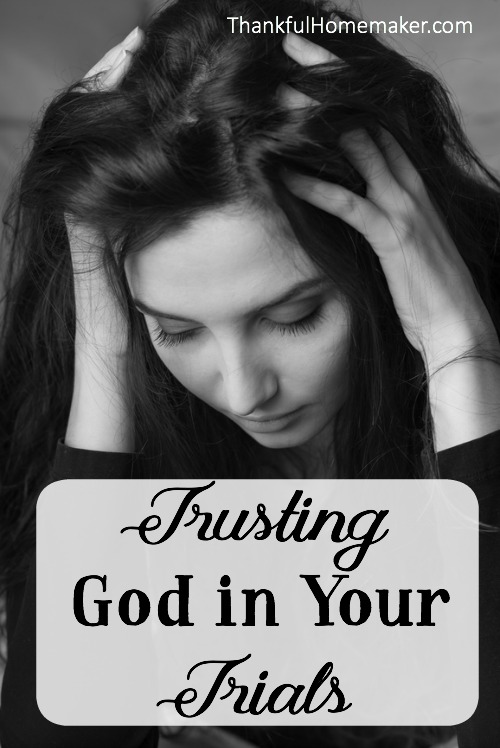 Over many years of walking with the Lord through many trials (and continuing to do so) I wanted to share some things that have been a help to me.
When you pass through the waters, I will be with you; and through the rivers, they shall not overwhelm you; when you walk through fire you shall not be burned, and the flame shall not consume you.

~ Isaiah 43:2
I still have moments in trials and difficulties of being overwhelmed or fearful because I don't always keep my eyes on Christ. When my thoughts are turned inward all I find there is hopelessness.  So this post is just as much as a reminder for me as I hope it will be to you to look towards the Lord.
Being Prayerful:
I find that most of my fears come about in the quiet of the night.  On those nights when I find myself awake over a difficult or seemingly unchangeable situation is when I need to turn my focus to the Lord.
I need to cling to the Lord when I'm overcome with fear and scared.  I share with Him how I am feeling and don't hold back. I let Him know what I'm afraid or concerned over and ask His help because I am desperately helpless in and of myself.
The next thing I pray is that God would be glorified in the situation.  This is where knowledge of God's Word and His desires for our life is so important.  We need sound theology to help us in these times of trials so we fully grasp that the Lord truly is working all things for our good and His glory (Romans 8:28).
Giving thanks in the trial is not always one that comes easy for my stubborn, sinful heart but there is a freedom and joy knowing that God will continue to teach me through this trial (1 Thessalonians. 5:18).  I can offer thanks and gratitude to God for the trial because I know in and through it He is continuing to mold my character more into the likeness of Christ.  I'm thankful that this trial draws me closer to Him and grows me more and more in my dependence on Him.
Our God is Personal:
I love the thought that when we talk to God, He is listening.  There is no greater comfort to be reminded that when we come before Him with our requests and let Him know we need His help, we receive grace and mercy (Lamentations 3:22-23)
Our Lord doesn't leave us alone in our affiliation, He is with us always and will never leave us (Isaiah 43:2, Hebrews 13:5).
Jesus is continually interceding for us and our Lord hears every one of our prayers (Hebrews 7:25, Psalm 34:17).
Giving Thanks for the Trial:
As I stated above, this is not always my first thought.  As I meditate on the Lord's goodness in all things, I'm reminded there is much to give thanks for because the Lord is working my good and His glory though this trial.
When I give thanks to the Lord, the focus is off of me. When I'm serving others and meditating on God's Word, my faith is strengthened, I don't find myself grumbling or complaining and most important, our God is glorified.
giving thanks always and for everything to God the Father in the name of our Lord Jesus Christ,

~ Ephesians 5:20
I think of our Savior, Jesus Christ, and His eyes were not on the temporal but on the eternal.  This affliction is only momentary (2 Corinthians 4:17). The most glorious thought is that one day our Lord Jesus will wipe away every tear from our eye and we will see Him face to face (Revelation 21:4).
So as you find yourself in a time of suffering, hold fast to the truths listed above and be reminded that our God is good all the time. 
"Jesus's eyes were on his future joy. He got through the cross by not focusing on the cross but on the promised joy that would result from it.

That's where God wants your eyes: on the future joy he has promised you."

~ Jon Bloom
Related Resources:
(Please note these two books below helped me in having a solid theology of suffering)
Trusting God by Jerry Bridges
Surprised by Suffering: The Role of Pain and Death in the Christian Life by R. C. Sproul