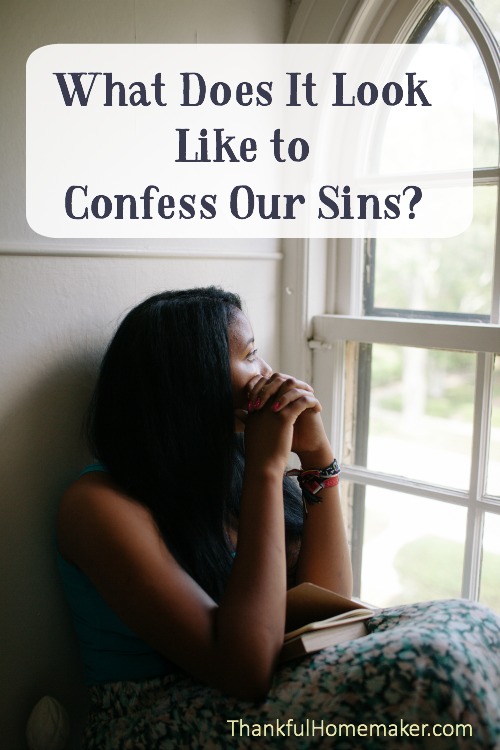 7 But if we walk in the light, as he is in the light, we have fellowship with one another, and the blood of Jesus his Son cleanses us from all sin. 8 If we say we have no sin, we deceive ourselves, and the truth is not in us. 9 If we confess our sins, he is faithful and just to forgive us our sins and to cleanse us from all unrighteousness.

~ 1 John 1:7-9
I want to walk in the light of truth. (1 John 1:7). John is not talking about sinless living (1 John 1:8) because no one but Jesus can live up to that standard (2 Corinthians 5:21) but it does mean the pattern of my life is living openly before God who examines my heart. Walking in the light means I am desiring to seek to be holy as God is holy (1 Peter 1:15-16).
What is Confession of Sin?
Walking in the light means not denying my sin or blaming others for my sin but confessing my sin. Confessing my sin means to agree with God that my sin is sin. I need to own up to it and turn from it (repent).
We are fully forgiven at the time of salvation (Romans 8:1) but as believers our lives should be a continual pattern of confessing and getting specific with the Lord about our sins. In 1 John 1:9 the words forgive and cleanse are in the aorist tense (past action) and confess is in the present tense (an ongoing action).
So, as believers, our lives are marked by continual confession of our sins. It started at salvation when we acknowledged before the Lord we were sinners in need of a Savior and confessed our sins. Our forgiveness and cleansing is ongoing as believers as we continue to confess our sins. Our continual confession of sin is a characteristic of those who walk in the light.
Examining Our Hearts:
I can fall into the Pharisee trap a bit too easily. You see I don't break any big moral rules. My life can look pretty good to those looking at me from the outside. We can too easily as believers start to compare ourselves to others instead of God and what His Word commands of us in how we are to  live. 
During my prayer times with the Lord I need Him to examine my heart and convict me of my unconfessed sin. It helps when I get specific about my sins because it brings them out into the light where the Spirit can do His work in my heart. I desire to be broken over my sin and put my sin to death (Colossians 3:5, Romans 8:13).
"Sin is sin. Even those sins that I call 'the acceptable sins of the saints' –those sins that we tolerate in our lives –are serious in God's eyes. Our religious pride, our critical attitudes, our unkind speech about others, our impatience and anger, even our anxiety (Phil 4:6); all of these are serious sins in the sight of God."

~ Jerry Bridges, Respectable Sins
What are some of my specific sins? I'm not going to go through everyone because you would never finish the article because I would never finished writing it! But here are some of my sins I struggle with:
I don't love God with all my heart, soul, mind and strength  (Matthew 22:37). I heard John Piper say it's to be 100% of the time not 95% of the time.
I don't always make the most of my days and waste time (Ephesians 5:16,  see When We Waste Time).
My speech is not always seasoned with grace and is downright sinful to others at times. Sadly it hits most to those in my own home. (Ephesians 4:29)
I am anxious at times and not trusting the Lord. I don't cast all my cares on Him (1 Peter 5:7)
I grumble and complain (Philippians 2:14, see Do All Things Without Grumbling)
I can have a critical spirit of others and I don't always have loving thoughts or actions towards them (John 13:34, see Dealing with Our Critical Spirits).
I can be selfish with my time and not look to the interests of others but only desire and look to my own interests (Philippians 2:3-5, see Looking Our for the Interests of Others).
This list can go on and on. It helps me in my walk when I keep a short account of my sins and pray without ceasing throughout my day. I am agreeing with the Lord that I am not doing the things He has commanded me to do. 
When I am aware of sinful thinking or actions or words I need to stop and deal with them. Remember, confess in 1 John 1:9 was an ongoing action in the lives of believers.
The best part is I have this promise to hold to from God's Word:
If we confess our sins he is faithful and just to forgive us our sins and to cleanse us from all unrighteousness.

~ 1 John 1:9
Our Hope:
Our way to experience true fellowship with the Lord is to walk in the light as He is in the light. Don't find yourself walking darkness and deceive yourself. In this world we will fight against sin but sin will not have the last word (Romans 7:14-15). We may even need to go to others we have sinned against to make things right.
"The Christian life is a life of continued repentance, humiliation for and mortification of sin, of continual faith in, thankfulness for, and love to the Redeemer, and hopeful joyful expectation of a day of glorious redemption, in which the believer shall be fully and finally acquitted, and sin abolished for ever."

~ Matthew Henry
We are no longer slaves to sin if we are in Christ (Romans 6:17-19). There is coming a day dear Christian when we will be fully liberated from sin. I am so thankful to the Lord when I read passages such as the Pharisee and the tax collector (Luke 18:9-14) how our Lord hates the sin of self-righteousness but responds graciously to those with a humble and contrite spirit. Let us be those who truly mourn (Matthew 5:4) over our sin and hunger and thirst for His righteousness. 
Ask our Lord to open your eyes to sins you've been tolerating, ones that have become a habit in your life and do battle with them. I am doing this with you. Ask Him to help you put them to death. Our worst sin is our denial of sin.
Our best way to deal with our sins is a growing affection to our Lord. We need to be reminded of the Gospel when we sin and that if we are in Christ God sees us clothed in His perfect righteousness. Secondly we need to rely on the Holy Spirit and His work in our lives to enable us to repent of our sins and grow in the fruit of the Spirit (Galatians 5:22-23).
Let me leave you with this final thought:
"The aim of confession [of sin] then is not to erase consequences, it's to restore joy. And then the consequences are what they are. Your sins have consequences. They're rocks thrown in the pond and the ripples go and they touch every shore. But God does promise when you've confessed and repented that He will show you lovingkindness and compassion because you are His eternal child… Your justification is settled forever. Don't cover your sin, confess it. That's what true Christians do. You've been bathed that you need continually to have your feet washed as they get dirty walking in your fallenness. If you don't confess, you'll be chastened. If you do confess, you may never be able to change the consequences but because you're God's child He'll come to you in compassion and lovingkindness and minister to you."

~ John MacArthur
Related Resources:
The Importance of the Gospel in the Life of a Believer
Respectable Sins by Jerry Bridges
Brokenness: The Heart God Revives by Nancy DeMoss Wolgemuth
The Mortification of Sin by John Owen
 ~~~~~~~~~~~~~~~~~~~~~~~~~