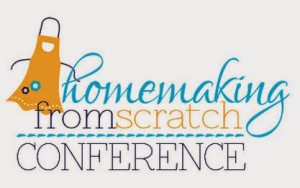 Ladies I have been so excited to share with you that I am speaking at the first annual
Homemaking from Scratch Conference
that will be held October 7-9, 2014.
What I am most thankful about is the affordability and convenience of this eConference.
No need to travel, get babysitters, worry about your family while you're away or put a burden on your budget. This conference comes to you in the convenience of your own home and works with your schedule.
The sessions are all pre-recorded and there are 4 scheduled for each day of the conference (12 sessions total). When you purchase the conference the sessions are yours to keep -forever! You can pause them, listen to them at a later date or go right along with the conference on those days and enjoy fellowship time in Facebook groups with each speaker too.
During the conference, the speakers will be available to chat with and answer your questions through a live party going on in a private Facebook group for all attendees.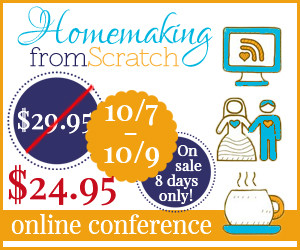 When you pre-register for the conference you receive $200 in Homemaking bonus items (items like, cleaning schedules, prayer cards, eBooks and so much more!).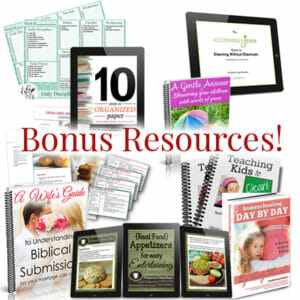 You also receive a Homemaking From Scratch PDF Conference notebook so you can follow along with each session.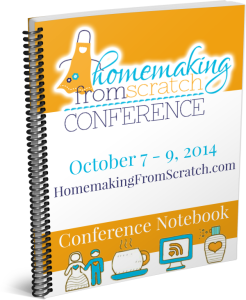 Take a peek at the Sessions and Speakers:
Christin Slade: Joyful Mothering

· BiblicalMotherhood – A Heart to Heart

Was is the basis for BiblicalMotherhood? How can we parent with one foot firmly planted in Scripture? In this encouraging session, Christin reminds us of the overwhelming grace that God gives us to be godly mothers and examples to our children. Get ready to have a heart to heart with Christin on the basis of Biblical Motherhood,legalism, anger, and more!
Hilary Kimes Bernstein: Accidentally Green

· Making Healthy Choices in Your Home

Do you want to create a healthier,more natural home but have no idea where to start? Are you confused by all the ingredients in your beauty, skincare, cleaning, and household products and feeltotally overwhelmed? Hilary shares her story and how her family came to realize that the products within her house were toxic and dangerous! She then gives you all the tools you need to identify dangerous products lurking in your medicine cabinet, how to find healthy and natural alternatives, and how you can do all this while saving money!
Marci Ferrell: Thankful Homemaker

· The Benefits of Simple Homemaking Routines

This session is your chance to learn from an older, wise, Titus 2 woman on what it means to be a Biblical Homemaker.How can we glorify God within our Home? Marci walks you step by step how to create smooth homemaking routines so that you can better gain control of your home, your day, and your life! This session is packed full of practical advice,wisdom from Scripture, and a heavy dose of Grace. Learn how to craft a homemaking routine and schedule that works for your family!
Marlene Griffith – A Diligent Heart

· Keeping Marriages Strong & Growing

Keeping your marriage strong, and always growing, is really hard work! Sometimes, even the smallest communication can be hard. In this session, Marlene shares from her own personal experience, what it takes to really keep your marriage going strong and growing in the Lord. She takes an honest look at what it means to have a Spirit-led marriage and how our willingness to be immersed in God's Word is so vital to our marriages.
Dana K White – A Slob Comes Clean

· Decluttering- Tips and Tricks that Work in ANY Home

Clutter is often the #1 stumbling block to a clean home. Too much stuff all over means a messy house, a harder time extending hospitality, and a cluttered mind. Dana approaches this subject of decluttering from a Biblical perspective – why it matters – and why cleaning can become an idol. Listen to this session and you will walk away encouraged and equipped with hands on tools for delucttering your home and creating a better atmosphere for your family.
Jolene Engle – Jolene Engle

· A Recipe for a Thriving Marriage

In the midst of the stresses,messes, and the mundane seasons of life, it's so hard to maintain a thriving marriage. In this powerful session, Jolene gives you some valuable tips for a thriving marriage no matter what season you're currently living in. Every marriage goes through seasons. Seasons of stress whether it's hardship or heartaches. Seasons of exhaustion or the dreaded overwhelmed schedule. Seasons of the daily rut that life can bring. Every marriage needs intentionality to thrive during all of these seasons. Jolene takes a walk through Scripture to give you the recipe for a thriving marriage.
Jami Balmet (Opening Session) Young Wife's Guide

· What is a Homemaker and how can I glorify God in my role at home

What does it mean to be a homemaker?To kick off this conference on homemaking, Jami opens up the discussion by taking a look at what Scripture defines as a homemaker. The position of a homemaker is not dependent on marital status or occupation. God has called all women to this important and noble position. Take a walk with us and discover what it means to be a woman who glorifies God in her home.
Jami Balmet Young Wife's Guide

· Practicing Hospitality: The Biblical Art of Serving Others

Hospitality is about so much more than entertaining. Hospitality is about opening up your home, and using the resources that God has given you, to serve others. Jami starts her session focusing on the Biblical mandate of hospitality and then focuses in practical ways you can start extending hospitality to those around you – even when you live in a small apartment, don't have a lot of money, or feel totally inadequate. Hospitality is a command for all believers to fulfill – let's go on a journey and discover how easy it can actually be to fulfill this serving opportunity from within your home!
Kristy Howard – Little Natural Cottage

· Real Life Homeschooling

What does homeschooling really look like? The sticky floors, bad attitudes, lost school supplies, laundry piles and the many other day to day issues homeschooling moms face. A lot of us struggle with expectations, finding joy in the chaos, and feeling like we're somehow inferior to other homeschooling moms (you know, the ones who surely must have it all together). In this session, Kristy dives into her honest struggles in these areas and how she's discovered purpose and freedom.
Trisha Gilkerson – http://www.intoxicatedonlife.com/

· Gluten Free101: Essential Guide for Homemakers

Gluten-free living might seem like a fad, but there are real health benefits behind this way of eating IF done correctly. Trisha gives you a brief tutorial on what the problem with gluten is(in easy to understand terms) and help you navigate transitioning your family to this way of life the healthy way! If you are curious because friends and family are gluten free and you want to understand it better – or just starting this journey yourself – Trisha is there to explain it all and make it easy to understand!
Katie Bennett Embracing a Simpler Life

· PrioritizingTime with God

Session description coming soon.
Lisa Woodruff – Organize 365

· Organizing the many facets of mom.

The ability to nurse sick kids, get the laundry done, shuttle kids from one activity to the next and cook a mean meatloaf are all in mom's bag of tricks. Is she can find her bag. Where did Iput that bag?! Professional Organizer Lisa Woodruff will help you understand how to get organized once and for all. Organizing the many facets of mom involves learning simple systems to organize your home, paper and time!
Alina Joy Dubios – Good Old Days Farm

· Getting Your Kids Involved in Chores


What does God's Word have to say about chores? Is it even worth it to go through the extra work to teach your kids how to do chores? What's the right way to go about it? Alina Joy answers all these questions and more in her session on getting kids involved in chores.Starting with Scripture and continuing into practical advice and routines,Alina Joy equips you with the tools you need to get your kiddos involved in chores and your house running smoother!


Conference Schedule: All times are EST
11:00 – 12:00AM – Jami Balmet (Opening Session)
5:00pm – 6:00pm – Jami (Hospitality)
5:00pm – 6:00pm – AlinaJoy
**Jami will close out conference with a quick 10 – 15 minute goodbye**
Click on the photo below for more information and to register:
(Remember to register early for discount pricing and to receive over $200 in bonus resources!)
*Just a quick note for my readers. I will not be present live for the Facebook chat time for my session. Jami will take my spot as my husband and I are headed to Africa for a mission trip. I am looking forward to sharing with you all more about the trip when we return. Please keep us in your prayers over the next couple of weeks. Much love, Marci



Get updates that are not posted on the blog by visiting Thankful Homemaker's

*There may be affiliate links in this post – please see my full disclosure policy here.