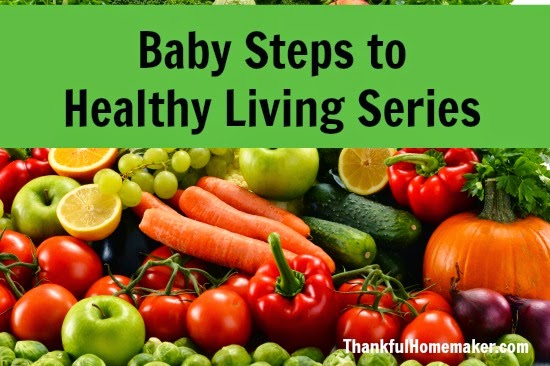 Well, doesn't this post just fit.  We're starting a new year and we all, whether in paper or in our minds, determine to make changes for the new year.  Turning that calendar gives us the feeling of a fresh start.
I am not an expert by any means on diet and exercise but just a homemaker who desires to continue to help her family to make healthy choices.  If you're like me you've read all the books and tried all the various ways to feed your family healthy food.  My library of cookbooks and healthy living books is vast but some I continue to come back to our: Nourishing Traditions, Feeding the Whole Family, Vintage Remedies Guide to Read Food, Mommy Diagnostics: The Naturally Healthy Family's Guide to Herbs and Whole Foods for Health, Rosemary Gladstar's Herbal Recipes for Vibrant Health, The Complete Book of Essential Oils and Aromatherapy, A Beginner's Guide to Assembling a Natural Medicine Cabinet and my most recent favorite 100 Days of Real Food).
This series on Healthy Living is going to cover my journey to be a bit more consistent in making healthy food choices and other healthy lifestyle changes for myself and my family.  I desire it to be a consistent lifestyle choice.  I want to incorporate regular exercise and continue to make more natural choices in all other areas of my life.
As I'm aging it seems the body aches and pains continue to increase each year.  Weight seems to stick on a bit easier than it used to and being tired is something I deal with more than I would like too.  I am a fairly young grandma and would love to be able to enjoy my grand babies with all the energy the Lord would allow me at this time of my life.  I'm not promised tomorrow so I want to make the most of every day He allows me to enjoy with my family.
If you're going to follow along with me I want to be clear that nothing I am stating is a law.  Work in slowly what you tips you like and what works for your family.  There may be items I share that you don't agree with and that is okay.  I would like the comment section to be a help to everyone so share your differences kindly and we can learn from one another.
With all that stated above I think it's time for my disclaimer:
Disclaimer:
Please know that eating healthy is not an idol to me.  Eating healthy is not the gospel. If I am spending more time  thinking about healthy food instead of time in God's Word and applying it to my life, I need to repent.
God is sovereign, and just because I am eating a fairly clean diet doesn't mean that in this fallen world I will not get cancer or die young. God wills and works for His good purposes in all things.  My purpose as a believer is to bring glory to Him in all that I do. 
Okay with all that said let's talk about areas this series on Healthy Living is going to cover:

Baby Steps to Healthy Living Series Topics:

Beginner Steps to Making Real Food Choices –  We're going to clean out our cupboards together and work on some simple recipes and menu plans to make real food an easy part of our day.  We'll talk about what real food is and what it isn't.  We will work on becoming better label readers at the grocery store.  I'd like to cover healthy snacking, eating out, traveling and time at other people's homes too.
Exercise – We are going to work together to make exercise a regular part of our day.  I'm doing some research on free YouTube videos that are great for moms with kids of all ages at home to get a good workout in a minimal amount of time.  This is an area I would like to have some regular accountability in so we may have a daily check-in on the Thankful Homemaker Facebook page.
Natural Medicine Cabinet – We are going to work on turning first to natural remedies to common ailments we deal with whether it be colds, flu, coughs, headaches etc.
Natural Skin Care – We're going to look at some simple steps to converting your current skin care and beauty routine into a more natural one.  This will look different for each of us but I'm going to share some budget friendly options I've found to help you convert your skin care and beauty routine into one that's good for your skin and quick to implement in the morning and evening.
Natural Cleaning Products – My home has been converted in this area of natural cleaning for many years now but I do continue to tweak it.  I'd like to break it down into rooms and look at purchased natural cleaning products, homemade cleaners and various tools to make natural cleaning a bit easier.
First Assignment:
At the end of each post I will put an assignment to work on to keep us motivated together.  This weeks assignment is just to give us a jump start before we dive in next week.
I want us to be conscious of how much water we drink and be more intentional to increase our daily water intake.  A good rule of thumb is your urine should be a very light colored yellow.  I'm not going to tell you how much or give you and ounce to weight ratio but encourage you to keep a glass handy all day.  Do try to drink a glass first thing in the morning and before you reach for that snack.
If you're on Facebook come join us in the newly formed group: Baby Steps to Healthy Living where we can encourage one another, share tips, challenges, ask questions and much more.
Read 4 Reasons You Should Drink Enough Water & Beginner Plan: Beverages to help motivate you to intake more water daily.
Keep Updated on New Posts:

Subscribe to Thankful Homemaker by email to not miss a post in this series. (when you subscribe you get my eBook free – A Beginner's Guide to Assembling a Natural Medicine Cabinet)
Check out all posts in the series:

Baby Steps to Healthy Living Series
Disclosure: This article is not intended as a substitute for the medical advice of physicians. No action should be taken solely on the contents of this article. The reader should regularly consult a physician in matters relating to his/her health and particularly with respect to any symptoms that may require diagnosis or medical attention.