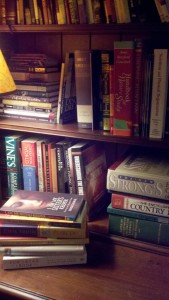 Books, books, books…..I truly enjoy books. We have shelves and shelves filled with a variety of great books to read and there is always a pile that accumulates in my room and on my Kindle. When my husband first bought me my Kindle for Christmas several years ago I was a little hesitant on how I would adjust to not having a book in my hands. No writing in it, highlighting with yellow, dog eared pages – would I adapt to this new technology? Now several years later I can't imagine not having my Kindle – it is used daily and a favorite when we are traveling. I enjoy the ability to highlight for personal use and to share highlights on social media. Being able to separate my books into collections on it helps me to be organized for the way I use it. I use collection categories such as: Current Reads, Devotionals, Favorites, Cookbooks, Sermons (love the ability to download sermons from Sermon Audio that are in PDF format directly into the Kindle), Home-keeping, Health, History, Classics, Fiction and I separate into some favorite authors I enjoy reading. The variety of free books available on Kindle has helped to build my library.
Still the majority of my books are ones that I can physically hold, write in and carry in a bag. This year our women's group is reading four books together and for discussion in a group setting, I prefer a book to hold.
I have listed below the books I am hoping to get to in the next year.
Books on my List for 2012:
Our Women's Group Reads:
Total Truth by Nancy Pearcy – I have read some great reviews of this one and I am really looking forward to digging into it. The reminder that there is no separation of sacred and secular for the Christian is one we can't be reminded of enough as believers.
Nancy Pearcy on the Sacred-Secular Split – YouTube Video
Mission Minded Family by Ann Dunagan – This book has been in my possession for awhile and I have skimmed through parts but not gone through it as a whole yet. Reading it in a group setting will be great for ideas and insight from others how they make missions part of their everyday family life.
Idols of the Heart: Learning to Long for God Alone by Elyse Fitzpatrick – I'm sharing the book description on this one from the publisher:
"Many people desire to live godly lives but feel trapped in habitual sins. They trip over the same bad habit, embarrassing weakness, or sinful slavery they wanted to be free of years ago. Idols of the Heart reveals that idolatry lies at the heart of every besetting sin. If you think of idols as stone statues in far-off lands, think again. Idols are the desires, longings, and expectations we worship instead of the true God. Fitzpatrick helps uncover hidden idols by moving us to ask:
-What do I long for so much that my heart demands, "Give me this, or else I'll die?"
-What must I have for my life to be meaningful and happy?
-Do I love God whole-heartedly or are there other loves in my heart that clamor for my attention?
Fitzpatrick shares the hope found in God's desire to have his children live free of idols, and his commitment to free them by His sanctifying power."
I am My Sister's Keeper: Reaching out to Wounded Women by Denise George – There are so many women today that are wounded from broken relationships, loneliness, divorce – how do we as sisters in Christ reach out and help. How do we show mercy and speak truth at the same time. An area I need much growth in – I am great with speaking truth but need help on the mercy side.
Personal Reads:
Slave by John MacArthur – My husband went through this one so it has come highly recommended to me.
Freedom of the Will by Jonathan Edwards – This is a start in my quest to read a classic Christian book yearly.
Money, Possessions and Eternity by Randly Alcorn – A free Kindle book and one I have wanted to read for years.
Surprised by Suffering: The Role of Pain and Death in the Christian Life by R.C. Sproul – I am reading this currently and it has been a blessing in the situation we are in with my mother-in-law home with us through hospice right now. I believe I will not finish it until next year so it has been added in.
The Rare Jewel of Christian Contentment by Jeremiah Burroughs – The title says it all on this one and another classic
Doctor Yourself by Andrew Saul – I enjoy books on nutrition and natural healing through proper nutrition. Dr. Saul deals with vitamin deficiencies in this book.
Favorite Picks from 2011:
Trusting God: Even When Life Hurts by Jerry Bridges – such a help to remember God is sovereign in and through all situations.
Feminine Appeal by Carolyn Mahaney – One I read often and will probably read it again in 2012 – we are so bombarded by feminism daily and I am thankful to be brought back to the truths of God's Word in Titus 2 for women.
Family Driven Faith by Voddie Baucham – Read it several years ago and wanted to revisit it.
Jesus + Nothing = Everything by Tullian Tchividjian
Give them Grace: Dazzling Your Kids with the Love of Jesus by Elyse Fitzpatrick
Real Food for Mother and Baby by Nina Planck – My daughter just recently had our first grandchild so grandma started reading on feeding baby. I gave Amber a copy too.
What is on your list to read through the next year? What are some good books you have read in years past? Please share your thoughts below in the comments.
Happy Reading!!
Inspired by Keeper of the Home's 2012 Reading List
This post is linked to: