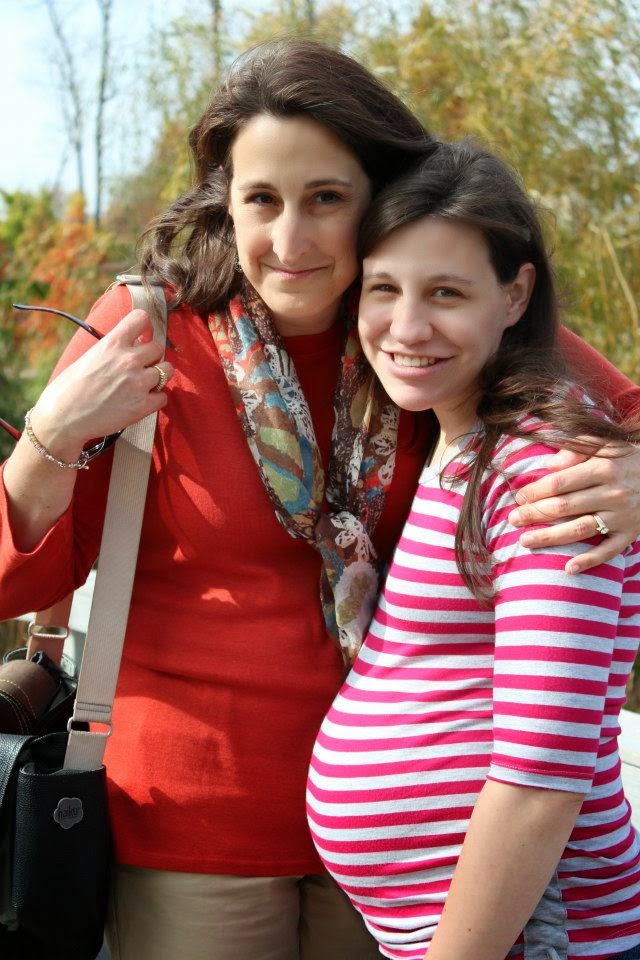 Photo of Amber and I from a couple of years ago – she's pregnant with little Olivia here 🙂
Well, I don't have one photo to share from this week but I do want to share about my lovely evening out I had with my daughter last night.
Amber and I had a mom's night out and went to see Moms' Night Out. It was so much fun to laugh and cry together. The movie was just a delight and if you have an opportunity to see it I encourage you to check it out. (Your husbands will love it too – I'm looking forward to when it comes out on DVD to share it with mine.)
I was a bit overtaken by emotion (could be my aging hormones too) and just lost it a bit after the movie when my daughter and I were heading to have dinner together.
Sometimes I cannot believe I am with my baby girl who now has her own babies. Where has the time gone? Amber's little Anya came to church on Sunday with a dress I used to put on Amber and the tears welled up as I could picture my little girl in that dress and it didn't seem like too long ago. You can't be reminded of this enough:
Cherish every moment
Every Moment – not just the beautiful, loving, sweet, huggable moments but the
the difficult, messy, tired, challenging, rebellious, crabby and angry moments.
Learn from every one and don't take one for granted.
In each moment our good and gracious and loving Father is there in them loving us and drawing us closer to Him. I am thankful to have and be known by a Heavenly Father who never leaves or forsakes us. Every moment of our lives as believers is being used to sanctify us more into the image of Christ. I love how He uses the mundane, seemingly ordinary moments of our lives to do this. Learn from Him and be reminded that His yoke is easy and His burden is light. He took the yoke upon Himself we were meant to carry.
Even more overwhelming is the goodness of God in redeeming us as His daughters – we are daughters of the King. Only as a Christian do we have a Father who is perfect and all knowing and all loving.
Embrace your role Mama's and be reminded that you are complete in Christ – rest in His perfect peace. Don't compare yourself to anyone else – be content in who God has designed you to be. Delight in your family and love them with the love that Christ has shown you. It is a self sacrificing love that looks to the interest of others.
So if there is any encouragement in Christ, any comfort from love, any participation in the Spirit, any affection and sympathy, complete my joy by being of the same mind, having the same love, being in full accord and of one mind. Do nothing from selfish ambition or conceit, but in humility count others more significant than yourselves. Let each of you look not only to his own interests, but also to the interests of others. Have this mind among yourselves, which is yours in Christ Jesus, who, though he was in the form of God, did not count equality with God a thing to be grasped, but emptied himself, by taking the form of a servant, being born in the likeness of men. And being found in human form, he humbled himself by becoming obedient to the point of death, even death on a cross.
~ Philippians 2:1-8
Enjoy the clip below (if you're reading this in your email – you will need to click through to the blog to see the video clip here).