This was a fun night. We truly enjoyed the experience and I was wishing I took more pictures but I didn't think about it until halfway into the evening.
My husband and I took a Date Night Cooking Class at Sur la Table and our theme for the night was Steakhouse Favorites. We had fun working with another couple in learning how to properly cook a steak (28 years of marriage and I've been doing it wrong!) and prepare a pastry crust and fry up some yummy crab cakes and some pretty scrumptious creamed spinach too.
The Menu:
Mini-Crab Cakes with Lemon-Garlic Aioli
Shiitake-Dusted New York Strip Steaks with Gorgonzola Butter
Creamed Spinach with Shallots and Crispy Bacon
Dark Chocolate Truffle Tart
The pictures are from my iPhone but I think you'll get a feel for the evening – it kinda felt like we were participating on a Food Network Show. Chef Ann was a delight to learn from and made the evening entertaining too!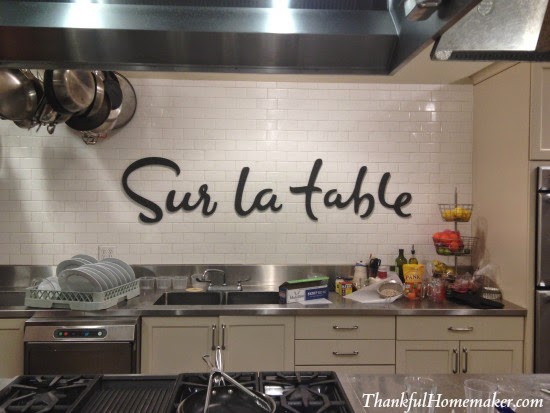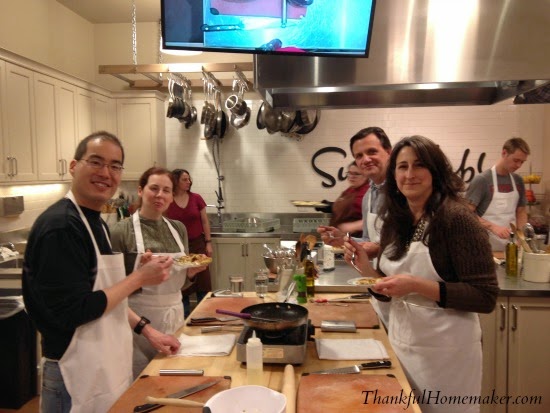 Our work station. We worked in groups of four (two couples at a station). It was fun taking turns doing the various tasks together. We are eating our crab cakes here and they were delicious. We're having them for lunch today. They were a must on the
menu plan
this week.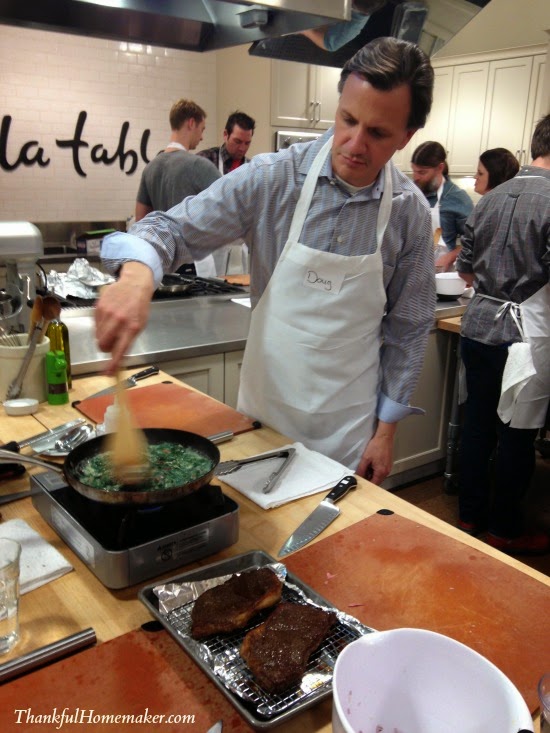 My Dougie did an excellent job on the creamed spinach.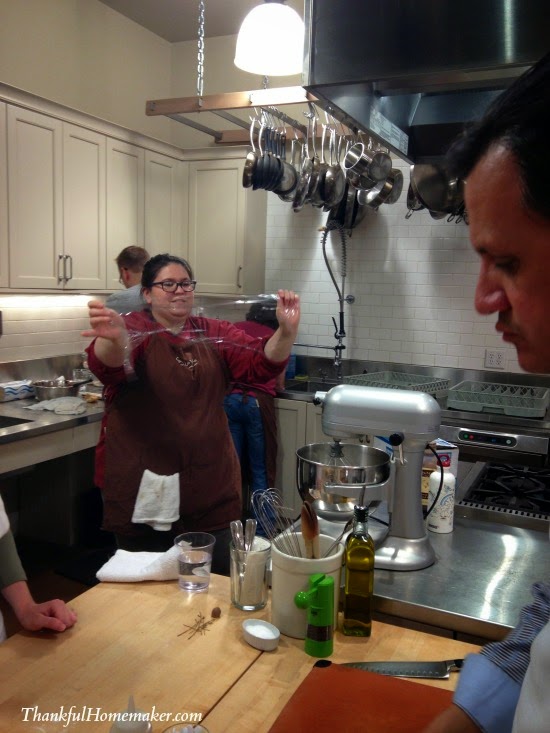 There is our Chef Ann who did a great job getting around to all of us and giving us some great tips for our home kitchens. (I forgot most of them – I was wishing a brought a notebook and pen). I did learn an easier way to cut up a scallion and she is putting the plastic wrap around the Kitchen Aid Mixer to save the whipping cream splatters from going everywhere.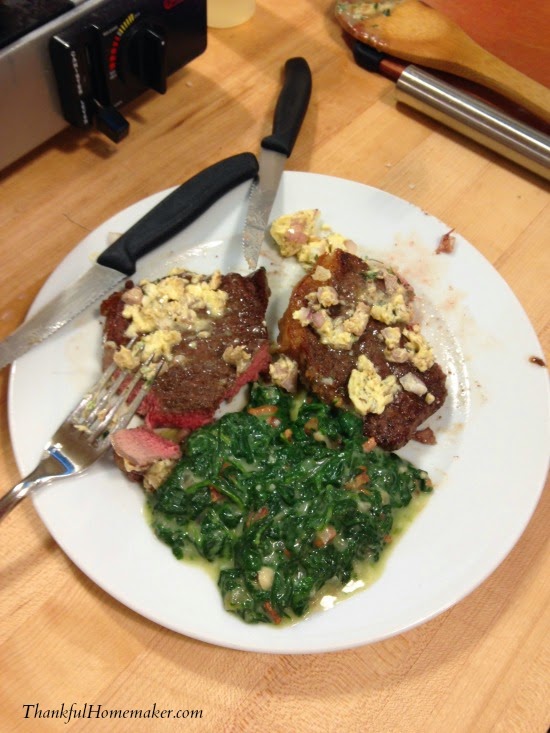 Yum!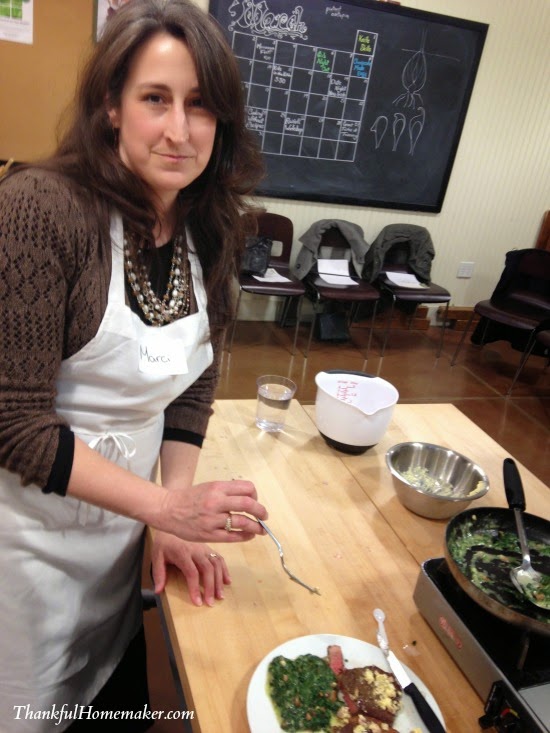 I did enjoy the taste testing part of the evening the best – especially the next picture.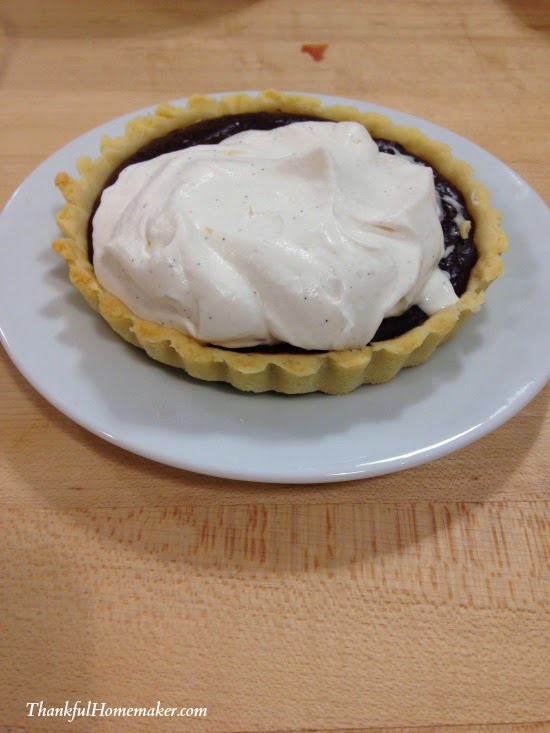 Dark Chocolate Truffle Tart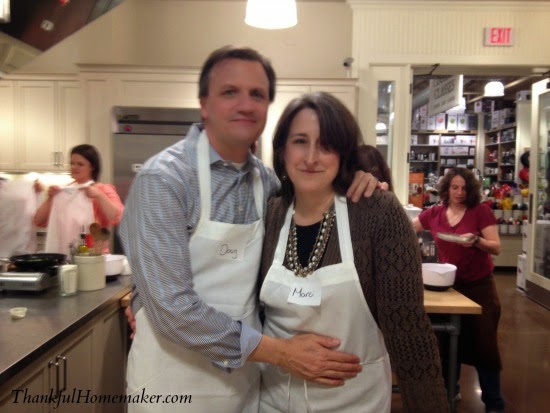 It's a bit blurry but I'm thankful we remembered to get a picture together.
It was a wonderful time and we would definitely do it again.
If you're interested in a cooking class for yourself or as a couple check out
Sur la table's website
on all the classes they offer. (This is not a paid advertisement – just a reference from a satisfied customer)