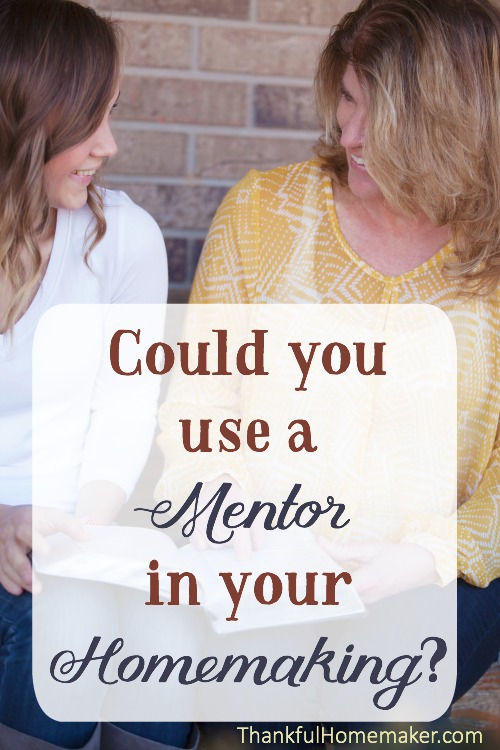 What if you could have a mentor right in your own home that works with your schedule?
What if she could cover all areas of your homemaking – from meal planning, cleaning, marriage, organization, weary moms, routines with littles, organizing your wardrobe, a healthy home and so much more! What if you had lifetime membership with more and more courses being added in to learn and grow from? Would you want access to it?
If you have an interest at all, I encourage you to take a peek at My Homemaking Mentor. It is an online video based mentoring system that covers vast areas of all your homemaking needs.
I truly agree that real, in person, hand's on help is still the biblical model for a Titus 2 ministry but I have learned much and have been discipled by many women through various books I've read. I love this option for young mom's who want to learn on their time and pace but even if you enroll in the course I will always still encourage you to continue to pray and seek live help from another woman, whether it is your own mom or a older woman in your church.
The academy is only open to enroll until April 3rd and then it will not open again until the fall. The lifetime membership is $99 and is also payable in 4 monthly installments too. (Please do not purchase if it does not fit with your budget or lifestyle. If you will not take the time to watch videos, than this program is not for you)
Below are several images describing the contents of the course and a sneak peek video of my course for you to watch so you can get a feel of how personal the academy is.
What's in the course? Check out the information on the image below:
What are the Pros and Cons of the Course:
Pros:
Lifetime access – no monthly fee.
Courses continuing to be added over the years.
You can access the courses from anywhere – watch them while cooking dinner or doing laundry.
Online fellowship through the private Facebook group.
The Quick Start Guide is helpful so you don't feel overwhelmed with where to begin.
If you have specific needs you can jump right into those courses. (That's how I've personally used the program)
Christ focused teachers and courses.
Cons: (I can only think of these two and I never want my readers to feel pressured into buying something that will not work for them or for their family budget)
If you're not disciplined to take the time to watch you won't get much benefit.
The lifetime fee is $99 so it depends on your budget. There is an option to pay in 4 monthly installments too
Below are the Mentors and Current Courses:
 
If you're interested at all or curious how it all works take a visit to My Homemaking Mentor and you can get more details than I've shared here. Please let me know if you have any questions.
My course in the academy is Simple Routines to Keep Order in Your Home. I cover a morning routine and helps in cleaning your kitchen, family/living room, and bathroom. I'm sharing a sneak peek below if you have minute to watch.
(Disclosure: Please know the links are affiliate links and I get a percentage of every sale. I love being an affiliate of My Homemaking Mentor as I personally use the academy and highly recommend it. It doesn't alter your cost in anyway and affiliate links help me to cover the cost of keeping the blog running.)