Making an Evangelistic Website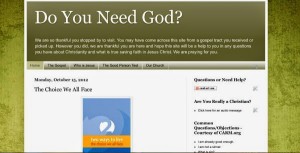 For I am not ashamed of the gospel, for it is the power of God for salvation to everyone who believes, to the Jew first and also to the Greek. ~Romans 1:16
Our family likes to use
gospel tracts
to share the
gospel
and sometimes your interaction is just handing someone a tract and never having any other contact or conversation with them again. Or maybe it is leaving a tract alongside a
generous tip
at a restaurant or passing out tracts and gospel focused literature at a parade and you wish you had a way to give the recipient of the tract more information in case they would like to dig a bit deeper.
The internet has made this so simple to do and for free (although I did purchase a domain for the blog/website I'm sharing today – it's not necessary but I wanted a simple and easy to remember website).
Our website contains the gospel clearly presented along with questions many unbelievers and believers may have too. We link to sites where they can find information regarding help if they are contemplating an abortion or if they're homeless or if they need a church along with some general apologetics questions.
My
daughter
and I put together –
www.areyousainner.com
– to link to from our own blogs and to be able to stamp on the back of tracts and other gospel literature we hand out.
We made a simple one line stamp over at
Vistaprint
.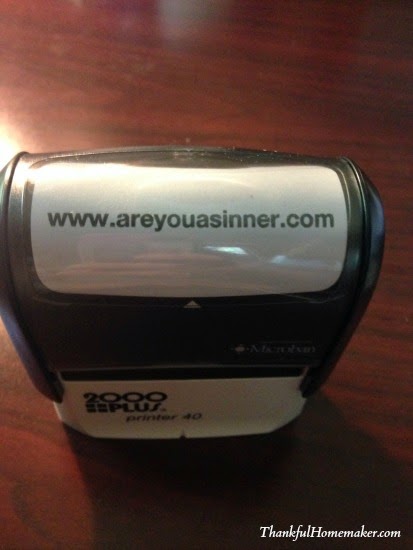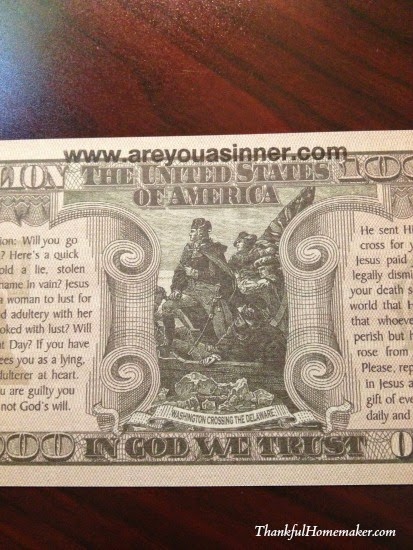 Our
church
is getting ready to participate in our
city's July 4th parade
and this stamp will come in handy to the many tracts we'll be handing out to the parade watchers. In addition to handing out tracts at the parade we will also be giving out thousands of Living Waters DVD's (
Evolution vs. God
&
180
). For the back of the DVD's we had
inexpensive address label
s made with contact information to our church.
If you'd like to grab the above button or just use our website as an idea to make your own evangelistic website we encourage you to do so.

How then will they call on him in whom they have not believed? And how are they to believe in him of whom they have never heard? And how are they to hear without someone preaching? ~Romans 10:14
Related Resources: