One of my favorite things to be able to do for my family is to take an ordinary meal and make it special. This Valentine's Day was a time to take a few extra moments and turn a regular dinner into feeling like a night out at a fancy restaurant.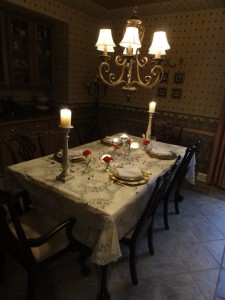 It was fun to find a heart shaped
napkin fold
and leave a note to each family member of my love for them.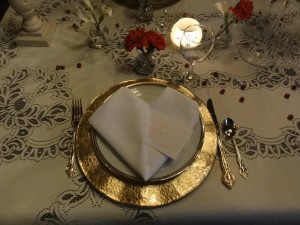 We have enjoyed table setting over the years and my daughter (you can check out her blog
here
) when she was home always delighted in setting the table. She is now married and setting her table in Norway for her and her husband but we have a dear friend in the faith living with us now and
Chelsea
also has a love for setting the table.
We have purchased inexpensive (no iron) cloth napkins and found wine glasses for a $1.00 each at Ikea to make the table feel more dressed up. Water in a stainless steel pitcher is a staple, as is sea salt in a small crock with a spoon. Next to the table we have a table setting basket that holds devotional materials for my husband to read at the table, tablecloths and trivets. Nearby the table are the cloth napkins, a napkin folding book and napkin rings.
This way it only takes a moment to make every dinner feel special. Planning helps, because things don't just happen without taking the time to plan. Dinner is a great time to teach manners to our children and to remember to model them ourselves. Conversation seems to linger longer when the atmosphere is comfortable and beautiful.
I encourage you to take a moment and use what you already have in your house to set a beautiful table for your family tonight.
Get creative!!
Paper towel rolls
can be cut and decorated into napkin rings, make homemade place cards with markers and index cards. This is a favorite for us for place cards – to put the card between the tines of the fork. Click
here
to see a photo. Candles, fresh picked flowers from your yard, paper confetti, making some fun dinner conversation cards with interesting questions to get the discussion going are just a few ideas. Please share your ideas below in the comments section.
My family is a gift from God and I am so thankful the Lord has entrusted them to my care. May I always treasure them and show the love of God to them even in the seemingly simple tasks as setting the table.
Whatever you do, do your work heartily, as for the Lord rather than for men,
~Colossians 3:23