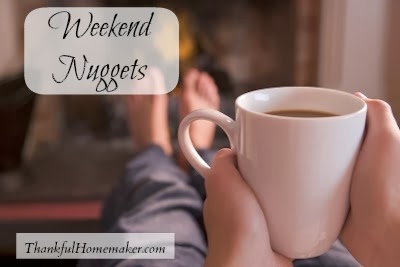 This weekend I'm sharing some posts that have been a blessing to my marriage and I hope will be to yours too. As I'm writing this I'm preparing for a short getaway with my husband of almost 28 years. I can give testimony that it continues to get better and better as the years go on.
Many of our early struggles we dealt with are not an issue anymore as the Lord has done a mighty work in our marriage and in maturing us in His ways. I love that I can truly be thankful in and through the difficulties in our early years knowing now how much stronger they have made our relationship. Our marriage is not perfect and we still have our issues, but the gospel has transforming power in the married life of Christians.
We had a rocky start as nonbelievers, I was expecting a baby before we were married and by the world's statistics we would probably be divorced in a year. But God, had different plans for our marriage and I am thankful for His work of salvation in our lives and redeeming us for His own and continuing to teach us that His ways are always best. (We can be slow learners at times- thankful for God's faithfulness.)
I am so thankful for my husband
(I love my Dougie
♥)
and I want to share a photo but we never seem to have a current one so you're getting what I have on hand at the moment.
(Sorry couldn't resist this one – fun photo a friend (thank you Ryan) took made from the Strange Fire Conference.)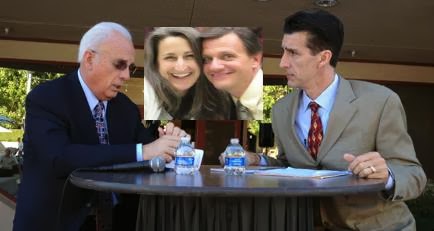 Now on to business. Here are some great links that I hope you will get some time to read through:
25 Ways to Communicate Respect
– This list is printed out and in my prayer journal. I'm thinking about putting it up on the inside of a cupboard door too.
30 Day Husband Encouragement Challenge
– "
For thirty days, don't say anything negative to or about your husband. Also, say something positive to and about your husband each day." This challenge is from Revive Our Hearts and there is a different challenge for 30 days. You can download the PDF or choose to have a daily challenge sent into your inbox too!
Remember – Focus on the 80% your husband does right and not the 20% (or probably less) that he doesn't.
Some Book Recommendations:
"Let the wife make the husband glad to come home, and let him make her sorry to see him leave."
~ Martin Luther