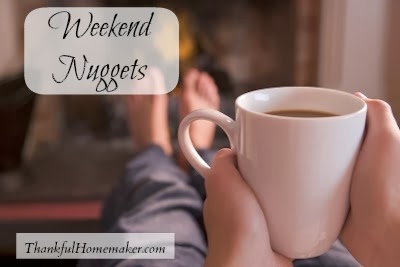 I'm taking a bit of a blogging break over the next two weeks. I'll be back early February. Thanks for stopping by today – grab a cup of coffee and sit with me a bit. These were some articles around the web that blessed and challenged me.
I'm Better Than You – "I'm just plain better than you. Somewhere deep inside I believe it's true and too often I live and act like it's true."
Visionary Complainers – "

When we use our vision to see, not be seen, we are better ready to be used by him who sees all. When we use our vision to serve, not be served, we are modeling the Master."
How to Change Your Mind – "
Christians often talk about having a Biblical worldview yet most have only a rudimentary knowledge of the Bible.
"
Jill's Home Remedies has a great and very informative series on vaccinations – link is to the first post in the series and you can continue on from there.
Some updates:
-I'm continuing on in the 30 Day Husband Encouragement Challenge. Truly, every wife should go through this challenge annually. There are daily updates on my Facebook page. I'm away from my Facebook page too but have the daily challenges scheduled for each day to post.
Celebrating 28 years of Marriage Soon!
-I'm working on a post for the near future on what I've learned through almost 28 years of marriage. I never imagined as the young girl I was when my Doug and I first married how beautiful our marriage would become and it is only by God's grace. I am so thankful for my Dougie and they way he leads and loves and cherishes his family. More to come on that one soon!
Some Series for Visitors
On the iPod
-This has been playing quite a bit on my iPod – Quiet Beauty by James Todd. It is just a beautiful arrangement. (the link is taking you to a YouTube video)
"Do you spend more time focusing on circumstances of your life instead of on the Almighty God who has chosen every path for you?" ~Marci Ferrell