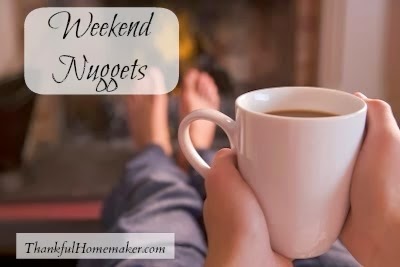 4 Reasons to Bless Work and Serve Your Guts Out – "
It seems so selfish. So mercenary. We should just serve people for the sheer joy of it. Well, good news. It's not selfish. It's not wrong to want to gain as many rewards as we can. God says to go for it. He says, "Your time is limited here, don't waste it going after things that won't last. Go for as many eternal rewards as you can."
Will 

You
 Pass the Insecurity Please
– "
Several years ago, I wrote a book about true beauty for young women. It chronicled my struggles with an eating disorder and the freedom I found when I learned to see my beauty through the filter of God's Word. Six years later, I should see if anyone has a copy of that book so I can borrow it. After three babies and an ever-fluctuating number on the scale, I still struggle to see myself as I know God sees me."
How Training 

Your
 Child Can Bring New Peace Into Your Home
– "
She smiled and she was warm. She also knew where she was going and what she was doing. 
Her children knew it too. They were secure in her plan for them. 
Well, that's what I wanted for our children. I didn't want to drag them, pull them, or push them. 
I simply wanted our young ones to get on board."
Do You Have a Teachable Spirit? – "
Today so many women, both young and old, want to be independent. They do not want to ask for counsel or learn anything. They all think that they know everything. This is why being humble is key to being teachable. The truth is that no matter how old you get there is always something new to learn, an area of your life that needs improvement, and ways to grow."
The Gift of a Thankful and Praying Mama
– "
And so it is with the gift of giving our children the habit of being thankful. It is something that cannot just be commanded, but it is something that is felt, modeled, practiced through the heart attitudes of  a mama every day.
Choose to be thankful, practice verbalizing gratefulness and your heart will follow."
~~~~~~~~~~~~~~~~~~~~
Top Viewed Posts at the Blog this Week:
&
Ta
ke a Moment to take this Thanksgiving Assessment from Paul Tripp:
1

Do you find it easier to complain than to give thanks?
2 Are you easily irritated and quickly impatient?
3 Do mundane hassles get under your skin?
4 Would the people who live nearest to you characterize you as a thankful person or a complaining person?
5 Do you look at your world and find many reasons to complain because things aren't going your way?
6 Do you look at your world and find yourself blown away at the many reasons you have every day to give thanks?
7 Do you view yourself as one who has been constantly short-changed and neglected?
8 Do you view yourself as one who has been showered with blessings?
9 How often do you grumble "If only I had _____" or "I wish that _____ was different"?
10 How often do you whisper thanks to God or communicate thanks to those around you?
Would you know who is the greatest saint in the world?  It is not he who prays the most or fasts the most, it is not he who lives the most, but it is he who is always thankful to God, who receives everything as an instance of God's goodness and has a heart always ready to praise God for it.~ William Law