What Should Family Discipleship Look Like?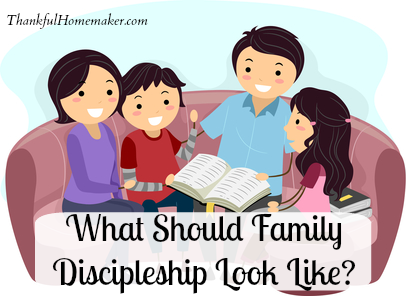 Have we set up an idol in our lives on what family discipleship should look like? There are a multitude of books, articles, blogs and conversations within our churches on how family discipleship should be carried out in our homes.

The typical model is dad spiritually leads the family every night in Bible reading, singing and prayer time. What if your husband doesn't do this every night? What if he doesn't do it at all?

Where does it specifically say in scripture he is to do these things by this model? The favorite passage in Deuteronomy 6:4-7 is usually the one quoted:


"Hear, O Israel: The Lord our God, the Lord is one. You shall love the Lord your God with all your heart and with all your soul and with all your might. And these words that I command you today shall be on your heart. You shall teach them diligently to your children, and shall talk of them when you sit in your house, and when you walk by the way, and when you lie down, and when you rise.
Fathers, do not provoke your children to anger, but bring them up in the discipline and instruction of the Lord.
When I read through the passage in Deuteronomy the first thing that stands out is the Word of God is to so impact us as parents that every aspect of our lives is to be brought into submission to it. Imagine the impact on the lives of our children if in the home we are living this out daily. Every discussion, trial, all events – we're talking everything – is filtered through the lens of Scripture.

God's Word is being lived out in a mighty way as our children see us depend on Him for all things. Family discussions about scripture naturally are occurring as we go on about our lives.

We are teaching our children about the Lord and His ways as we go through our day, as we sit and walk and lie down and rise. It can mean having a formal sit down teaching time but it doesn't state that in the verses above.

The point I really want to get across is, have we set up an idol on what family discipleship should look like? It is a great blessing if your husband leads your family in worship on a daily or frequent basis but if he doesn't, do you find yourself comparing him to others or harboring bitterness in your heart towards him?

Don't set your husband up for failure in determining he must fit a certain mold in order to gain your approval on what properly leading your family looks like. Many husbands set a beautiful example of what a godly husband looks like without a formal time of family worship.

Let me share some ways your husband may already be setting a godly example in your home:

-He faithfully works hard and provides for his family.
-He loves his wife
-He loves his children
-He makes church attendance a priority in the life of your family
-He is patient, and kind and loving.
-He takes the time to pray for your family
-He takes the time to pray with your family
-He shares what the Lord is teaching him through His Word as he goes about his day.
-You see evidence of the gospel being lived out in his life.

and this list can go on…….

My hope is every dad would desire to lead his family in a daily time of worship but if your husband does not, you harboring bitterness or resentment is not going to help you or your family grow in godliness.


What are some ways you can be a help without usurping your husband's authority in this area?

You as a mom are still called to teach your children about the Lord as a follower of Christ. We are called to make disciples and I can't think of a closer disciple than your own children. You can read God's Word to them and talk to them as you sit and rise and lie and walk along the way. You can pray together with them. You can sing praises to the Lord throughout your days.

You can talk with your husband gently (no nagging or complaining or comparing) on your desire for him to lead your family and offer to help in finding resources to help him. If he doesn't desire to do so, you continue to pray for him (and pray for your attitude towards him) and in the future you may have another opportunity to discuss it with him again.

Encourage your husband in his role as the spiritual leader in the family, ask him questions about God's Word to bring him into spiritual discussions, and let your children see your love, respect and honor towards him.

Be faithful in your role as a follower of the Lord Jesus Christ and pour into your children throughout your days. May they see a mom who loves and obeys the Word of God and see it lived out in your day to day choices and attitudes.

Most importantly may they see a mom who trusts the Lord in all things.
Related Links:
Preparing Our Families for Sunday Morning Worship
Bible Study Helps for Busy Moms