Staying On Task in an Unfocused World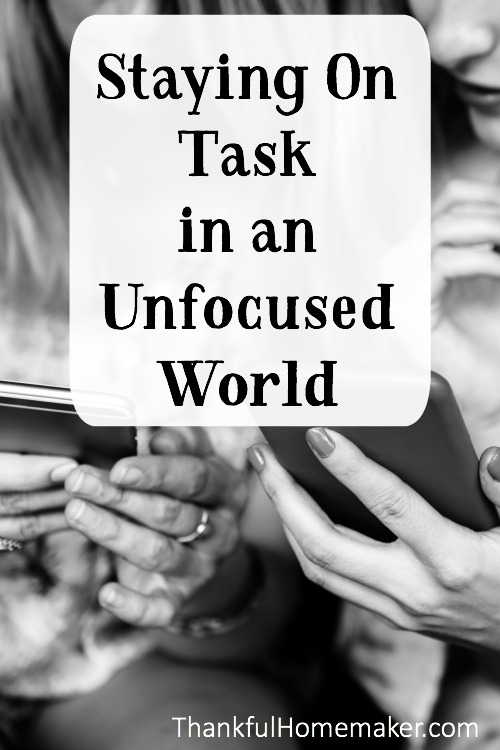 I have a confession to make – I am a bit unfocused. I have a hard time staying on task and have to work diligently at it.
Being unfocused is an issue as a keeper of my home because I can find myself wanting to tackle so many seemingly "good things" but I have to determine what is the "best thing" to be focusing on at that moment and determine to stick with it until it is finished.
When I find myself flitting from task to task leaving each one unfinished, is when I have to discipline myself just to finish the job that I am on before moving to the next. When we start and stop tasks without finishing them, our to-do list only continues to grow and adds unnecessary stress to our day.
Not a profound post here today, just a bit of encouragement for you to stay on task with me.
When you start unloading the dishwasher – finish it.
When you go to get dressed – don't leave your room until you're done.
When you start cleaning out a drawer or cupboard – stay on task until it's done.
When you bake those cookies – finish baking them and clean up your mess too.
Make sure you do stop to meet the needs of your child or spouse or neighbor – otherwise don't stop to check Facebook or email or your phone. When you're talking with your child or spouse, make sure you give them your undivided attention.
Try to keep the mindset that social media and non-work related email is a treat to be enjoyed after you have dealt with the important responsibilities you need to take care of for the day.
It is much more enjoyable to sit and answer an email to a friend or check Facebook messages knowing I have dealt with the responsibilities well in my home. When I have tasks that are left unfinished, and I am sitting going through the Facebook feed, it is not a very enjoyable experience – guilt sets in quickly and it should.
So starting today let's set our minds to stay on task and work diligently at the work the Lord has set before us in our homes.
Who's with me on this one?
She looks well to the ways of her household and does not eat the bread of idleness.~ Proverbs 31:27 ~

Related Links:
10 Thing I Love About My To Do List
Homemaking 101 Series
The Importance of Our Role and Evaluating Our Priorities
The Unwired Mom
SaveSave
SaveSave