A Few of My Favorite Moments from the G3 Conference 2023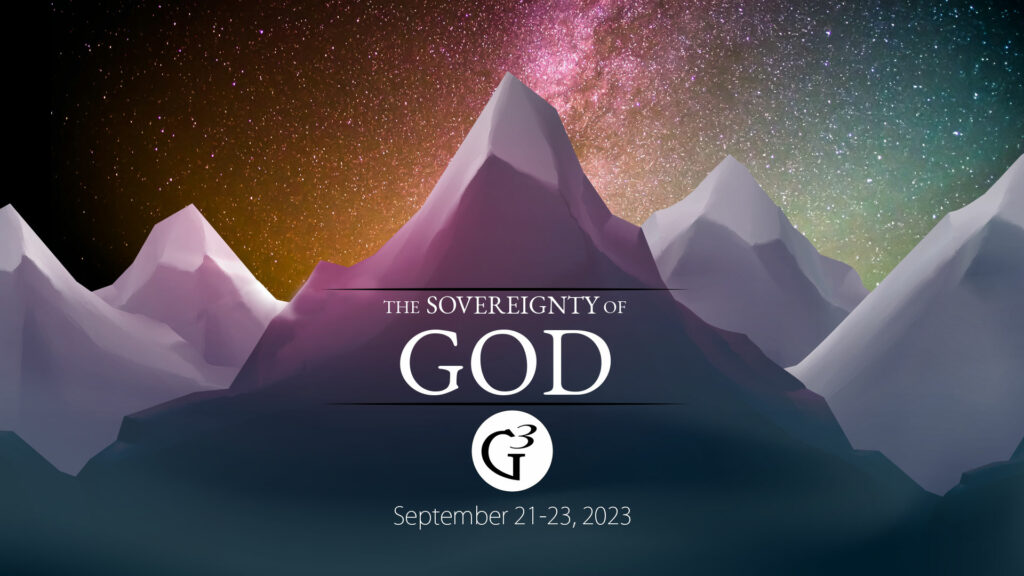 My husband and I have been attending the G3 Conference in Atlanta since 2017. We are grateful for the opportunity to attend in person, but we understand that it may not be possible for everyone. I would like to share some of my favorite aspects of the conference (with the hope you'll put it on your list for 2025) and provide some helpful resources so you can benefit from the conference at home.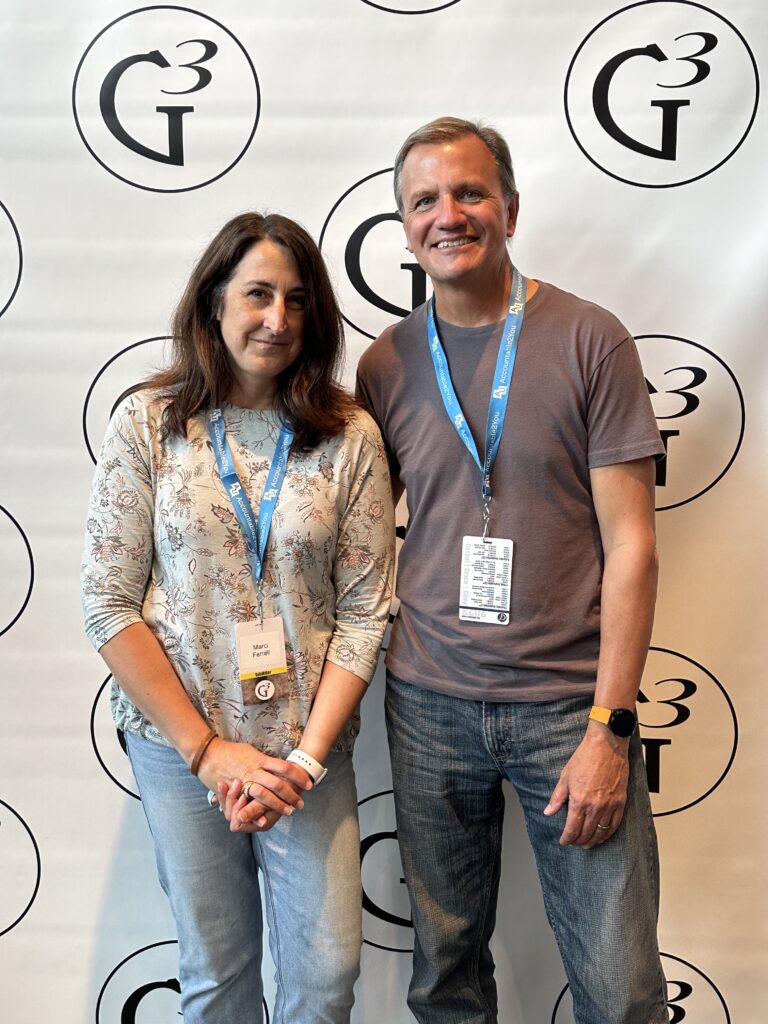 First off, the theme this year was the sovereignty of God. This doctrine is a core essential in our understanding of who God is because it affects every other aspect of our relationship with the Lord. God is sovereign or Lord or ruler over everything. Nothing can thwart or stop God's will from being carried out.
Daniel 4:35: "He does according to his will among the host of heaven and among the inhabitants of the earth; and none can stay his hand or say to him, 'What have you done?'"
Job 42:2: "I know that you can do all things, and that no purpose of yours can be thwarted"
Jerry Bridges, in his book Trusting God (which I highly recommend you pick up and read if you haven't yet) is the book that helped me to have a clear picture of God's Sovereignty said:
"This is the essence of God's sovereignty; His absolute independence to do as He pleases and His absolute control over the actions of all His creatures. No creature, person, or empire can either thwart His will or act outside the bounds of His will."
---
Listen to Podcast Episode 151:
---
Resources Mentioned: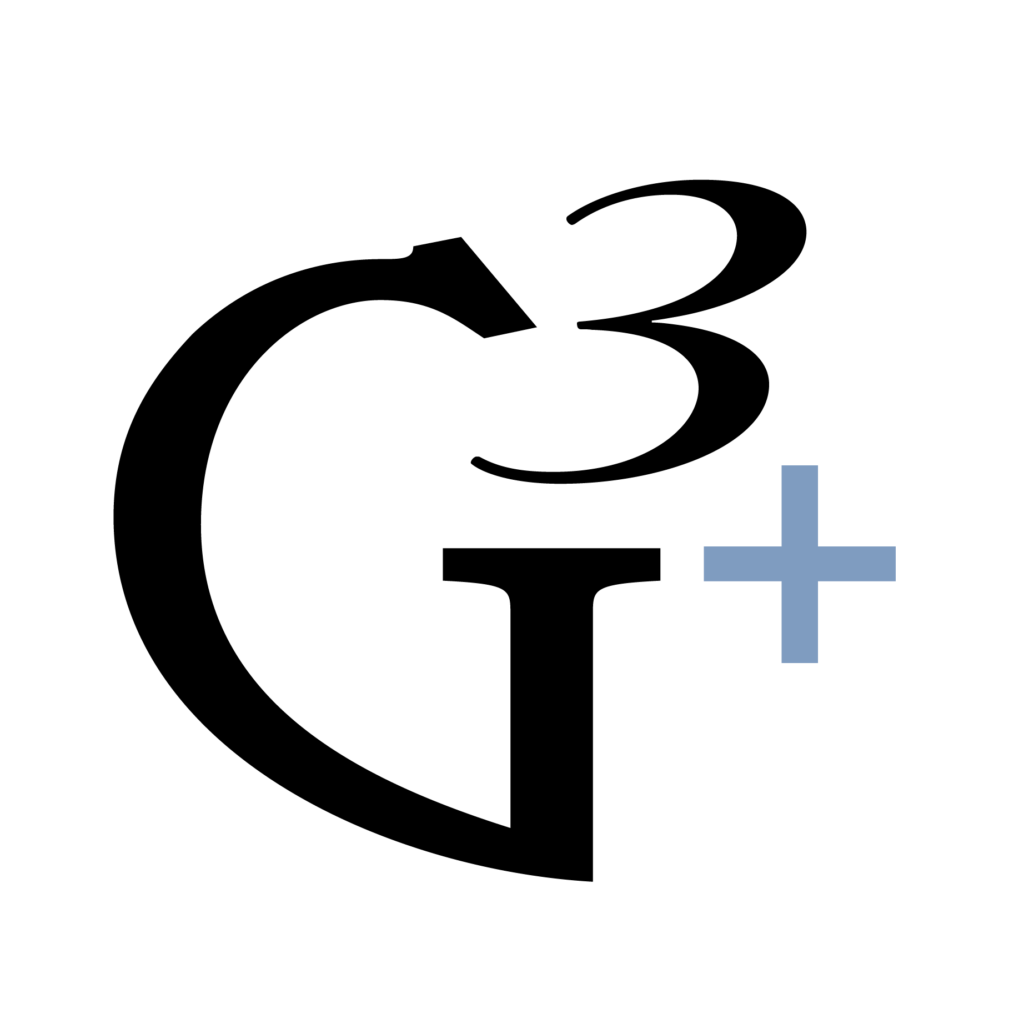 G3 Plus App use code MARCIG3PLUS to get two months free.
(Make sure to sign up here and not directly on the app to get two months free).
---
Each of the main sessions covered an aspect of the sovereignty of God. Speakers like Paul Washer, Voddie Baucham, Steve Lawson, and Ken Ham (my grandkids particularly enjoyed Ken Ham's session on the sovereignty of God in Creation) delivered powerful messages packed with truth and so much to take in. There were also numerous breakout sessions to choose from. This conference is one that I highly recommend because we thoroughly enjoy our time there. It leaves us encouraged and truly blessed as we worship and fellowship with believers from all over the country and the world.
If you missed any sessions or breakouts at the G3+ event, don't worry! The G3+ app will soon have them available, if they aren't already, by the time this episode is released. As a special offer for my listeners, if you visit the website http://plus.g3min.org and use the code MARCIG3PLUS, you'll get two months free on the G3+ app. They have also recently launched a new homeschool curriculum. The app is packed with resources for the whole family, so make sure to check it out, especially during these two free months.
In sharing about the worship and fellowship – I most definitely love worshipping together with over 8K brothers and sisters, but next to that, the fellowship is one of my favorite aspects (you thought I was going to say teaching, which is also important, but this one surpasses it, at least for me). We have been attending for several years, and during this time, we have developed sweet relationships with other believers from all over the country and world. While I can connect with them online, we all know that nothing beats spending time together in person (why your local church is so important!).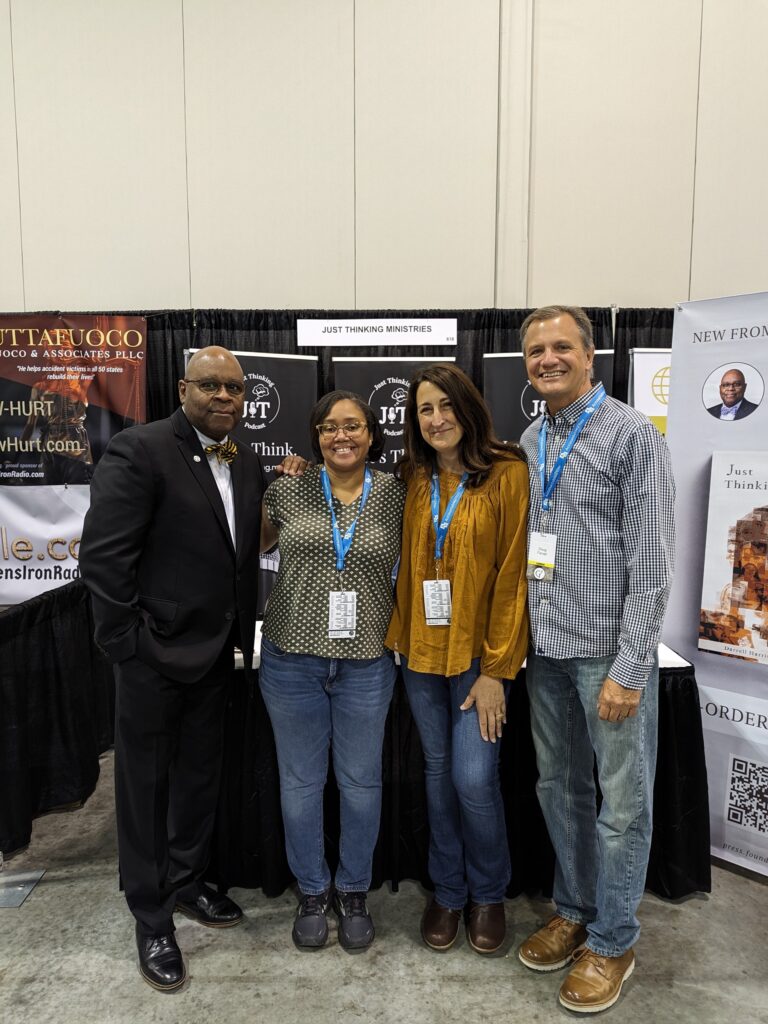 My fellow bloggers and podcasters from The BAR Podcast Network are at the top of my list. It is truly encouraging to spend time together, discussing our various ministries, asking questions, and witnessing how the Lord is working in each other's lives. I love spending time with Arlenys and Andrea from Ordinary People with Extraordinary Lives, an excellent podcast where believers share their testimonies. Seeing Darrell & Melissa Harrison from the Just Thinking Podcast is always a huge blessing to me – I genuinely love them both and always enjoy seeing Dawain from The BAR Podcast. He has been a tremendous source of blessing and encouragement as I navigate through the world of podcasting.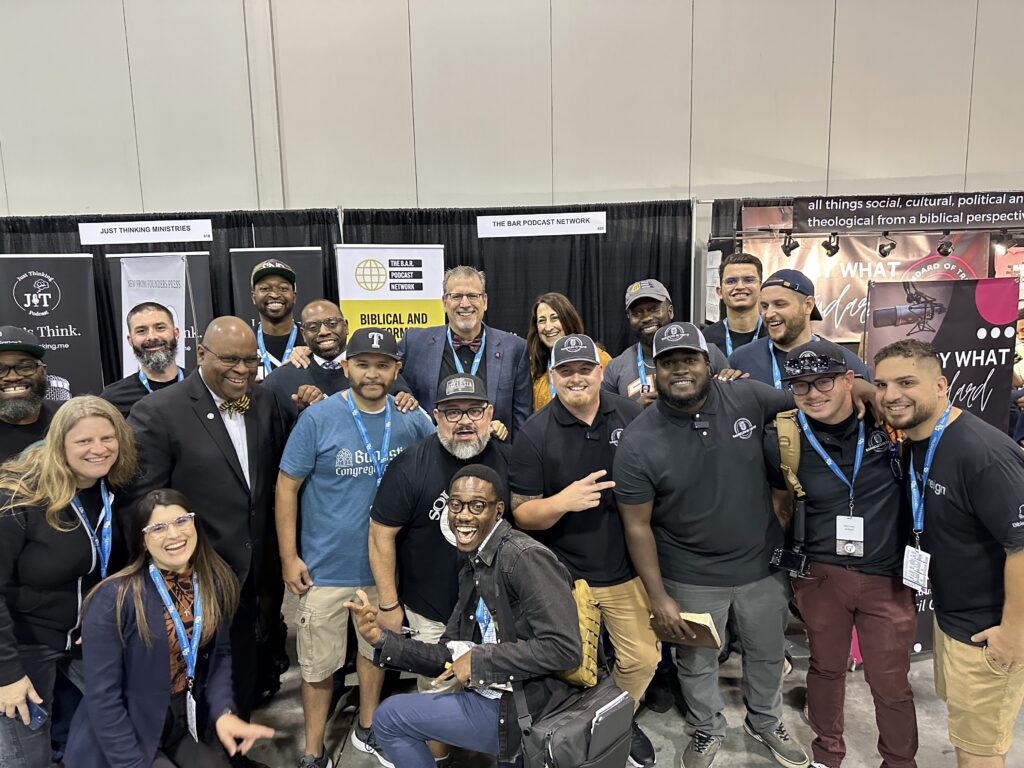 While meeting some of the main conference speakers is enjoyable (despite the occasionally long lines), this year, I particularly appreciated having a booth and spending time in the exhibit hall, where I had the opportunity to get to know the individuals behind many of the ministries I follow online. Getting to know Korrie from the Good Book Mom, Melissa & Troy from Five Solas Media, and Paul from Reftoons on a more personal level was an absolute delight.
Martha Peace is someone who has discipled me from afar with her books. Although we are both speakers at the Open Hearts in a Closed World Conference, it is all online with occasional Zoom calls, so I don't get in-person time with her. This year as she was strolling the exhibit hall, she stopped and my booth and just took time to chat with me and encourage me in my ministry. I've been putting off writing a book for years now, and her advice on how she approaches the writing process inspired me to set it as a goal and start working towards it with the Lord's help.
I have a love of books, as most of you already know, and I have to sadly share with you we never had a moment to browse the bookstore. Having a booth changed the dynamics of the conference for me. It was a busier time for me and with many more people to get time to chat with. It truly was like a big family reunion. I snatched a couple of books from Martha Peace that were new to me and picked up two freebies from the conference that they offered. I know this is a disappointment to so many of you – I feel like sure a failure on this one, lol. So you won't see any conference book photos from me this year.
Having a booth allowed me to spend more time in the exhibit hall, and my grandkids had a great time meeting many other kids and talking with the different ministry booths. I also want to mention that there were a lot of children at the conference, which was a wonderful sight to see so many families in attendance. If you were at the conference and passed by our booth, you may have been greeted by my grandkids. They stepped out of their comfort zones, enthusiastically shared information about my ministry, and greeted people. It was a joy to watch them interact with many of the ladies and their families in attendance.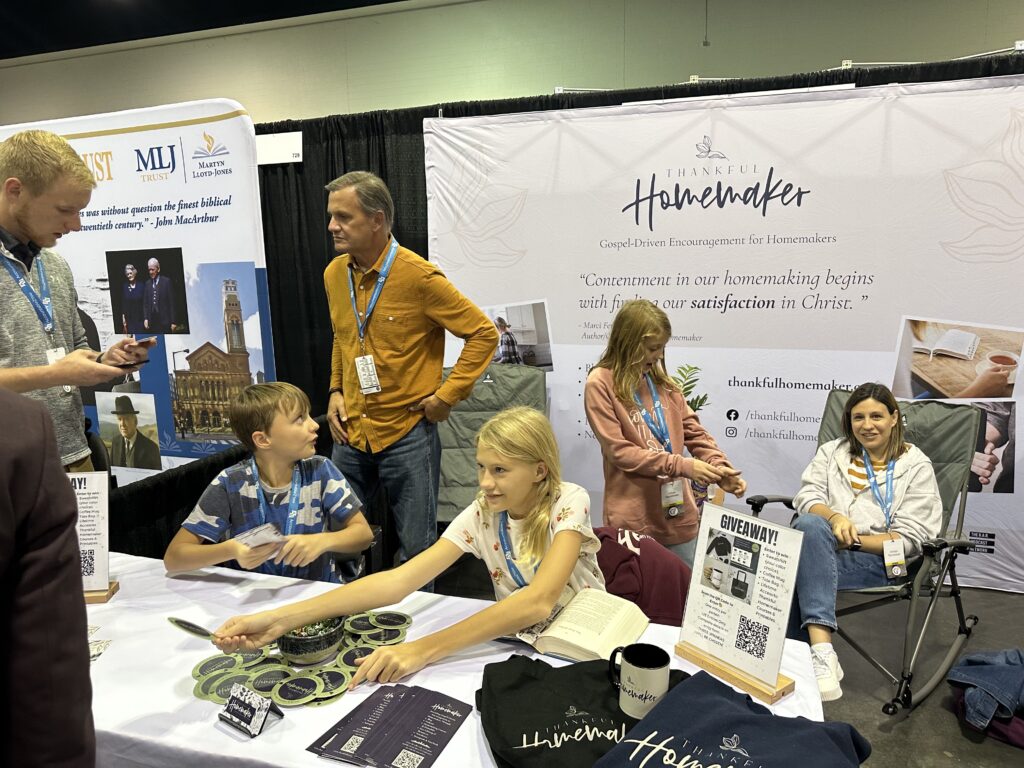 The speaker line-up was amazing. While we couldn't attend as many sessions as we had planned, I intend to make use of the G3+ App to listen to them in the coming weeks. Don't forget to sign up for those two months free – again – the info will be in the show notes but remember to get the two months free you have to sign up online and not through the app.
In previous years, the days were long and involved a lot of sitting and walking, which left us feeling tired. As a result, we often skipped the breakout sessions and instead chose to listen to them later when we returned home. This allowed us to use the free time to visit the bookstore and exhibit hall or simply grab a coffee and relax a bit while discussing some of the key messages.
This year, the music was beautiful and simple. Picture 8000+ brothers and sisters in the faith singing hymns with simple and beautiful accompaniment. It was rich, and nothing beats the theology in those hymns that we all love. As someone who did not grow up in the church, I truly appreciate being exposed to the hymns whenever I get the chance. The music was very similar to what I experience in my home church, and I really appreciated that this year.
My husband has attended the Shepherd's Conference in past years, and I know he was so encouraged by his time there, but no women were allowed 😉. G3 is one we can attend together, and that is another one of our favorite parts.
I appreciate the change in the conference schedule from every year to every two years. It allows us more time to save and plan for attending. The conference feels like a big family reunion, and one aspect I particularly value is the emphasis they place on equipping the local church. Our time there always leaves us encouraged and edified, and we look forward to returning to our local church family to love, serve, and encourage them.
The four-day event was exhausting, and this year, being on my feet all day at a booth definitely made me feel my almost 60 years old. However, it was worth every minute to meet so many of my sisters in the faith in person and get to give you a hug and get to know a bit more about you and your families. My dear sister Shenese even brought me homemade baked goods – that was worth the trip down there alone! I enjoyed every moment of it and am already looking forward to 2025.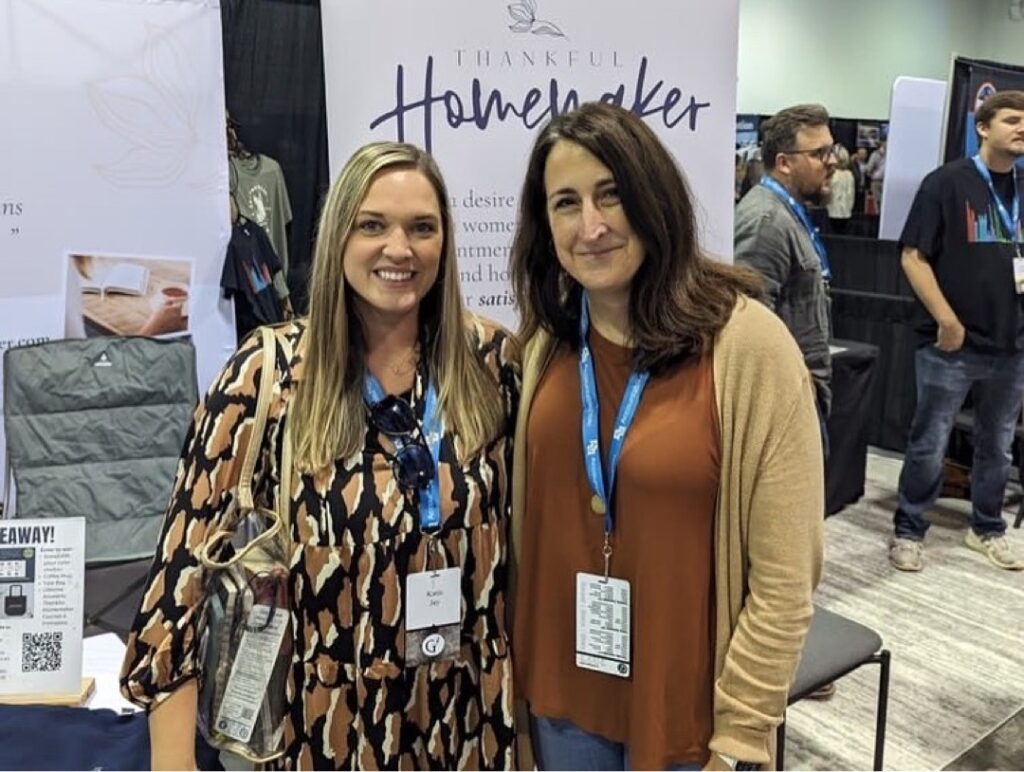 Don't forget to sign up for the G3 app and get two months free. There are many resources available for your families. To get the two months free, sign up from the website http://plus.g3min.org/ and use the code MARCIG3PLUS.
I'm excited about the resource and grateful to my friends at G3 for making it available.
I know there are so many things I'm forgetting, but I do want to thank each and every one of you who were down there and took the time to stop by my booth. We were so grateful to get time with each of you – my husband so loved his time down there and really enjoyed getting time with so many of your husbands.
And I do want to give a shout-out to my new friend Isaac – this little man really blessed my time down there -so hello, sweet Isaac – Miss Marci sends her love to you.
So that's wrap for G3 2023, and I so hope to see you at G3 2025!