Book Review: The Gospel Call & True Conversion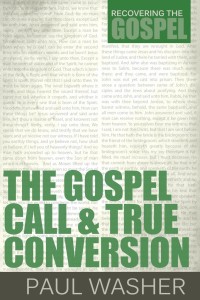 Our Christian culture is too familiar with terms that are unbiblical, "ask Jesus into your heart", or "make a decision for Christ". Paul Washer cuts to the truth of true conversion and takes us into God's Word to show us what true repentance is and looks like. He gives us eight characteristics of true repentance and makes an important note that, "they will not appear in their fullest or most mature form at the moment of conversion but will continue to grow and deepen throughout the believer's life."
The Essential Characteristics of Genuine Repentance:
1. change of mind
2. sorrow for sin
3. personal acknowledgment and confession of sin
4. turning away from sin
5. renunciation of self-righteousness or good works
6. turning to God
7. practical obedience
8. continuing and deepening work of repentance
Because I have worked in youth ministry and seen the damage of false conversion and have experienced false conversion myself before coming into a true saving relationship with Christ, I find myself very concerned when a professing believer has no sorrow for sin, they look no different from those in the world and there is no passion or desire for things of the Lord. We are reminded that the Scriptures make it clear to be saved we must repent and believe the gospel.
The Gospel Call & True Conversion
reminds us that when Jesus came
"He did not plead with people to open their hearts and ask Him in, nor did He direct them to repeat a certain prayer"
. He commanded them to
"turn from their sin and believe the gospel"
.
"One of the greatest evidences of true conversion is not sinless perfection, as some have erroneously supposed. Instead, it is sensitivity to sin, transparency before God regarding sin, and open confession of sin."
The Gospel Call & True Conversion, page 11
This book was hard to put down and Mr. Washer's love and passion for the Gospel of Jesus Christ reminded me that my hope is fully in Christ – He is the author and perfector of my faith. I need the daily reminder to put no confidence in myself but only in the person and work of Christ.
"One of the striking and essential characteristics of the genuine believer is that throughout the full course of his life, he will grow in his understanding that salvation is all of God, all of grace, and all of Christ. God loved us, thought we did not love him."
Whether you struggle with assurance, have professing believers in your life you are not sure of where they are spiritually, wonder what true conversion looks like, or need a clear and deeper understanding of the gospel, I encourage you to get this book. The Gospel Call & True Conversion is a much needed book in this time of easy believeism.
Related Links:
*The links in this post are affiliate links – please read my full disclosure policy here.