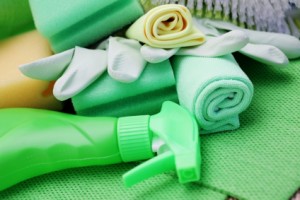 Over the years I have explored and tried many natural cleaning products.  I have used vinegar, baking soda, essential oils, and good old water to make various concoctions that took care of the dirt in a natural way.  Time and time again I fall back on store brought products out of the convenience.
Come and take a peek in my cupboards with me to see some of my favorite store brought brands to keep my home naturally clean:
Bone Ami Powder Cleanser – Favorite for scrubbing my Corian & stainless steel sinks.
Kirkland Signature Eco Friendly Dish Liquid  – This is part of Costco's Eco friendly line.  It smells great and is gentle on my hands
Seventh Generation Dishwasher Detergent – It varies where I purchase this from but if I have an order from Vitacost going in I can get a great price from them and free shipping
Caldrea Countertop Spray – My splurge but I love the essential oils and the way it makes the kitchen smell after wiping down the counters with it.
Twist -European Sponge Cloths – Great for wiping tables and countertops.  I have tried the Skoy brand too and they are very similar.  I usually buy what I can find the better price on.
Sh-mop – I have used this mop brand for almost 20 years.  To clean my tile and wood floors I will sometimes use a mix of vinegar and water.  Method brand cleaning products has a great Squirt and Mop floor cleaner scented with almond and it does a great job on the wood floors.
Bathroom:
Method Glass & Surface Cleaner – It is a multipurpose cleaner so I like to be able to clean the mirrors and wipe counters down with it.
Dr. Bronner's Liquid Castile Soap – I use this to clean, showers, bathtubs and toilets.  You can also clean yourself with it and wash your hair – pretty multifaceted product.
Norwex Window Rags – My husband and I both love these.  I have invested in several and Doug likes to keep one in the garage for the car windows.  Fabulous – no lint, no streaks and they work with just water.
Microfiber rags – I buy them cheap at Walmart and always have plenty on hand for all kinds of tasks
Micorfiber rags for dusting – they are truly mulitpurpose
Method Wood for Good Spray – Love the smell and the way my wood looks after using it.
Flylady Feather Duster – It is just fun to use and it is a favorite for my Weekly Home Blessing.  This is a newer model from the one I have and it looks pretty spiffy.  May have to put this on a wish list.
Laundry Room:
Kirkland Environmentally Friendly Laundry Detergent – I have had good success with this – we do not have young ones in the house anymore so I don't deal with many stains. My clothes look, smell and feel fresh.
Mrs Meyer's Lavendar Liquid Fabric Softener – Love this product!!!


Fascinating story of the start of Mrs. Meyer's cleaning products – watch this video when you literally have a minute.  If you're really curious check out the connection between Caldrea and Mrs. Meyer's products here.  
BioKleen Oxygen Bleach Plus – I have appreciated this product since doing away with bleach.
Homemade Stain Remover – I usually put a little vinegar and detergent on the spot and let it soak overnight or for a few hours.  It works everytime – the trick is catching the stain.
Favorite Resources on Cleaning:
"Few things we can do in this world are so well worth doing as the making of a beautiful and happy home.  He who does this builds a sanctuary for God and opens a fountain of blessing for men."
~ J. R. Miller ~