EP 85: Weekly Home Blessing
Inside: The simple routine of a Weekly Home Blessing has helped me to love Monday mornings. It's a habit I modified from Flylady that has been part of my homemaking routine for almost 20 years. Come walk through how it might bless your home and family too.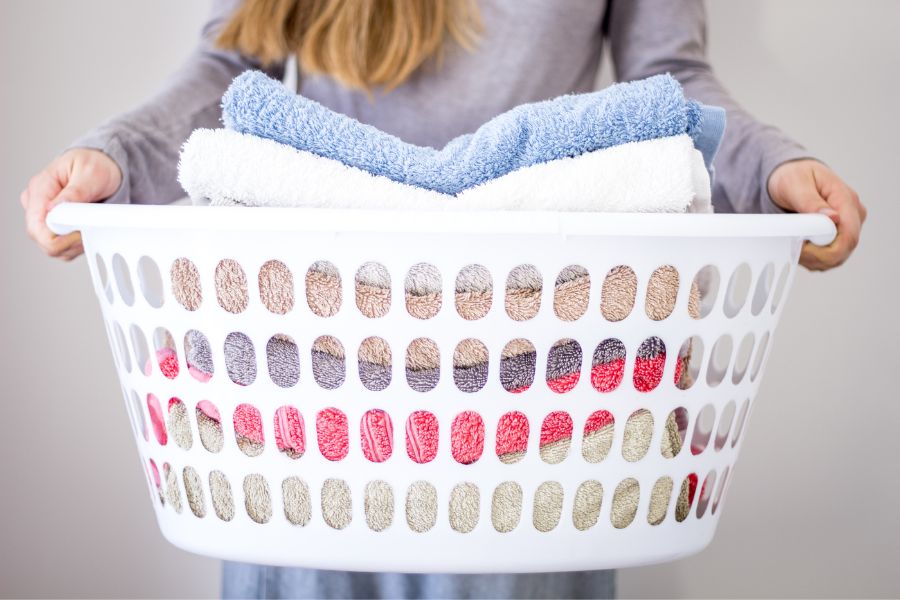 Monday morning – I can truly say I love Monday mornings. Flylady's Weekly Home Blessing has helped me to enjoy and look forward to Mondays. After my morning routine is taken care of, I move right into the Weekly Home Blessing Hour. When my children were young and we were home together, this was something we would do together and integrate into the school day after morning chores were finished.
---
Listen to Podcast Episode 95 below (24 minutes) or you can read the post below (5 minutes):
---
Related Links:
Weekly Cleaning Schedule Free PDF Download
Flylady's Weekly Home Blessing
Menu Planning Made Easy Course
Homemaker's Friend Daily Planner
The Weekly Home Blessing hour is the time FlyLady spends slipshod cleaning her home. No detailed cleaning required; vacuum the middle of the floors only!

Flylady
Weekly Home Blessing Routine:

FlyLady sets her timer for 10 minutes to work on each of 7 tasks:
Vacuum
Dust
Mop
Polish Mirrors and Doors
Purge magazines
Change Sheets
Empty all trash
This takes approximately one hour; some tasks take less than 10 minutes.
"Don't obsess; set your timer for 10 minutes for each task, then QUIT!" ~ Kelly
I've altered my Weekly Home Blessing to fit my home and family, but the purpose of it is to have your home ready for the week and not to be concerned if someone unexpectedly shows up at your door. We are not talking perfection but some semblance of order.
My Weekly Home Blessing Hour Routine:
I set my timer for one hour to see how quickly I can get through the tasks listed below:
Toss old catalogs and magazines
Change bed sheets (I only do this every other week since we shower daily. Being a little older 🙂 – I do not change more than two beds a day).
Empty all trash cans in the house (great kid chore)
Feather dust all rooms (Kids do their rooms – My favorite lambswool duster)
Vacuum all rooms (Kids do their rooms)
Mop kitchen, foyer, and half bath floors (I have used a sh-mop for years and love it – visit Favorite Cleaning Products).
Clean front door glass and tidy entry area
This simple one-hour routine blesses my home and family for the week. Your children are great feather dusters, vacuumers, garbage emptiers, and moppers. Teach them to enjoy their work and serve others by putting on some praise music and delighting in the home the Lord has given us to be good stewards over.
Enjoy your Monday!!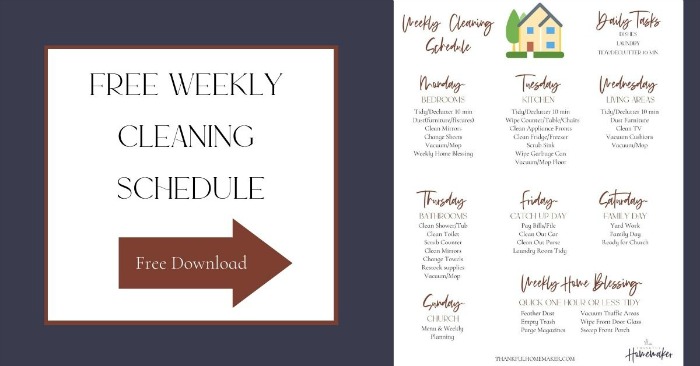 SaveSave
SaveSave
SaveSave