Giving Thanks to God in All Things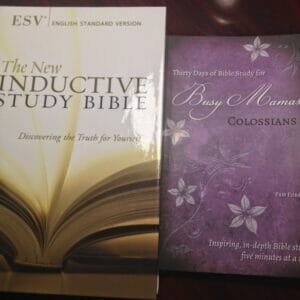 15 Let the peace of Christ rule in your hearts, since as members of one body you were called to peace. And be thankful.
16 Let the message of Christ dwell among you richly as you teach and admonish one another with all wisdom through psalms, hymns, and songs from the Spirit, singing to God with gratitude in your hearts.
17 And whatever you do, whether in word or deed, do it all in the name of the Lord Jesus, giving thanks to God the Father through him.
~Colossians 3:15-17

I'm sharing a page from my Colossians study I've been working through slowly and savoring every moment of through Doorposts.
Today's lesson is focusing on giving thanks. I want you to do the assignment with me.
1. Find all the references to the word thanks (synonyms too) above and circle them in your Bible (or write the verses out in your journal and mark them). There should be three :).
2. Underline the prepositions that follow where the word thanks (or synonym) is found. (One place where thanks is listed doesn't have a preposition that follows).

(I know the markings seem so simple but they really help the meaning of the verse to pop out to you – it also helps you to dig deeper and meditate on the meaning. If you long to learn to dig deeper and study God's Word the Doorposts studies are a great place to start. The link is not an affiliate link – I just think very highly of their resources and truly believe all Christians need to be studying God's Word daily.)
3. Take a moment to open your Bible and journal and meditate on the above verses and write down your answers in your journal to the questions below taken from Thirty Days of Bible Study for Busy Mama's Colossians 3 from Doorposts – Day 22.
1. Why are we to be thankful?
2. What are we to be thankful for?
3. Who are we to be thankful to?
4. Who are we to be thankful with?
5. Who are we to be thankful through?
6. How are we to demonstrate and express our thankfulness?
May you meditate on these truths as you go about your day today. Take the time to ask you children what they are thankful to the Lord for today.

May you find yourself giving thanks always for Jesus.
give thanks in all circumstances; for this is God's will for you in Christ Jesus.~ 1 Thessalonians 5:18

Get updates that are not posted on the blog by visiting Thankful Homemaker's

*There may be affiliate links in this post – please see my full disclosure policy here.