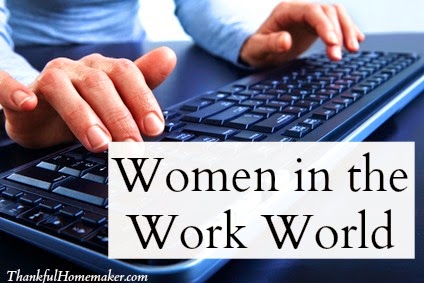 Sharing some helpful thoughts for women in the work world or those pondering going back to work from Elisabeth Elliot and Carolyn Mahaney:
"Because I want to be faithful to what Scripture does say I often refer to that passage which tells me, as an older woman, what I am supposed to say to younger women: Titus 2:3-5. But, they want to know, is it wrong for a single mother to work? Is it wrong for a woman who has no children at home to work? Is it wrong for a woman to work because her husband insists on it? The last question is not quite so difficult, since a wife must submit and trust the results to God. I cannot answer the first two. So, for you who so far have found it necessary to work I want to offer some encouragement and comfort.
1. "My God will meet all your needs according to his glorious riches in Christ Jesus" (Philippians 4:19, NIV). Just remember that God must be the judge of your needs. Being wise, powerful and loving, He can be fully trusted to do just what He says.
2. You only know what you have to do today. None of us knows the future. Be faithful today–do your work faithfully, thoroughly, honestly, and gratefully. "Whatever you do, work at it with all your heart, as working for the Lord, not for men, since you know that you will receive an inheritance from the Lord as a reward. It is the Lord Christ you are serving" (Colossians 3:23-24, NIV).
3. Be a lady. Betty Greene, pilot during World War II and later with Mission Aviation Fellowship, told me, "I made up my mind if I was to 'make it in a man's world,' I had to be a lady." A true lady is recognized and respected by men. Keep your honor, your distance, and your close touch with God. He will protect you.
4. If you are truly abandoned to the Lord, He will show you if/when He has a different assignment for you. Stay in touch with Him."
If you are contemplating opportunities outside the home, I encourage you to ponder these wise questions from Carolyn Mahaney taken from her book

Feminine Appeal

. They are to help you in determining that you are making wise decisions and that you do not lose sight of your primary obligation to your home.
-What are my reasons for considering this opportunity? Are they selfish or God honoring?
– Will pursuing this venture glorify God and honor the gospel?
– Is this an undertaking that will help my husband?
– Will it enhance and enrich the lives of my family?
– Does this endeavor hinder my role as caretaker of my home?
3 Older women likewise are to be reverent in behavior, not slanderers or slaves to much wine. They are to teach what is good, 4 and so train the young women to love their husbands and children, 5 to be self-controlled, pure, working at home, kind, and submissive to their own husbands, that the word of God may not be reviled.

~Titus 2:3-5
Related Resources: