Journaling Tips from Elisabeth Elliot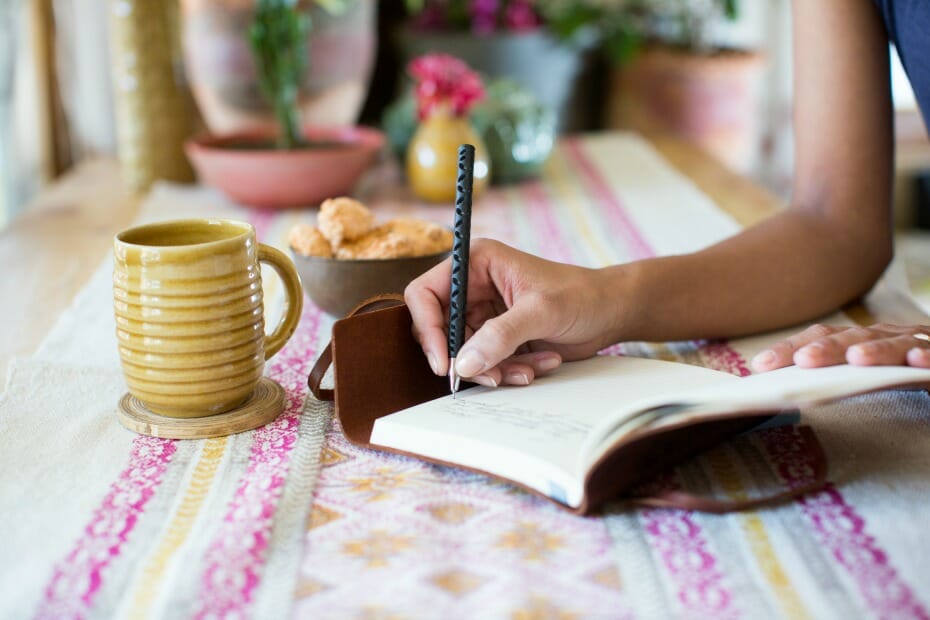 Journaling is often viewed as just a way to remember or keep track of life's events. Many people who aren't Christians keep a journal. As a Christian, I've been thankful to keep spiritual journals (consistently at times and inconsistently at times) because it has helped me see God's grace and mercy at work in my life over the years of walking with Him.
One of the reasons as a Christian, that I've been thankful to keep spiritual journals is that it has helped me to see God's grace and mercy at work in my life over the years of walking with Him.
My journaling time helps me to discern my motives and bring about sin that I need to confess to the Lord and turn from. My journaling also helps me to see areas where I need to give thanks and praise to the Lord. It brings about reminders to pray for situations and people in my life. It's amazing how much pours out when my pen starts flowing.
Journaling exposes areas of weakness, and it helps me to set spiritual goals, and not always just spiritual, ones but in other areas of my life that need some help too. Maybe I need to be better disciplined in my internet habits, my homekeeping, or some of my relationships may need time and attention. This is a good time to evaluate all areas of my life.
I appreciated Elisabeth Elliot's words on how she journaled that she shared in her book Keep a Quiet Heart on pages 131-132 and the entry was titled Chronicle of a Soul. The list below has been instrumental in guiding me in my journaling journey.
Mrs. Elliot shared how she had kept a diary from high school to college and then began spiritual journals during her senior year in college which she continued to keep through her lifetime. She was thankful to go through them at times and see all the things she had forgotten. It was an incredible strengthening of her faith to see how her Savior led her, heard her prayers, supplied her needs, and taught her of Himself.
She stated the obvious to all of us—our memories are poor and a journal is a way to record His faithfulness and even our own faithfulness which teaches us to value His grace and mercy. We learn much and see our progress over the years in areas of mental, emotional, and spiritual growth.
Here's a list that she shared of things to put down in your spiritual journal. Each one may not be something you write about daily (or maybe even at all but they are some great suggestions).
Journaling Tips from Elisabeth Elliot:
Lessons learned from your reading of Scripture. (If you put these in a journal instead of marking up your bible, you will find new things each time you read the Bible instead of reading it through the grid of old notes. Worth a try!)
Ways in which you intend to apply those lessons in your own life. (Reading your journal later will reveal answers to prayer you would otherwise have overlooked.)
Dialogues with the Lord. What you say to Him, what He seems to be revealing to you about some problem or issue or need.
Quotations from your spiritual reading other than the Bible.
Prayers from the words of hymns that you want to make your own.
Reasons for thanksgiving (Caution: When you get into the habit of recording these, the list gets out of hand!)
Things you're praying about. You might choose to have a separate notebook for this or an "appendix" in another section of the same book—the date on which a prayer was prayed; the date on which answered, with space for how the answer came in some cases.
Don Whitney observes that the goal of journaling over a lifetime is to "build a monument to God's faithfulness." He then adds that your last entry will "most likely . . . introduce your great-grandchildren to your life and faith and to influence them for Christ's sake." ~ Ivan Mesa
So what about you? Do you keep a spiritual journal? What kinds of things do you like to record in your journal? Please share with us in the comments below or the Thankful Homemaker Facebook Group.
Related Resources:
My favorite journaling tools: Spiral Bound Journal & Disposable Fountain Pens
Podcast EP 57: Journaling (Spiritual Disciplines Series)
7 Reasons to Keep a Journal – @The Gospel Coalition
Spiritual Disciplines of the Christian Life by Donald Whitney
What Value is there in Christian Journaling? – @Got Questions