EP 67: Speech Seasoned with Grace and Kindness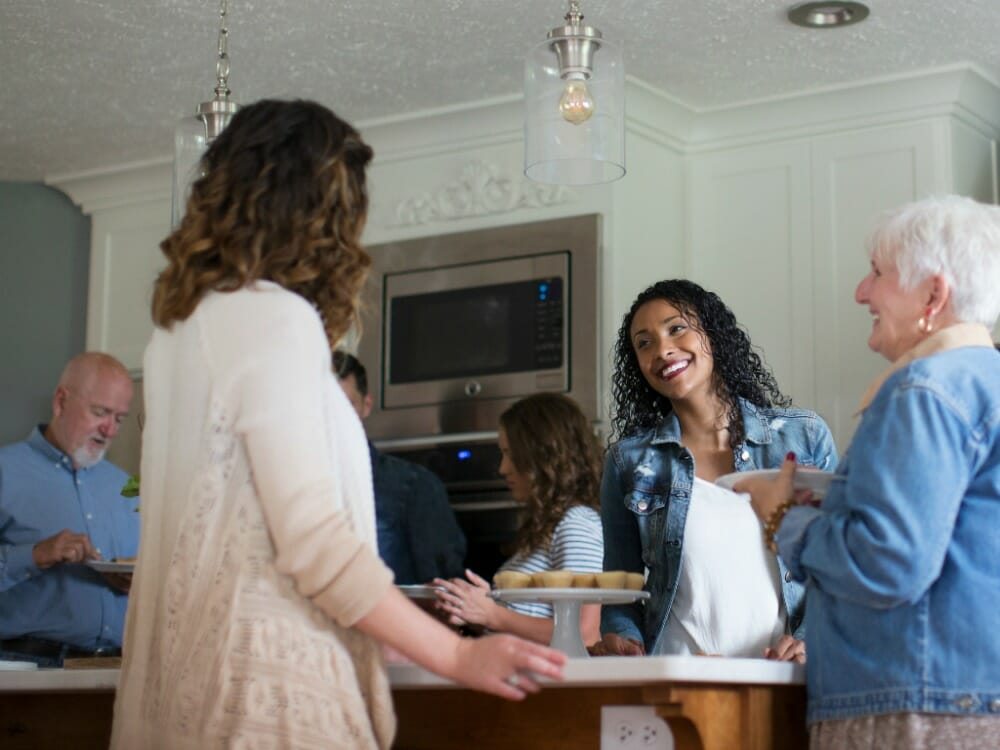 With the holiday season before us, many of us may find ourselves around people who can be a challenge to communicate without it turning into a heated discussion. We may be the ones challenging to communicate with.
You can read the post below (5 minutes) or listen in to the podcast, where I share a bit more information (14 minutes).


Find all podcast episodes or subscribe to the podcast here.
Related Articles:
Dealing with Controversy as a Christian
As I pondered the topic of speech seasoned with grace and truth, one area that came to my mind is when I've messed up, and someone overlooked it and offered me grace. They didn't feel the need to correct me or even bring it up at a later time.
Have you ever had a person like that in your life? Or are you that person in someone else's life? The reality is, we know when we've messed up.
No one has to tell me I need to lock the door before I leave the house, or shut the garage door, or turn off the oven when I'm done using it or whatever multitude of other things I at times forget to do or mess up.
I know it's not always the case, but most times, we know when we've messed up and someone feeling the need to point it out doesn't usually help the situation.
I know there are things we need to teach and correct our children, but how often do we overdo it and nitpick every little thing that they can feel they can't do anything right?
In those moments, when we overlook an error or mistake in someone's life, it's an act of offering them grace and kindness.
When our speech is seasoned with grace and kindness it will overlook mistakes in the lives of others and encourage instead of discouraging.
When our speech is seasoned with grace and kindness it will overlook mistakes in the lives of others and encourage instead of discouraging.
I've shared in the past on the importance of kindness in our homes because it's an area that hits home to me. I know the difference it makes to respond kindly to one another, and I know how I am drawn to those friends and family who to respond to me in this way.
We're generally not drawn to people who are mean, critical or continually correcting us because it's hurtful, but it's also exhausting to be around them. I am not saying we are to avoid correction or speaking hard truths or receiving them, but it's usually not as necessary as we think it is.
At our holiday tables, there will be lots of conversations going on and some that may raise emotions a bit. We can be quick to share our opinions and thoughts before we've thought them through. Our opinion seems important to us, but we need to ask ourselves that powerful, simple sentence, "Is it necessary."
In a little devotional called Joy & Strength by Mary Wilder Tileston, she shares a quote from someone named H. Bowman:
"You feel in some families as if you were living between the glasses of a microscope. Manner, accent, expression, all that goes to make up your 'personality,' all that you do or leave undone, is commented upon and found fault with."
And before I finish up one more from Arthur Helps:
"If you would be loved as a companion, avoid unnecessary criticism upon those with whom you live."
The underlying characteristic in those comments is the law of kindness.
She opens her mouth with wisdom,
and the teaching of kindness is on her tongue.
~ Proverbs 31:26
We need to choose our words carefully, and scripture lays out some powerful truths on the impact of our words.
A soft answer turns away wrath,
but a harsh word stirs up anger.
Proverbs 15:1
Proverbs 16:24 – Gracious words are a honeycomb,
sweet to the soul and healing to the bones.
Colossians 4:6 – Let your speech always be gracious, seasoned with salt, so that you may know how you ought to answer each person.
As we take the time to be prayerful with our word choices, I believe you will find, as I have, not very much need to be said.
Psalm 141:3 – Set a guard, O Lord, over my mouth;
keep watch over the door of my lips!
Proverbs 10:19 – In the multitude of words sin is not lacking,
But he who restrains his lips is wise.
But what about when there are things that need to be said, how do we respond? A helpful sieve to run our words through is 1 Corinthians 13:4-7:
Love is patient and kind; love does not envy or boast; it is not arrogant or rude. It does not insist on its own way; it is not irritable or resentful; it does not rejoice at wrongdoing, but rejoices with the truth. Love bears all things, believes all things, hopes all things, endures all things.
When you need to correct your children, remind yourself love is not irritable. Pause and pray before you respond.
When you disagree with your husband, remind yourself, love is patient. Pray to respond in a way that honors Christ.
When that challenging person in the church comes before you again, remind yourself, love bears all things. Pray and ask the Lord how He desires for you to respond to them. I know for a fact, it is not in a sinful way but in one that reflects words seasoned with grace.
These are the moments where we are to die to self and live to Christ. It is continual tearing down of our selfishness, sinful attitudes and our desires to be heard or be right and to "put on" His desires and His purposes being worked out in our lives.
God uses the interactions of others in our lives to mold us into His image. Every interaction has a purpose and reveals our hearts and areas where we are still a work in progress. Give thanks to God when you see your impatience and irritability or anger. Pray and ask Him to help you to change. It is a grace that we see and are made aware of our sin. When I see these sins in myself, it is an opportunity to repent and seek the Lord's help to change me.
So, as you gather around the holiday table with family or even at the breakfast table with your children, remind yourself of these truths in God's Word:
She opens her mouth with wisdom, and the teaching of kindness is on her tongue.
Proverbs 31:26
Let no corrupting talk come out of your mouths, but only such as is good for building up, as fits the occasion, that it may give grace to those who hear.
Ephesians 4:29
Love does no wrong to a neighbor; therefore love is the fulfilling of the law.
Romans 13:10
But the fruit of the Spirit is love, joy, peace, patience, kindness, goodness, faithfulness, gentleness, self-control; against such things there is no law.
Galatians 5:22-23
As believers, those who have repented and put their faith in Christ, we now have new hearts. Regeneration should reflect a change in our words. As we fill our hearts with Christ's love, His love will spill out of our mouths because it's what's in our hearts.
May our words show the power of God's grace in our lives. May they share and tell others of the hope we have within us. The gospel is offensive, but we do not need to be offensive in our words and actions as we present it to others. Let the gospel offend, not us.
Will we allow the love of Christ at work within us to change the atmosphere in our homes? May they be a place where Christ is evident in all of our actions and words.
When love is felt, the message is heard.
Jim Vaus