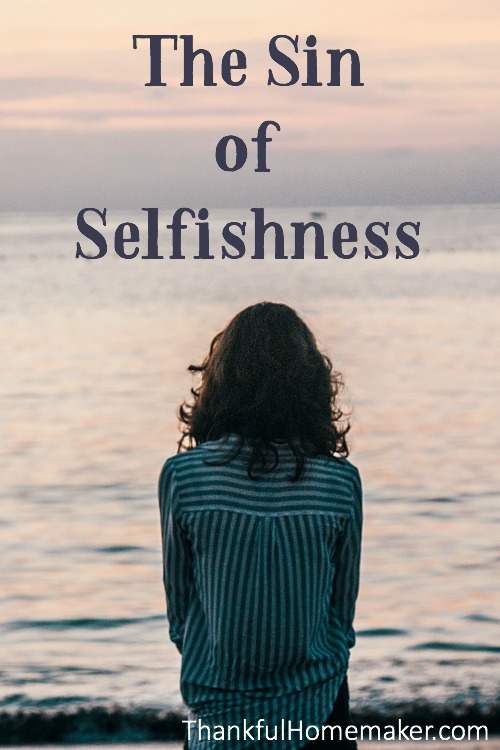 But understand this, that in the last days there will come times of difficulty. For people will be lovers of self, lovers of money, proud, arrogant, abusive, disobedient to their parents, ungrateful, unholy, heartless, unappeasable, slanderous, without self-control, brutal, not loving good, treacherous, reckless, swollen with conceit, lovers of pleasure rather than lovers of God, having the appearance of godliness, but denying its power. Avoid such people.
(2 Timothy 3:1-5 ESV)
"Lovers of self" (my emphasis) – notice in the verse above all the other categories fall under the umbrella of loving our self. Selfishness truly is the "mother of all sins" as it is common to each of us and keeps us from loving God and others as we are called as believers to do.
And one of them, a lawyer, asked him a question to test him. "Teacher, which is the great commandment in the Law?" And he said to him, "You shall love the Lord your God with all your heart and with all your soul and with all your mind. This is the great and first commandment. And a second is like it: You shall love your neighbor as yourself. On these two commandments depend all the Law and the Prophets."
(Matthew 22:35-40 ESV
Love is our best defense against sin. The more that we love God and our neighbor the less selfish (sinful) we will be. God's remedy for sin is our love for Him.
[clickToTweet tweet="Love is our best defense against sin." quote="Love is our best defense against sin."]
Some examples of selfishness are:
• Being more concerned with my interests over God's
• Competitiveness
• Fear of being rejected
• Not rejoicing when others are esteemed
• Difficulty submitting to God's will
• Being Controlling
• More concerned with my needs than the needs of those around me
• Protective of my time
The list above is not exhaustive and I know we can all think of many more examples that clearly reveal when we are putting the needs of ourselves above others but the first step in killing the sin of selfishness is to recognize it.
Be killing sin or it will be killing you

~ John Owen ~
How do we kill the sin of selfishness as believers? We must rely on the Holy Spirit to open our eyes and reveal to us afresh and anew the great love of Christ. We must reflect and dwell on the love that God has already revealed to us through the gift of His Son – Jesus Christ. God has saved us and predestined us to be conformed to the image of Christ – God knows what is best for me and truly is working out all situations for good in my life. I must remember to dwell on the truths of His sovereignty, faithfulness, wisdom, goodness and His love. God is sufficient to meet all my needs and I can rest that the circumstances he allows in my life will reveal the areas of my life that need sanctifying.
so that Christ may dwell in your hearts through faith—that you, being rooted and grounded in love, may have strength to comprehend with all the saints what is the breadth and length and height and depth, and to know the love of Christ that surpasses knowledge, that you may be filled with all the fullness of God.
(Ephesians 3:17-19 ESV)
May we seek the Lord today and ask Him to show us the sin of selfishness in our lives. May we seek to put the love of others above ourselves as we first and foremost are reminded of the great love God has for us –
but God shows his love for us in that while we were still sinners, Christ died for us.
(Romans 5:8 ESV)
"The principle runs through all life from top to bottom. Give up yourself, and you will find your real self. Lose your life and you will save it. Submit to death, death of your ambitions and favorite wishes every day and the death of your whole body in the end: submit with every fiber of your being, and you will find eternal life. Keep back nothing. Nothing that you have not given away will be really yours. Nothing in you that has not died will ever be raised from the dead. Look for yourself, and you will find in the long run only hatred, loneliness, despair, rage, ruin, and decay. But look for Christ and you will find him, and with him everything else thrown in."
~ C. S. Lewis
Recommended Resource: