Biblically Communicating With Our Children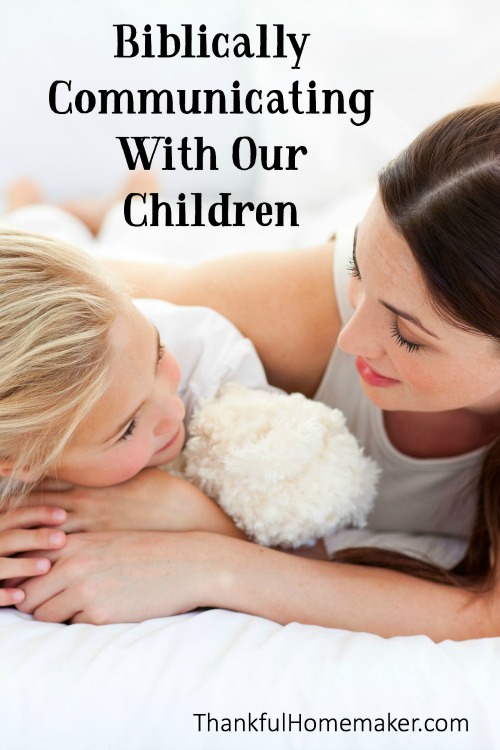 Do you dream of the moment when every time you speak to your child they respond to you joyfully with, "yes mom," "I agree with you," or "you are so wise, mom"? Most of our moments in communicating with our children may look more like, "Is she ever going to stop talking?" We may get the dazed look that confirms we've lost their attention probably before the conversation started.
How can we effectively and biblically communicate with our children in order to lead them in wisdom and instruction?
How can we effectively and biblically communicate with our children in order to lead them in wisdom and instruction?
"Listen to advice and accept instruction, that you may gain wisdom in the future."
Proverbs 19:20
God has placed us in authority over our children to instruct them in His ways and to do that we must establish good communication with our children.
Related Link: Podcast Ep 18 – Putting on an Attitude of Love in Our Homes
We all would love our children to be good listeners and follow our instructions, but it isn't an overnight fix. It takes time, love and much patience in developing strong relationships with open and clear communication.
Let's look at several areas where we can work at in teaching our children to listen well and take instruction.
Be a Good Listener:
The purpose in a man's heart is like deep water, but a man of understanding will draw it out.
Proverbs 20:5
I used to think I was a good communicator until I realized just talking does not make you a good communicator. I continually have to train my mind to listen. Do you take the time to listen to your children? I may not give them time to speak what is on their heart if I am doing all the talking.
While you are listening to them share and as they open up, it is a good time to ask questions that will lead them to share more. Some examples of questions that bring them back to thinking biblically in a situation and open them up to sharing more about what is going on could be – How can you honor the Lord in this situation? What could you of done differently? What did you learn from the situation?
As the Proverb says, take the time to understand your children by listening and helping them to draw out what is on their heart. Guide them through questions and take them to scripture so they can learn to evaluate their own hearts. We need to be continually training and teaching them to discern their own behavior according to God's Word.
Look them in the Eye:
Having eye-to-eye contact is important at any age but especially when your children are younger. When you are communicating something to them make sure that you have their full attention. Have them look you in the eye so they will not be able to say they didn't hear you.
Stop Talking:
Know when you have said enough. Don't bring issues into the conversation that do not relate to it. Stick to one point when you are having a discussion; it is not the time to bring up concerns that are unrelated. Take care of the issue at hand, and whatever correction or instruction is needed and save other issues for an appropriate time.
Avoid Speaking Harshly:
You are not ready to communicate if you are angry and not able to control your speech. Take the time to pray and make sure your heart is right with the Lord before you address correction to your children. Make sure you are correcting with a gentle and self-controlled spirit.
Don't Embarrass your Children:
Use caution when correcting and do it in private. There is no need to humiliate your child in front of others. Biblically we are to go directly to the brother who is in sin (Matthew 18:15) and talk to him in private of the matter. This applies to our children – our hope is to lead them to repentance.
Ways to Develop Open Communication
• Take the time to truly be with them – give them your undivided attention when having a conversation, so they know Mom wants to know about what they have to share.
• Spend time with each child individually – run errands with them, cook dinner together or have a special date time.
• Write a journal back and forth with each other.
• Play a game together.
• Take a walk.
• Learn to be a good initiator of conversations and remember to be a good listener.
• Take time to share about your day at the dinner table.
• Enjoy a snack around the kitchen table – the kitchen table is always a great conversation starter especially when food is involved.
• Let them express their opinions and be respectful of them even when you disagree.
• Show them physical affection. Hugs and "I love you's" should be part of your day.
• Pray with them.
The Most Important Truth to Communicate
The Gospel is the primary truth you need to communicate with your children.
Your children need to know that they are sinners in need of a Savior. The Gospel needs to be a priority in your communication with your children.
"Your top-priority job as a parent, then, is to be an evangelist in your home. You need to teach your children the law of God; teach them the gospel of divine grace; show them their need for a Savior, and point them to Jesus Christ as the only One who can save them. If they grow up without a keen awareness of their need for salvation, you as a parent will have failed in your primary task as their spiritual leader. "
John MacArthur

Related Posts:
Building Better Communication With Your Teen