To Read:
The Missing Word in Our Modern Gospel – @The Gospel Coalition
"There's a word missing from the presentation of our modern gospel. It's the word repent. Yeah, I know, that sounds old school, like an embarrassing sidewalk preacher with a sandwich board and cheap tracts with bad graphics and lots of exclamation points. And yet, even a cursory glance at the New Testament demonstrates that we haven't understood the message of the gospel if we never talk about repentance."
A Simple Treatment for Ministry Weariness – @Gentle Reformation
"Follow God's prescription for Elijah: Eat. Sleep. Get time with the Lord. "
Marriage Tune Up: Five Books, Five Questions – @The Gospel Coalition
I'm a bit late on this one, but these are good anytime, not just for Valentine's Day.
Don't Let Your Children Choose Your Church – @Delivered by Grace
"We are living in a day where parents and grandparents are making choices for church membership based on what their children or grandchildren desire. When we look at passages such as Deuteronomy 6 and Ephesians 6—the responsibility of family discipleship is clearly placed on the shoulders of parents—not children."
To Listen:
Ep 122 – What is Christian Maturity? – @Rick Thomas
Wretched Radio has interviews this week with Benny Hinn's nephew who got saved and is sharing the insides of the false teaching of that ministry. Monday's episode is here, and Tuesday's here. Costi Hinn is Benny Hinn's nephew, and he has a new book out exposing the prosperity movement called Defining Deception: Freeing the Church from the Mystical-Miracle Movement.
To Watch:
Heath Lambert's Story of Abuse – Beautiful testimony of the power and grace of the Gospel.
For Your Bookshelf:
Love Walked Among Us: Learning to Love Like Jesus by Paul E. Miller (when writing this the Kindle edition was only $2.99.)
God's Love: How the Infinite God Cares for His Children by R. C. Sproul (Kindle deal, $1.99 when writing this post.)
To Make:
Homemade Hamburger Helper – @The Farmgirl Gourmet (This one is a favorite here!)
For Your Home:
Stainless Steel Measuring Spoons (Mini) – These are great for when you need a pinch, or a dash or a smidgen ;). Love them for any Trim Healthy Mama Recipe.
To Ponder:
"If you don't see the hand of God in even the smallest setbacks and inconveniences, you will be blind to the meaning that God wants you to find in your deeper sufferings."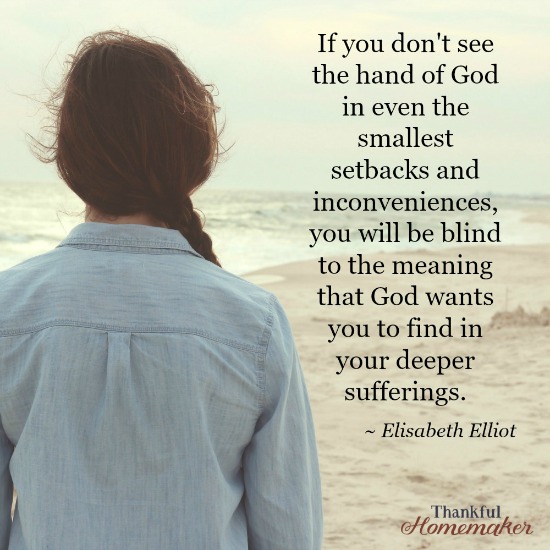 My soul is weary with sorrow; strengthen me according to your word.

~ Psalm 119:28
SaveSave
SaveSave