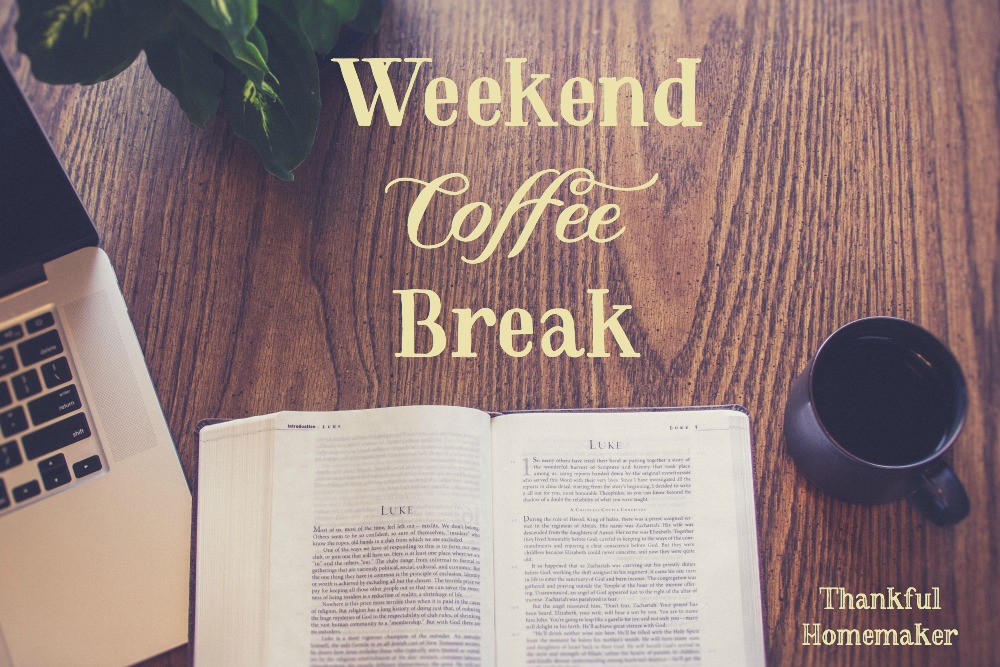 To Read:
The Scatter-Brained Girl's Guide to Bible Study – @God's My Healer Blog
"If we want to grow in Christlikeness, it's essential that we not forget God's word. In order to not forget, we have to be taking it in every day and allowing it to take root in our hearts and cause us to bear fruit."
The Beauty of Ordinary Homemaking – @Joy-Filled Days
"There's something satisfying about the daily routines of homemaking. The familiar smell of morning coffee, emptying the dishwasher to get ready for another day of cooking, opening windows to let in the fresh air and bird-songs, and listening to the morning silence as I pray over my day."
A Three-Step Strategy for Fighting Sin – @Unlocking the Bible
"As you come to know God better, you will become more aware of your sin."
10 Habits to Form a More Grateful Heart – @Women's Hope Project
"Many sins we commit originate from ungrateful hearts. Ungratefulness takes root in our hearts because we have a worship disorder. Sadly, as redeemed daughters of the King, we often function as those without Christ when ingratitude nestles its way into our hearts and minds."
To Listen:
31 New Episodes of 5 Minutes in Church History -"This Reformation month culminates in the 500th anniversary of Martin Luther posting his Ninety-Five Theses at the Castle Church in Wittenberg, Germany. To celebrate the anniversary, 5 Minutes in Church History is releasing a new episode, recorded on location throughout Europe, every day in October. Over 31 episodes, Dr. Stephen Nichols will explore the life, thought, and legacy of Luther, and will conclude with an examination of the document that started it all, Luther's Ninety-Five Theses."
Thankful Homemaker Podcast – This is a new exciting venture for me and I couldn't have done this without the help of my wonderful husband. I so love that man! He is my editor and the much more techy one in the family so I'm grateful for his help.
I'd love you to come take a listen and for you podcast listeners I'd love you to subscribe on your favorite app. I'm going to try and keep them shorter for busy mama's at 15-30 minutes (most closer to that 15 minute mark). I'll post them each week here on the blog and you can find them all under the Podcast Menu Tab too. The first episode is Taming Our Tongues and next week on the 18th Trusting God in the Midst of a Trial is next for your listening.
To Make:
Loaded Baked Potato Soup – @Mommy's Kitchen
For Your Home:
Deeply Rooted Magazine – Just a beautiful magazine for Christian women (Dianne the editor went to school with my daughter). The magazine exists to encourage, equip and inspire Christ-following women to become deeply rooted in their Christian faith.
Their magazine is divided into six sections: Christ-follower, Creator, Keeper of the Home, Helpmate, Mother, and Individual. They cover a variety of topics ranging from theology to recipes. There are articles on singleness and marriage…for the working mom and the stay at home mom. While there are a variety of topics covered, they bring everything back to the Gospel and so while the application may very from person to person, the truth remains the same.
Truly, subscribe or at least order a back issue of topics that interest you. You will not be disappointed!
For Your Bookshelf:
Lifegiving Table: Nuturing Faith through Feasting, One Meal at a Time by Sally Clarkson – (I just finished this one and it's on my review list for the blog).
Reading People: How Seeing the World through the Lens of Personality Changes Everything by Anne Bogel –(Just picked this one up as I'm writing this post).
To Ponder:
"God graciously puts [common] love in the hearts of all mothers. Society is better because of it. But add Christ to that, and you have something far richer. Only a Christian mom can love that child "for Christ's sake," and "as unto the Lord." Only a Christian mom can show her child what it means to be a true believer in Christ. Only a Christian mom can pray effectively for her child. Only a Christian mom can teach her children the truth about Jesus. Only a Christian mom can teach her kids what marriage is all about, even when times are difficult. And only a Christian mom can die as a lover of Christ, contentedly anticipating eternity in the house of her heavenly father."
~ Jim Eliff
Listen to advice and accept instruction, that you may gain wisdom in the future. Many are the plans in the mind of a man, but it is the purpose of the Lord that will stand.

Proverbs 19:20-21