Inductive Bible Study & A Walk Through Ephesians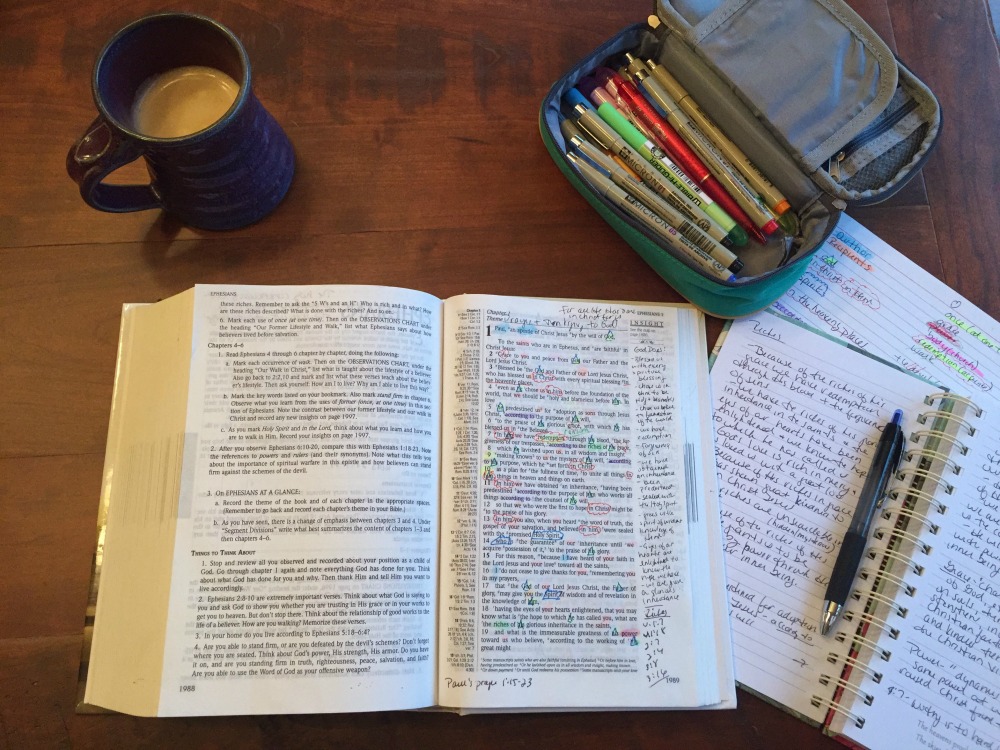 I can be a bit unfocused and jump around from book to book at times when it comes to studying God's Word. I can be disciplined in reading the Word, and praying and memorizing (thank you Scripture Typer app!) but my study time was undisciplined.
Getting back into Inductive Bible Study has helped me to camp in one book and have direction when it's time for me to sit and study. I get a good understanding of the book I'm in because of the time spent in it just reading and re-reading it. The more I read and study, the more I know about that book. Studying a book inductively opens up spiritual riches I never realized were there.
Studying a book inductively opens up spiritual riches I never realized were there.
There are three steps to an Inductive Study (observation, interpretation, and application) and if you're interested in starting Precept Ministries would be the place to start. I also highly recommend The New Inductive Study Bible. I use the ESV version as my personal preference. It walks you through studying each book individually with lots of marking room in the margins and at the end of the book. Your Bible becomes your commentary as you work through each book.
This post is going to be a bit longer so maybe take it in chunks at a time, and I encourage you to read through Ephesians on your own when you get some time to sit. It only takes about 15 minutes to read the whole book of Ephesians. What I'm sharing are some of my favorite nuggets I mined out in my study time.
Intro to the Study:
When I think of the book of Ephesians the word Grace comes to mind (God's Riches at Christ's Expense). I heard that somewhere, and it has stuck with me ;). I'm reminded that I am a citizen in two places, my home here on earth and in heaven (Ephesians 1:1). The first three chapters are indicative – what Christ has done. The last three are in the imperative – because of what God has done for us in Christ this is what we are called to do as Christians.
As you read through Ephesians chapters 1-3 the apostle Paul is laying out what it is to be in Christ Jesus. As I worked through this book my prayer continually was, "Lord, help me to grasp the wonder of what Christ has done."
Lord, help me to grasp the wonder of what Christ has done.
My next sections of the post are going to be the lists of the various parts of Ephesians. These have been beautiful reminders to me of all that God has done for us in Christ. They come about so clearly after you mark keywords in the text. I just grabbed them directly from my notes, so they are simple and to the point. The lists are a bit long but read through them and then read through Ephesians again. This is not everything but just a small taste of what the Lord revealed to me in my time in this precious book.
I pray you are encouraged by these truths but my hope is it will spark a desire for you to dig into the Word on your own.
I thought to study God's Word inductively was going to be hard or too challenging for me, but I did it at my own pace, and it gets more natural each time I tear apart a book. I don't have this mastered and continue to be a learner, and I have a long way to go yet! Just get started, and you don't need a particular Bible you can use your own and find help at Precept Ministries and other places online too.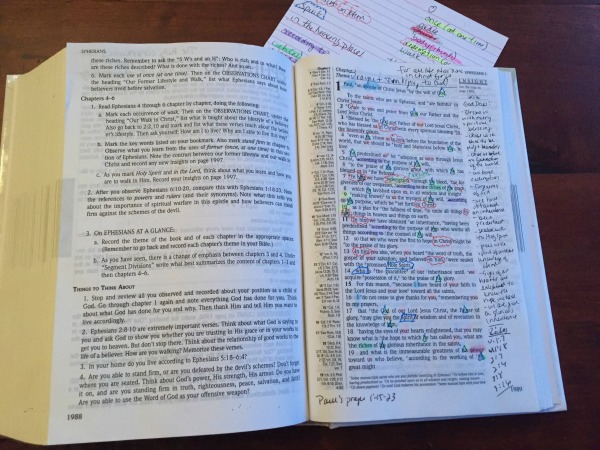 What God Does:
Bless us with every spiritual blessing.
Choose us in Him to be holy and blameless.
Chose us before the foundation of the world.
We have redemption.
Forgiveness of sin.
We have obtained an inheritance.
Been predestined.
Sealed with the Holy Spirit.
Gives us the Spirit of Wisdom and knowledge of Him.
Eyes of our hearts are enlightened to know the hope we have.
We are given a glorious inheritance.
Raised Christ from the dead and seated Him in the heavenly places.
Put all things under Christ's feet.
Made us alive in Christ.
Seated us in the heavenly places with Him.
Grace is a gift from God.
He prepared works for us beforehand.
He has made Christ our peace.
Created all things.
Named every family in heaven and on earth.
We're strengthened through power in the Spirit.
It helps us to know the love of Christ.
Fill us with the fullness of God.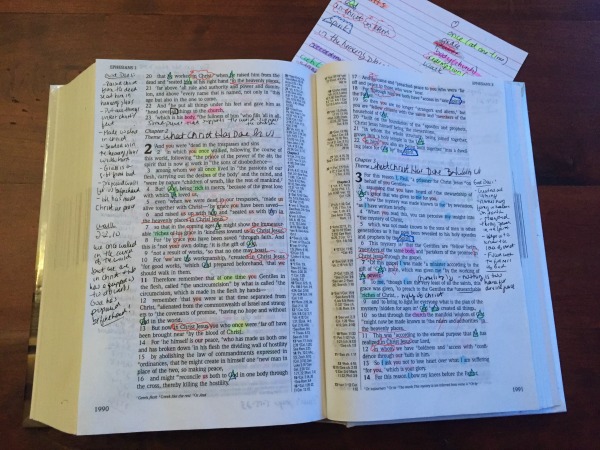 Our Wealth & Position in Christ:
Blessed us with every spiritual blessing in the heavenly places.
Chose us before the foundation of the world to be holy and blameless.
We have redemption through His blood and forgiveness of sin.
We've obtained an inheritance (someone has to die to receive an inheritance).
We're sealed with the Holy Spirit.
We're seated with Christ in the Heavenly places.
We are His workmanship created to do good works He prepared beforehand.
We've been brought near by His blood.
We have access in One Spirit to the Father.
We are a dwelling place for God.
We have boldness and access with confidence through faith in Him.
Christ dwells in our hearts rooted and grounded in love.
We can know the great love of Christ that surpasses knowledge, and we are filled with the fullness of God.
Our Relationship with the Holy Spirit:
He is the seal of our inheritance.
He gives us wisdom and revelation from God.
We have access to God through Him.
We are being built together as a dwelling place for God.
He makes the mystery of Christ known to us.
We're granted Christ's strength and power through Him.
What I Learned about our Riches in Christ:
Because of the riches of His grace, we have redemption through His blood and the forgiveness of sin.
We have the riches of His glorious inheritance in the saints, and the eyes of our hearts have been enlightened, and we know the hope to which He has called us.
God's love is rich in mercy, and He has loved us with great love.
Because of His riches in grace, He has shown great kindness to us in Christ Jesus.
His riches are unsearchable (hidden/mysterious) in Christ.
Because of the riches of His glory, He grants us to be strengthened by power through His Spirit in our inner being.
Some Key Words:
(I used Blue Letter Bible to look these up)
Grace (Eph. 2:5,8,9) – "charis" – Merciful kindness of God, exerts His holy influence on souls, turns them to Christ, keeps, strengthens, increases them in Christian faith, knowledge, affection, and kindles them to exercise the Christian virtues.
Power (Eph. 1:19) – "dynamis" – Same power at work in us that raised Christ from the dead.
Church (Eph.1:22,23) "ekklesia" – Gathering of citizens called out from their homes into an assembly. Assembly of Christians. The whole body of believers.
Redemption (Eph. 1:7) "apolytrosis" – A releasing effect by payment of a ransom. Deliverance. Liberation procured by the payment of a ransom.
How We Once Walked:
Sons of disobedience.
Following the Devil.
Lived in the passions of our flesh.
Carried out the desires of body and mind.
Children of wrath.
We were far off.
Our New Walk in Christ:
We walk in a manner worthy of our calling.
We walk in love as Christ loved us.
As children of light.
As wise men, making the best use of our time.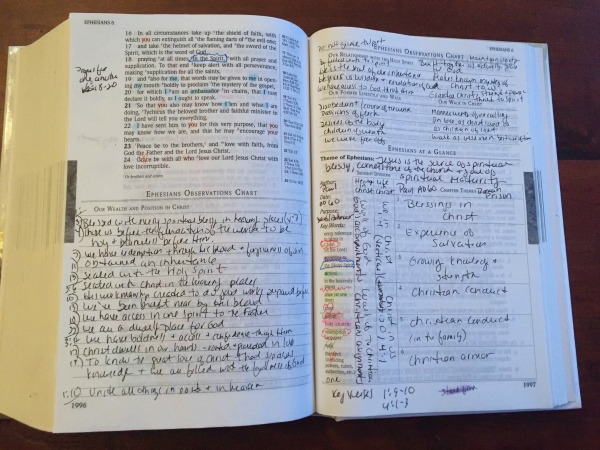 Closing Thoughts:
As we study the Word, we're confronted with truth, and the hope is to apply those truths and line up my thinking with God's Word. The goal always is transformation, and it comes about by renewing our minds (Romans 12:1-2).
Our application should always lead us to conformity to Jesus in our thoughts and behaviors.
This post on prayer came about because of my time in Ephesians. My writing on this blog comes about because of my time in the Word and what God is teaching me and how it's being applied to my life.
I desire to remind myself and all of us that are in Christ that the same power that supports the world supports the church (Eph 1:20-23). We need to be ready for battle and armed because there will be warfare in our walk. We are a threat to the Devil. But we are ready for battle because God has given us His Spirit and we have wisdom and knowledge of Him.
Our most significant blessing is to know God and to know Him better every day. This will only come about as we spend time with Him in His Word. May we grasp the wonder of what it is to be in Christ as we read through Ephesians. I hope we will be children who resemble their Father. May we be reminded that "we were loved before the dawn of time."
"Our Lord Jesus is ever giving, and does not for a solitary instant withdraw His hand…the rain of His grace is always dropping, the river of His bounty is ever-flowing, and the wellspring of His love is constantly overflowing. As the King can never die, so His grace can never fail."

~ Charles Spurgeon
Related Resources:
Bible Study Helps for Busy Mom's
4 Truths to Pray for One Another
Items in post photo: The New Inductive Study Bible, Micron Bible Marking Pens, Bible Highlighters, Pencil Case & coffee mug a favorite from a trip to Manitou Springs, CO ;).
SaveSave