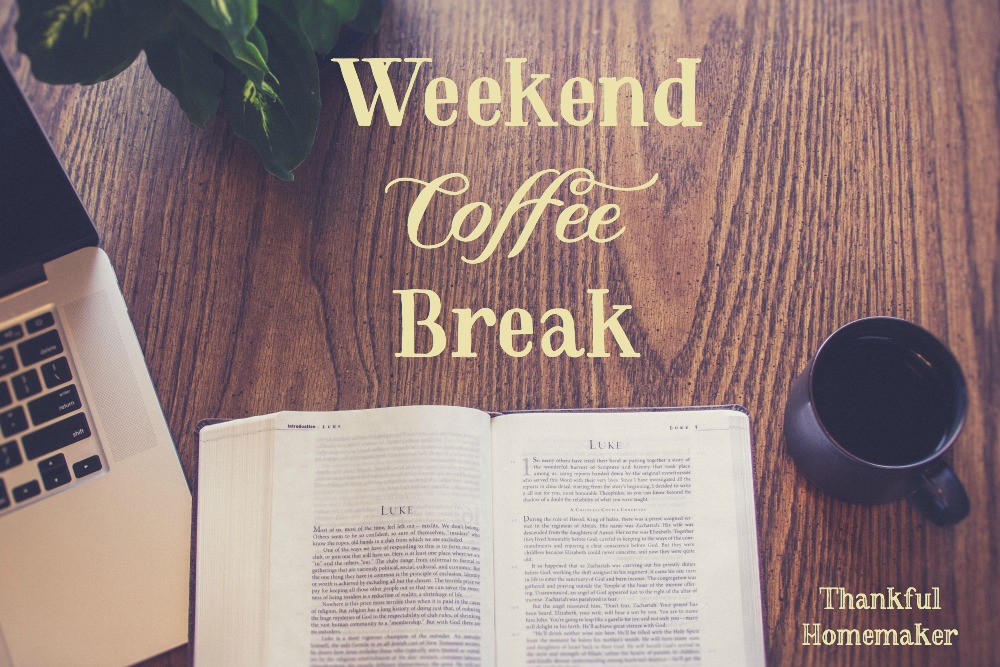 To Read:
Letter to a Church Member (or a letter to myself) – @Your Mom Has a Blog
"You want to be honored. You want to be admired. In the simplest of terms, you allow idolatry to thrive inside of you. The Idol of Self. And, you expect your church to bow to this idol, too. But that is not what the church was made to do."
Do I Need to Confess My Sins to Other Believers? – @Unlocking the Bible
"I need help. I want to confess my sins, but I don't know who to confess them to. Do I just need to confess to God, or does he ask that we confess to others? I'm embarrassed of my sins, and I don't know who to talk to about them."
On Daughters and Dating: How to Intimidate Suitors @Jen Wilkin via The Gospel Coalition
"let's talk frankly about what you need to do to guard her interests when it comes to dating. Instead of brandishing a shotgun or breaking out an application, you need to build a wall."
Let's Get Real about Women's Discipleship – @God-Centered Discipleship
"If Instagram is any clue, most Christian women think discipleship is limited to hosting thoughtfully curated Bible studies in tasteful homes where shrieking children and dirty dishes don't exist. This glossy ideal sits like a yoke on many women's shoulders rather than spurring them onward in Christ's Great Commission."
To Listen:
FREE Audiobook download this month from Christian Audio is The Whole Christ by Sinclair Ferguson.
Wretched Radio is now FREE for everyone. It used to be a membership site but you can grab the podcast for your iPhone or Android and watch Wretched TV. It's a great ministry and I know you all will love it. I love the show to listen to when I'm cooking dinner.
To Go:
The G3 Conference (Gospel-Grace-Glory) – It's January 18-20th, 2018 in Atlanta, Georgia. We're going and I'd love you to join us. It's become one of our favorite conferences to attend and we're looking forward to heading down with some of our church family next year too. If you're heading down let me know and I'd love to meet up with you.
For Your Bookshelf:
Humble Roots by Hannah Anderson
Trim Healthy Mama's Trim Healthy Table: More Than 300 All-New Healthy and Delicious Recipes from Our Homes to Yours by Serene Allison and Pearl Barrett
To Make:
Pumpkin Banana Bread @Pioneer Woman
For Your Home:
Beautiful Fall and Faith Inspired Decor at DaySpring (love this plaque)
For limited time get all your fall favorites with Plant Therapy's holiday edition fall blend set! While supplies last!
To Ponder:
"Humility teaches us that God is actively redeeming the world. And because He is, we can experience the relief of confessing our brokenness—whether it is intentional sin, our natural limitations, or simply the weight of living under the curse. Humility teaches us to find rest in confession. Rest from the need to hide, the need to be perfect. We rest by saying, both to God and others, 'I am not enough. I need help.' And ultimately, the humility that leads us to confess our brokenness, both within and without, also frees us to grieve it and throw ourselves on the mercy of God. And this, more than anything, leads to rest. When humility expresses itself in godly sorrow, we can finally break down; we can finally let it all out; we can finally have that 'good' cry. Good, both because it is a weeping, breath-sucking catharsis, but also because it is legitimate. Good, because it honestly faces the brokenness of the world while resting in something—Someone—greater. Good, because it leads to surrender. To cry like Jesus as He looks over Jerusalem. To cry like Jesus as He stands at Lazarus's tomb. To cry like Jesus as He endures the cross and entrusts Himself to the Father."
~ Hannah Anderson, Humble Roots: How Humility Grounds and Nourishes Your Soul
Do nothing from selfish ambition or conceit, but in humility count others more significant than yourselves. Let each of you look not only to his own interests, but also to the interests of others.

~ Philippians 2:3-4