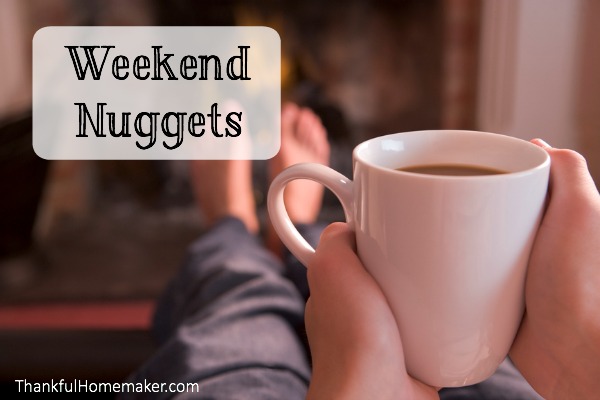 Blog Posts I Loved This Week:
Take a Younger Woman Under Your Wing @Revive Our Hearts
Wifely submission is not the only message in Ephesians 5 @Rick Thomas
When You Feel Like Kicking the Proverbs 31 Woman in the Teeth @You Mom Has a Blog
How to Make Your Non-Fiction Reading More Productive @Michael Hyatt
When Mother Reads Aloud @Out of the Ordinary
What's On My Nightstand:
Come Back, Barbara by C. John Miller and Barbara Miller Juliani (beautiful story of a prodigal child)
The Story of Reality: How the World Began, How it Ends, and Everything Important that Happens in Between by Greg Koukl
What I've Been Listening To:
The Best Way to Talk to Your Friends @Unspeakable
God's Beautiful Design for Women: Living out Titus 2:1-5 @Revive Our Hearts
Top Posts Viewed at the Blog This Week:
How Well Do You Manage Your Home?
Do You Truly Cherish Your Husband?
What I'm Loving This Week:
My Hidrate Spark Water Bottle – I am truly drinking tons more water each day and it keeps track for me and even syncs with my FitBit!
Chatbooks! I love them. I've been making photo albums from my iPhone favorites and it's so easy. I just favorite the pictures I want to be put in an album right from my phone and Chatbooks adds them to my photo book. After my album hits 60 prints they ship it to me. I can also edit dates, location and add captions too! I update my book once a week and it takes me two minutes if even.
Their photo books are $8 and there are many other options too! (you can also get books or prints made from your other social media accounts like Facebook and Instagram – there's a plethora of options!). Here's a photo of some of my books:
Wild is what we are whenever we disregard God and rely instead on the world's advice, or on what seems right in our own eyes. This was the mistake of Eve, the first Girl-Gone-Wild, who went with her own gut instinct instead of trusting and obeying the Lord.

~ Mary Kassian