How Well Do You Manage Your Home?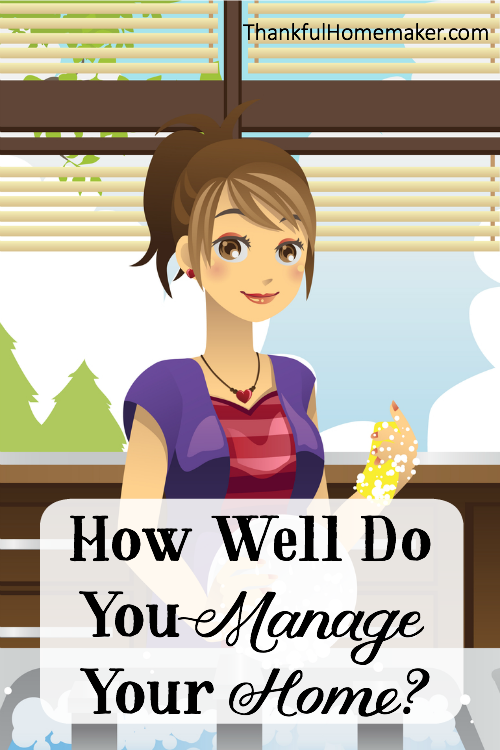 I'm having a mom moment today and I'm going to write this post as if I'm talking to my daughter. It may offend some but I believe it will resonate well with most of us who desire to live out the mandate of Titus 2:3-5 that the Lord laid out for us in His Word. I desire to live it out, with His help, because I desire a life that honors and glorifies Him. I am thankful that He has gifted me with a husband, children and a home to care for and manage.
My question today is how well do you manage your home?
We are called to be keepers of our homes. I have been saddened by those who put aside the task of managing our homes as if we are neglecting our family by mopping our floors and washing our dishes. I believe I am neglecting my family if I am not keeping a home that is in order and tidy. (I have to lay out the blanket statement here that I am not talking perfection but a sense of a home that is well cared for and loved because of the people she is caring for in it.)
God gives us enough time each day to take care of the tasks that He desires us to accomplish. Loving and caring for my husband and his needs is first on my list, my children are second and my home is the next on the list to make sure it is managed well. If I were employed outside my home I would be sure to do a good job for the employer that hired me, how much less when God has given me the job to be a keeper of my home to make sure it is cared for and managed well. I am a steward of the relationships God has put in my life but also the belongings He has put on loan for me to care for while on this earth.
Let's visit a full time job outside of our homes for a moment:
You are given a list of tasks that must be completed daily, weekly, monthly and yearly. You have routines to follow to get tasks done well and consistently. Time management will be an important part of your day as you only have 8 hours a day to get your work done. You may have to take training or do some reading to brush up on your skills to do better at your job. You may have people under you that you have to train and manage. There may be others that you equip to follow in your footsteps.
Let's compare this with our work as keepers of our homes:
Remember ladies, God is our employer. Take the time to meet with Him first thing in the morning and He will guide and help you to prioritize your days. God has already laid out our priorities as wives and mothers in His Word (Titus 2:3-5). There are duties in a home that must be taken care of daily, weekly, monthly and yearly for it to run smoothly. Have you taken time to set up a system that works for you to accomplish and complete the work it takes to get your home in an orderly and clean state by still making the most of the time God has allotted you? Can you set up a system that helps you achieve this by not neglecting the relationships He has put before you? Take some time to read on ways to be better organized and clean with a system that works for your home. (We'll talk more about this at the end of the post.) God may have given you some "employees" to train if you have little ones underfoot. Take the time to train them in managing their own homes well. If you have daughters Mama you have young women who need someone to equip them in managing their homes and you are the one God has called to this task.
When I was a young mom we didn't have the distractions we had today. There was no internet, cell phones and definitely no Facebook. I am not blaming these for all the issues we see with moms neglecting the order and upkeep of their homes because there are many who do a great job participating in the online community while still caring well for their loved ones and homes. But this can be an issue for some women. If you are finding yourself absorbed by the online community and not able to manage your time well or neglecting the duties of keeping your home to read more blog posts about being a keeper of your home – it's probably time to shut off the computer for a bit, repent to the Lord for your neglect of your duties and get to work! Sarah Mae has wrote an eBook on this called The UnWired Mom – Choosing to Live Free in an Internet Addicted World and my friend Bambi over at In The Nursery of the Nation has a convicting post called Why You Shouldn't Read This Blog.
I have always loved to care for my home as I saw what a blessing it was to my family. My husband traveled frequently when we were first married and I so loved to have the home ready for his arrival. Favorite foods prepared, house tidied and in order, candles lit, soft music, the kids waiting his arrival with clean faces and brushed hair. I took care of outdoor tasks like cutting the grass so he didn't have to deal with it after being gone all week. I was created to be his helper. Does it sound old fashioned or out of date? Why? Is it wrong to let your husband know you delight in him and that you've taken the time to show him that you have been thinking about him all day?
Messy, neglected homes should not be glamorized or considered the norm for Christian wives and mothers. We should not be making excuses or falling back on the excuse that relationships are more important. Relationships are but God has given us enough time to take care of both – we do not need to neglect one over the other. What example are we setting for our children if we waste time away to prioritize activities outside the home so much that the home itself if neglected. What example are we setting to the young women we are called to mentor in the example of Titus 2?
There may be seasons (illness, death in the family, etc.) where the home is a little set aside but it should not be the normal everyday pattern for our lives. (please read Encouragement on Difficult Days.)
The world is watching us and how is living in a cluttered, dirty mess honoring to the Lord? If your yard has weeds up to the windows and you haven't cut the grass in two weeks, what testimony of Christ at work in your life is that to your neighbors? If your neighbor can't comfortably sit at your home for a visit without brushing crumbs off a chair first or they can't take their shoes off because your floors are dirtier than the sidewalk outside, how have you taken the time to put their comfort above your own?
We can use the old excuse of the Lord knows our hearts but the world doesn't know our hearts (1 Samuel 16:7). The world is judging us by our actions and how we live our lives.
Our conduct has a direct influence on how people think about the gospel. The world doesn't judge us by our theology; the world judges us by our behavior. People don't necessarily want to know what we believe about the Bible. They want to see if what we believe makes a difference in our lives. Our actions either bring glory to God or misrepresent His truth."
~Carolyn Mahaney, Feminine Appeal
Listen again, this is not having a perfect home but we should have homes that reflect the beauty of the work of the Lord in our lives. This can be done on very little time each day when we take the time to learn to manage our time well and be productive in the time the Lord has given us. When our homes are in order we are more likely to graciously and spontaneously offer hospitality. I know personally I feel much better sitting with a cup of tea and a book when my home is not in chaos. Clutter and disorder bog you down. You forget important things and spend a lot of time looking for missing items. Many times you are in such chaos you don't know where to begin to get order.
If you are in total chaos and disorder and are finding escape online I suggest you turn off the computer now and start first in putting your kitchen in order (See Where to Begin When You're Overwhelmed). Make a list from there of the most important rooms and take it one room at a time. Declutter (you can't clean clutter) and clean. Pretty simple. It doesn't happen by itself but takes work. If you are home with children take the time to have them work alongside you and teach them now how to manage and clean a home. Don't send them off clueless in this most important life skill that they are going to need everyday – unlike Algebra :).
Once you have your home in some semblance of order take the time to set up routines to keep it that way. I have my system I share here called my Homemaking Binder that I still continually tweak to whatever season I am in. This system may not work for you but find one that does. If you don't start – it will never happen and your chaos and disorder will just continue to build.
We all waste time and we all have lazy moments. I continually pray for the Lord to convict me of my laziness and that I would make the most of my days and the time He has gifted me with. Maybe you are doing too much outside of your home and you need to sit with your husband and adjust your schedule.
If you really need some help my first suggestion would be to find a mentor (an older woman who loves the Lord, her husband, children and manages her home well) to help you one to one. It may be your mom. Younger women if you are too prideful to ask for help I pray you will repent of that hardheartedness right now and humble yourself and seek some help.
Let me leave you with some simple tips that help to keep a home in order on a day to day basis:
1. Make your bed every morning. Teach your kids to do the same.
2. Keep up with dishes throughout the day and try not to go to bed with dishes in the sink.
3. Keep laundry going and moving – try not to wash that leftover load of clothes in the washer three times before it hits the dryer :).
4. Make a To Do List everyday to keep you on task and focused.
5. Deal with mail on a daily basis and have a bill paying system.
6. Put things away when you're done using them. Teach your children this one while they are young.
7. Take the time after dinner to tidy the kitchen (I quickly wipe down counters, the stove if needed and run a quick vacuum over the floor) and think about the next day's breakfast and meals. Do this as a family!
8. Continually declutter, declutter, declutter! (Toss or donate)
9. Shower and get dressed first thing in the morning. If you are nighttime showerer than get dressed first thing.
10. Meals are a big part of day so take the time to meal plan.
My hope today was not to drag you down but to encourage you to get this most important area of your life under control. We all make excuses as to why we do the things we do. I know keeping our homes looks different to everyone and we will not all have the same level of cleanliness but we should all have the same heart to manage well what the Lord has given us to manage.
If you have been neglectful in this area of your life pray and ask the Lord's forgiveness and help to change and bless your family with a home that they will look forward to coming home to and spending time in and bringing others to share the love of Christ within your four walls. If you only clean your home when company is coming over what does this say to your family about their priority in your life? Shouldn't my husband and children be better cared for by me than those outside my home?
When you write a post like this there always come all the criticisms so the only one that I know for sure will be brought up for sure is the issue of our hearts. I can have a perfectly kept home and have a heart that is far from the Lord and neglects to love my husband and children. If I am choosing to have a sinful unloving attitude towards my loved ones at the expense of having an immaculate home than I am in sin and need to be on my knees and in God's Word and not reading a blog at the moment. Walk away from the computer and get into God's Word if this is you.
Let's get busy ladies we have been given a job that has eternal purposes. God is using the caring for your home to grow you spiritually. If you are a born again believer He is working all things for your good even the care and upkeep of your home (Romans 8:28).
"The challenge of ministry in our home is that we do not always feel very "spiritual" when we wash our dishes. It hardly feels significant to scrub our toilet. and we can feel that we are truly ministering when the Lord uses us to communicate a word of wisdom to someone, or He provides an opportunity to share the gospel with our neighbor. That seems like real ministry. And that is real ministry to be sure! But no more so than when we are wiping runny noses or cleaning the bathroom. That is because we have a very narrow view of true spirituality… The Lord wants to help us see the significance of ministry at home. He also wants to expand our vision for the multiple opportunities that we have for ministry in the home. Let's ask the LORD to help us gain a biblical perspective of our ministry at home."
~ Carolyn Mahaney, Feminine Appeal